An upgraded observation platform from the National Avalanche Center is live for all AAIC regional avalanche centers at AlaskaSnow.org. The new system is easy to use and does a great job of visually displaying field observations, avalanches observed, and cracking/collapsing on the map view. Users are able to filter results based on date, avalanches, signs of instabilities, zones and observers. They can also, zoom in and out on the adjacent map to click and sort data points.
(Example of the user interface for viewing and exploring recent observations - Note instability markers and map legend colors)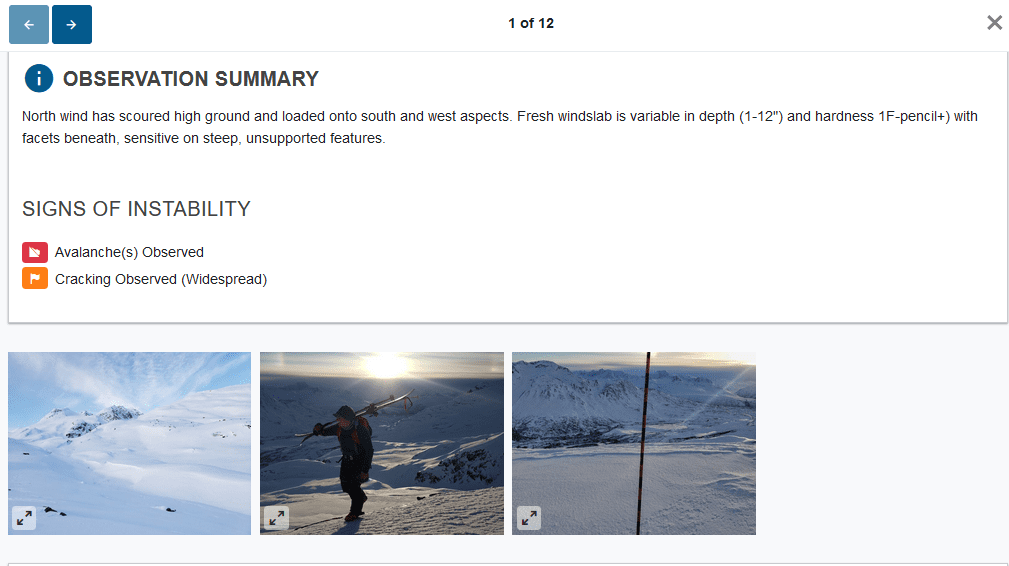 (Sample when viewing an observation with observation summary, signs of instability and photos)
When submitting observations a straightforward entry form helps users of all abilities to report field information and communicate this to the general public and avalanche center forecasters. Observations can be submitted publicly or privately (not visible to the public). An advanced observation form is also available to include more details for snowpack, weather and avalanches (located at the top of the standard submit an observation webpage).
(Be sure to fill out all required fields and click on the map view to select a location and coordinates)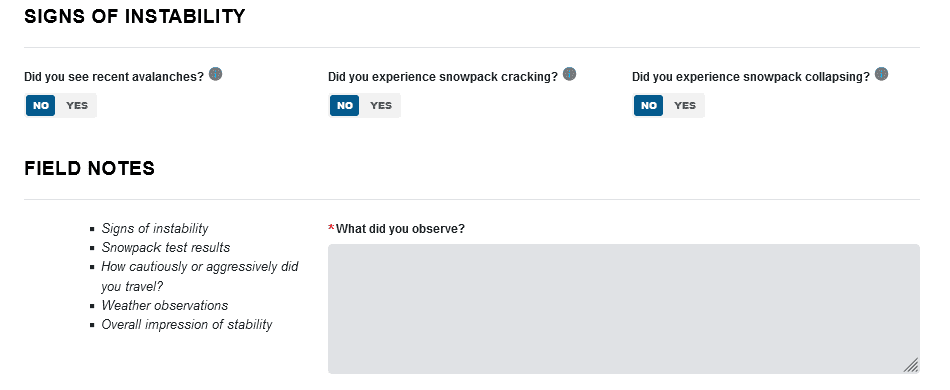 (When answering yes to sings of instability, additional dialogue boxes will expand to provide more details).
Data sparse regions like here in Alaska rely on snow, weather, and avalanche observations to provide information and help fill in the bigger picture. Avalanche hazard, signs of instability and condition reports help recreational users trip plan and prepare for their outings, while regional forecaster use them to create more accurate forecast products. Share what you're seeing out there, submit your own observation!
*Image courtesy of the Haines Avalanche Center