Local Avalanche Incidents
March 15th, 2014 - "Tele Bowl", Chilkat Range
The CAIC report on this incident can be found Here.
Updated 4/8/2014
| | |
| --- | --- |
| Location: | "Tele Bowl", near Telemark Ridge, Chilkat Range, Lat/Lon unknown |
| Date/Time of Occurrence: | 3/15/14, 11:02am |
| Mode of Travel: | Helicopter drop |
| Accident Type: | Full Burial |
| Number in Party: | unknown |
| Persons Buried: | 1 |
| Persons Injured: | 0 |
| Persons Killed: | 1 skier |
| Accident Details: | |
| | |
| --- | --- |
| Type: | Soft Slab avalanche |
| Trigger: | Artificial - skier triggered, unintentional |
| Size: | R4D3 |
| Sliding Surface: | Within Old Snow |
| Aspect: | N |
| Elevation: | 4900ft |
| Slope Angle: | 36 degrees |
| Depth: | 3-5 feet |
Weather Summary:
An unusually warm airmass moved in from Jan. 25th - 28th, with alpine temperatures hovering around 45 F, even at mountaintop levels. It was not raining during this time, but a massive wet slide cycle ensued. Very cold and dry weather returned through Feb. 14th, creating a very solid ice crust.
Feb. 13th-15th brought 18-30" of new snow to the mountains in three distinct storm layers (some upside-down). Winds blew from the south at times, and north at other times.
Cold and clear weather with north winds returned for the rest of February and into March.
March 8th-9th brought 3 feet of new low-density snow, turning warm and heavy at the end. Winds started out northerly, and then turned southerly.
South winds on March 9th-13th raised snow levels to around 1500ft. Around 12" of new wet snow fell above that level. Alpine temperatures were quite steady and just below freezing for the five days prior to the accident.
Saturday, March 15th was cloudy, with the springtime sun barely shining through the high clouds enough to warm the day slightly and provide some contrast for skiers.
Snowpack Summary:
The snowpack at the time was relatively uniform from place to place, with a thick, solid ice crust 1 meter down (the January Crust). Above the crust in many areas was a compressed layer (~10cm thick) of weak surface-facetted snow from February that had been buried and was rounding. Some sheltered mountain slopes had areas of large (2cm+) buried surface hoar above the rounding facets. Above this weak layer, the rest of the snowpack was in the form of moderately-dense, rightside-up soft slabs (2 to 3 different slabs, poorly defined) nearly a meter in total thickness.
Observations gathered 13 miles to the northwest on the Takhin Ridge on Friday, March 14th showed the recent storm layers in the top 90cm of snowpack to be well bonded to each other, and also to the weaker, older facet layer below. Compression and Extended Column tests (testing down to the ice crust but not below it) were carried out at 2000ft MSL, showing no failures (CTN and ECTNR). A Shovel Shear test did cause a Q3 shear failure 95cm down, within the rounding facet layer (STH Q3). Overall, stability in some areas was excellent, with little sluffing of the recent snow on steep slopes, and no danger signs present.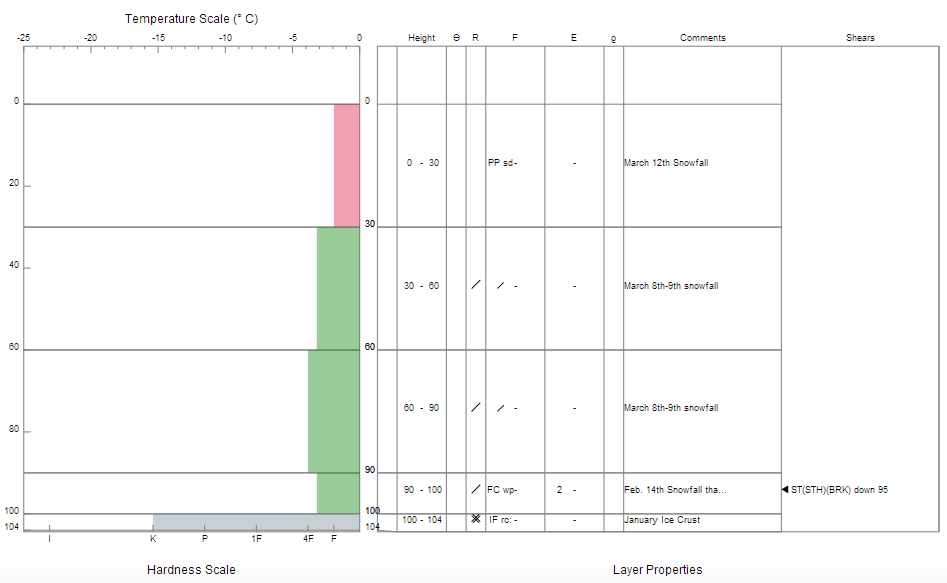 Snow profile from Takhin Ridge (13 miles NW of accident site) from March 14th. N aspect @ 2000ft, 35-degree slope.
Click to enlarge
Recent natural avalanche activity from the last storm on March 12th was limited to a few isolated pockets of deep slab, mostly D2, that came down from steep, unsupported slopes, or mid path after debris had come down over them.
The advisory published by the AAIC for Haines on the day of the incident rated the danger as Considerable on south aspects if the sun were to come out, and MODERATE elsewhere. The discussion specifically mentioned the threat of deep slabs, saying,
"There is concern that avalanches may step down to a lingering weakness a meter or more deep -- a buried surface hoar layer from 1-2 weeks ago. Keep this in mind, as the consequences of a slide this deep are extreme."
"Be cautious out there this weekend. The new snow is not fully bonded yet, and the potential for deep slides exists. It will be very important to minimize your risk exposure this weekend. Cross/ski slopes one at a time from/to islands of safety. Remember that some treed areas that feel safe may not in fact be safe if a large avalanche occurs. Think about the potential for slabs to propagate wider than expected, and have a plan for what to do if you enter avalanche terrain."
Details of the Incident:
A full report on this incident was made by the company involved, it can be seen at the CAIC webpage link at the top of this page.
State Troopers' report:
http://www.dps.state.ak.us/PIO/dispatch/Trooper%20Dispatches%20of%2003-15-2014.20140315.txt
More details can be found below:
http://freeskier.com/stories/heli-guide-aaron-karitis-dies-following-haines-avalanche