76 Comments on Haines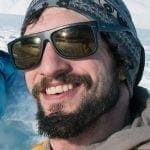 Jeff_Moskowitz
said :
Report
Subscribe
4 days ago
Lutak Zone: 3600ft, S-to-N-aspects, sunny, clear, light NW wind. Supportable re-frozen rain runnel crust between 4-6". Underneath, there are still snow grains that have not yet refrozen. Need more below freezing overnight temperatures to totally lock it up. Visible crowns on most all steep convex terrain features. Likely these ran last weekend and then got refilled a bit, before the rain, warm temps and then freeze, this past week. Keep your eye out on overnight temperatures and solar aspects.
Yukon Avalanche Association
said :
Report
Subscribe
6 days ago
Some late obs from March 13. Rained hard overnight on the 12th with temps plus 4 overnight. Observed numerous size 1 to 2 natural avalanches on March 13 at lower elevations on all aspects and in particular, wind loaded features. Poor light for photos early in day but included a few anyway. Hard to see what the freezing level was and at what elevation the rain switched to snow but observed rain runnels pretty well to to ridge top. Did not observe the same scale of avalanche activity at higher elevations from our location. In general the snow pack depth was significantly below average, with significant wind loading in lee features, cornice development on ridge tops, shallow faceted snow pack and bare slopes even at higher elevations. Avalanche conditions Rapid temperature rise to near zero degrees or wet surface snow. 30cm + of new snow, or significant drifting, or rain in the last 48 hours. Slab avalanches today or yesterday. Whumpfing or drum-like sounds or shooting cracks. The day was: Warm Snow conditions: Crusty,Wet Originally posted by Kirstie Simpson on avalanche.ca
Dan
said :
Report
Subscribe
a week ago
Flight and field observations revealed widespread natural avalanche cycle on all aspects with snow over 35 degrees. The current warm moist weather system in the coastal zone has very little diurnal change or adiabatic lapse rate. 3-14 06:00 Haines 36F, Flower (2510') 37F, Takshanuk (4636) 35.4. Slopes that haven't slide are still gaining weight and are suspect to coming down. Danger rating is still High to extreme.
Yukon Avalanche Association
said :
Report
Subscribe
a week ago
Today's ops from Three Guardsmen. 33cms of fist to four finger hard storm snow sitting on a 5cm knife hard well established crust (0116?) The recent storm snow is bonding well to the 0116 Cr and the Cr is bridging or "capping" the lower pack instabilities. We put down 36 runs with no activity stepping it up to a 38 degree slope by the end of day. Pit results are not pertinent enough to post. HS average 100cm. Originally posted by Isaac Dueling on FB group Yukon backcountry snowsharing network
Like
1