Local Avalanche Incidents
December 30th, 2019 - Chuck Creek Trailhead, Chilkat Pass
Updated 1/16/2020: More information will be coming as details become available.
Location:
Near Chuck Creek Trailhead, Chilkat Pass, BC, Canada
Date/Time of Occurrence:
12/30/2019: ~1:30pm
Mode of Travel:
Snowboarders, hiking on foot
Accident Type:
Multiple Burial
Number in Party:
3
Persons Caught:
3
Persons Injured:
1
Persons Killed:
2
Accident Details:
Type:
HS - Hard Slab
Trigger:
AFu - Artificial, Hiking on Foot, unintentional
Size:
D2, R4 - large enough to bury a person, large relative to path
Sliding Surface:
O - Broke within a layer of old snow
Aspect:
North-Northeast
Elevation:
1,050m (3,450ft)
Slope Angle:
38 degrees (measured)
Depth:
80cm average, 150cm max
Details of the Incident:
From Avalanche Canada's Initial Report: "A party of three were climbing on foot on a slope near the highway. About 2/3 of the way up a slab avalanche approximately 1.5m deep by 50-100m wide was triggered. The avalanche ran approximately 150 metres into a terrain trap and and caught all three. Two were fully buried and one was partially buried. The partially buried person was able to self extricate and used a satellite messaging system to call for help."
Details gathered by HAC:
Avalanche Vertical Height: 30m
Weak layer: 2mm facets sitting over an ice crust

Below Image: Crown profile at Chuck Creek. Weak layer was 2mm facets (12-22cm above ground). Bed surface was rain/M/F crust at 12cm above ground.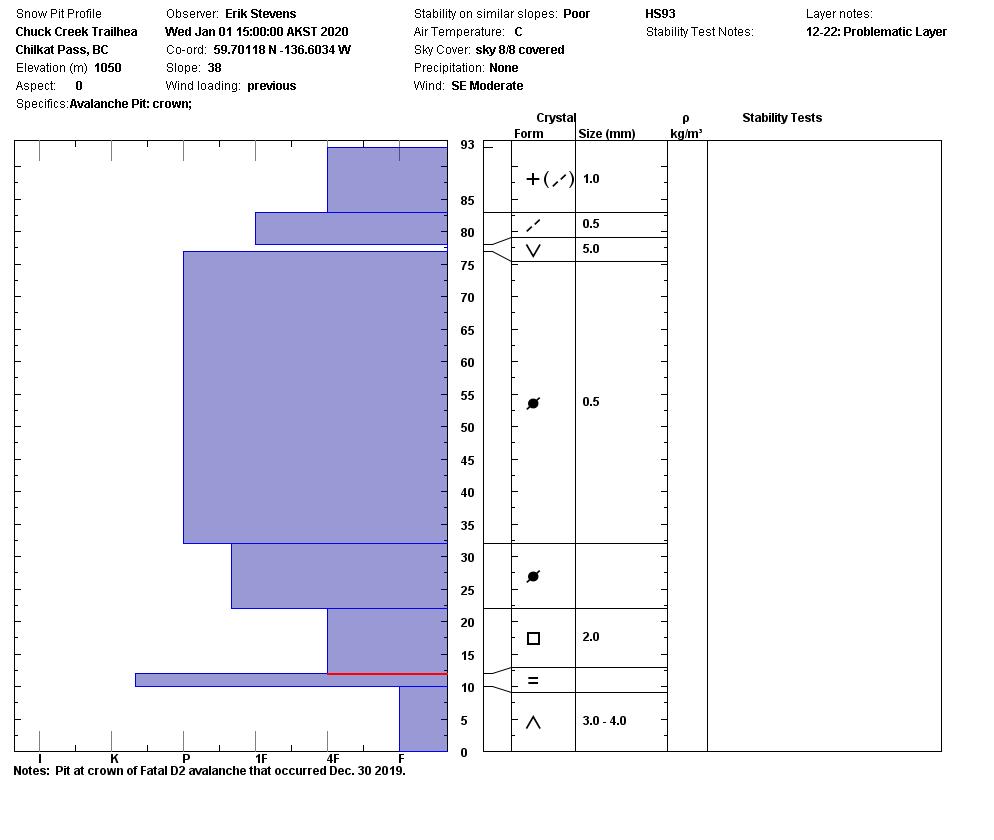 Below Image: Avalanche crown (red line) and approx. burial locations (red arrows).