Local Avalanche Incidents
January 5th, 2011 - South Side Chutes, Mt. Ripinsky
| | |
| --- | --- |
| Location: | South flank of Mt. Ripinski above 4.5-mile Haines Highway, Haines, AK |
| Date/Time of Occurrence: | 1/5/11, ~1:45pm |
| Mode of Travel: | Snowshoes |
| Accident Type: | Partial Burial |
| Number in Party: | 1 |
| Persons Buried: | 1 |
| Persons Injured: | 1 (injuries not caused by avalanche) |
| Persons Killed: | 0 |
| Avalanche Details: | |
| | |
| --- | --- |
| Type: | L - Loose-snow avalanche |
| Trigger: | U - unknown |
| Size: | D2 |
| Sliding Surface: | S - within recent storm snow |
| Aspect: | unknown |
| Elevation: | unknown |
| Slope Angle: | unknown |
| Depth: | unknown |
Weather and Snowpack Summary:
Haines had received 39cm of snowfall during the last week of December, with 60cm of light to moderate-density snow falling over higher areas of Mt. Ripinsky during this time. In the three days leading up to the incident, Haines received 10mm of rain, with snow levels near 300m.
The Haines Avalanche Information Center had not yet begun regular snowpack summaries for the public. The following snow pit profile was recorded on December 17th (nineteen days before the incident) on a nearby ridge of similar elevation, but different aspect: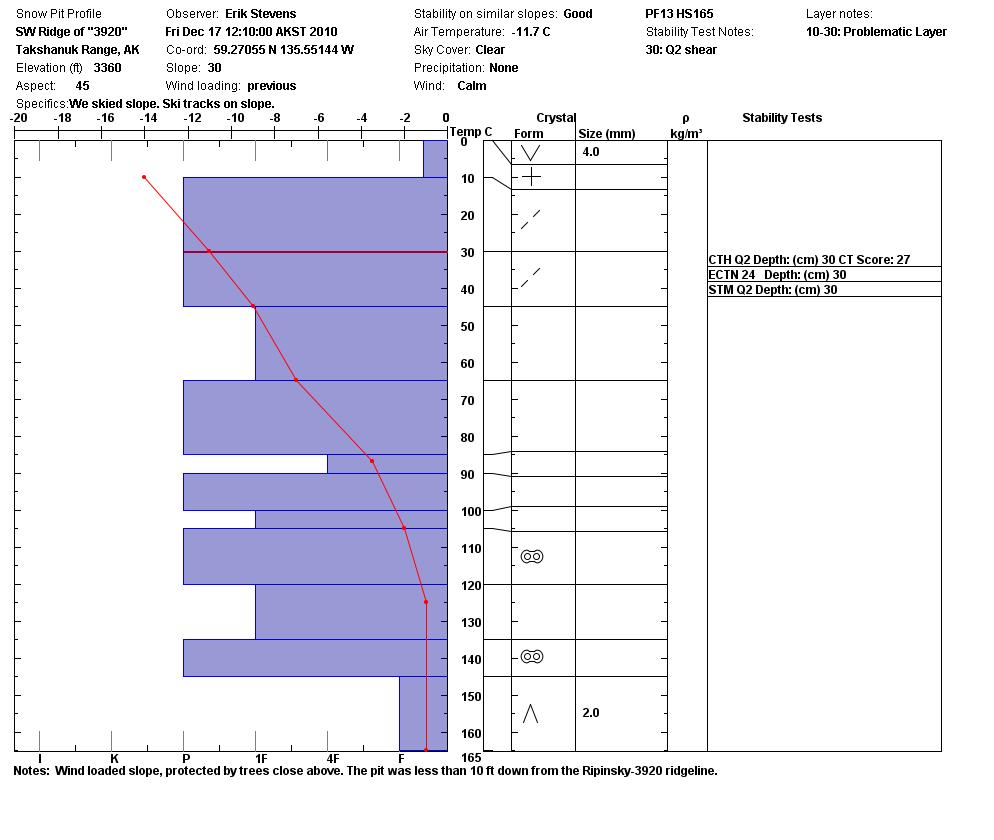 Details of the Incident:
Hiker 1 was traveling alone on snowshoes up the SE ridge of Mt. Ripinsky, after leaving the Piedad trailhead at 9am. On the ridge he encountered heavy snowfall, reporting that his tracks were filling in behind him. He considered turning back, but decided to continue for the summit based on his familiarity with the mountain.
After reaching the summit in deteriorating conditions, Hiker 1 immediately turned around, but found himself disoriented. Visibility was approximately 5ft. He descended towards what he thought was the saddle between the north and south summits, but began to drop farther and more steeply than expected. Realizing he was not heading towards the saddle, he decided he must be dropping down the mountain's east slopes towards Lutak Inlet.
He made a 90-degree turn to correct his course towards where the trail should have been, but this took him into a steep gully, where the avalanche caught him. Hiker 1 reported it as "more of a slough" avalanche; it is assumed to have been triggered by his weight.
Hiker 1 was caught in the slough and carried approximately 200ft, resulting in a partial burial, with one arm above the surface. He was able dig himself out uninjured. However, the avalanche had carried him into very steep and treacherous terrain.
Hiker 1 then used his cell phone to call his father, reporting that he was lost. He traveled for another ten minutes before becoming stuck between cliffs, out of cell phone range. Trying to get a cell phone signal, he fell backwards, tumbling approximately 500ft or more before landing on a shelf part-way down very large cliffs. It was later determined that Hiker 1 had broken two vertebrae and his tailbone during the fall. Luckily, he had fallen back into cell phone range.
Hiker 1, now in sight of the Haines Highway and aware of his location on the south side of the mountain, used his cell phone to call in a rescue, which could not reach him due to the snowstorm. He was forced to cling to the side of the cliff for the night. He was rescued the next afternoon after a long and dangerous effort by the local coast guard helicopter crew.
Analysis:
This is a good example of how deteriorating or rapidly changing weather conditions can turn any day into a bad day. Arguably, this life-threatening incident was caused by poor visibility. The decision to continue above treeline after the hiker realized that his tracks were filling in was the critical factor over which the hiker had any control.
Navigation in white-outs is very difficult, though possible. It is likely that if the hiker had used a map and compass or GPS to ensure he was going down the right side of the mountain, he would not have ventured into dangerous terrain.
Visibility was so poor in this case, that the hiker may not have realized he was hiking into a steep gully. This is the kind of situation which nullifies a person's efforts to remain out of avalanche terrain.
Bottom line: always carry a map, compass, and GPS in the backcountry. Also critical to saving the Hiker's life was that he carried a cell phone with him. It is unlikely that rescuers would have ever found him otherwise.
The decision of when to turn around is a personal one, but the Hiker's familiarity with the terrain led to overconfidence in his abilities to safely handle the conditions at hand.