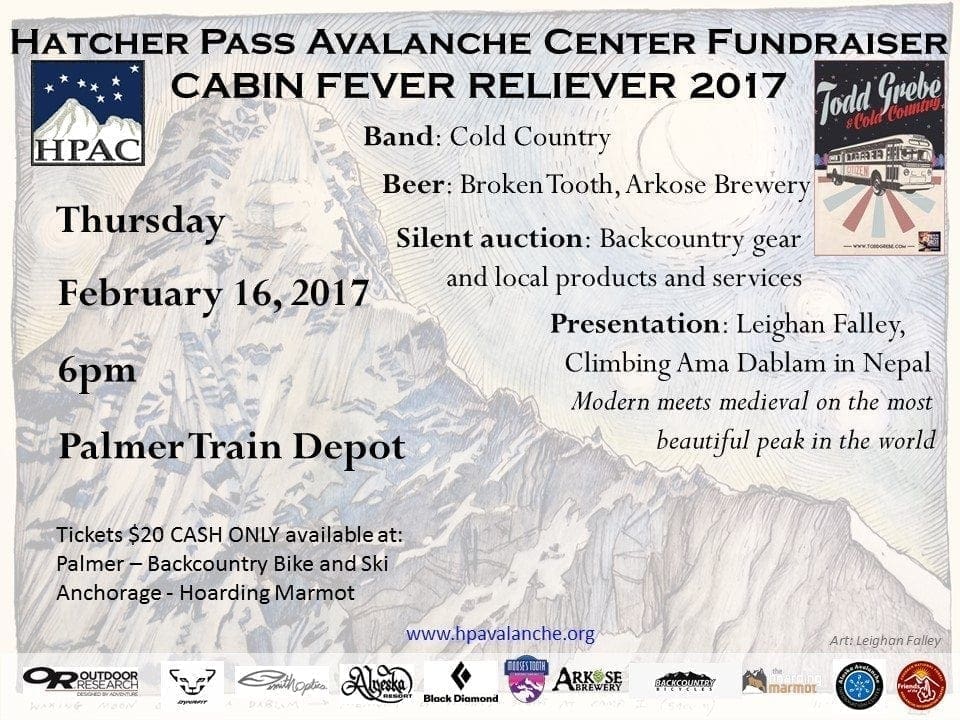 ---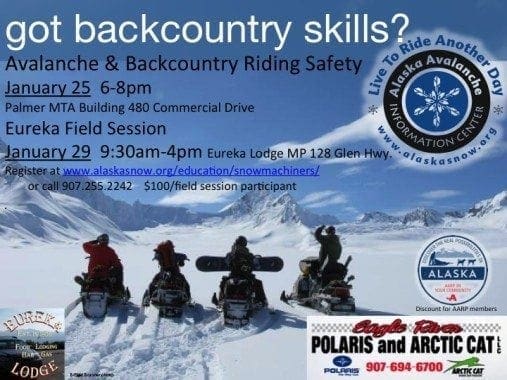 ---
January 14, 2017 11 am-1 pm, Gold Mint Lot, Free avalanche rescue workshop at Hatcher Pass
General public and all user groups invited!
Sponsored by Hatcher Pass Snow Rider's Club, HPAC, Alaska Avalanche School, CNFAIC
---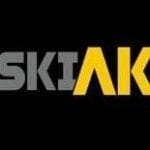 Back Country every Tuesday Night 6:30PM – 8:30PM at SkiAK for November
11/8 – Chugach National Forest Avalanche Information Center / Hatcher Pass Avalanche Center / area discussions / online tools / 2015-16 lessons learned
11/15 – Joe Stock AMGA/IFMGA Mountain Guide / discussion on human factors and learning from close calls / book signing 'The Alaska Factor 2 Back Country Skiing in Southcentral Alaska'11/22 – Alaska Avalanche Information Center – forecast areas / avalanche

awareness and education / online tools / public service

11/29 – Dean Cummings H2O Guides Alaska Heliskiing presents an award winning program 'Steep Life Protocols' / Avalanche avoidance/ terrain management / route selection / mountain safety and risk management / team group emphasis and more
---
Join the Alaska Avalanche Information Center, Alaska Avalanche School, Chugach National Forest Avalanche Information Center and more to get prepared for your winter adventures at the SnowFest! Hands on activities, prizes, equipment demos, films, plus more. All Thanks to AARP Alaska!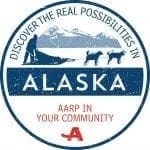 It's all FREE and will run from 11 am to 3 pm at the Anchorage Loussac Public Library, 3600 Denali Street, Anchorage. Great for ages 10 years and up. Tune up your backcountry travel skills for winter now!
---
The Chugach National Forest Avalanche Center, Alaska Pacific University, Alaska Avalanche Information Center and the American Avalanche Association will be hosting a gathering of snow professionals for a day of learning, presentation, discussion, and networking.
The 2016 Southcentral Alaska Avalanche Workshop (SAAW) will be held Friday, November 4th at Alaska Pacific University from 9am to 4:30pm, doors will open at 8:30.
NEW THIS YEAR:   Afternoon session (1-4:30pm) is FREE and geared to backcountry users as well as professionals!!
Location: APU's Atwood Building, 2nd Floor.
Guest speakers this year include Drew Hardesty, from the Utah Avalanche Center, and Gabe Wolken, from the University of Alaska Fairbanks.
Please see the Schedule for a list of presentations and speakers!!
This will be the 4th annual SAAW and like the past workshops, we are looking forward to a great day of learning, networking and fun. Thank you to everyone who has made our first three events a huge success!!