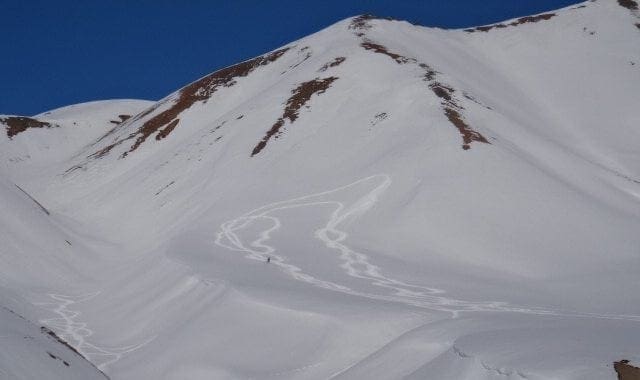 Expires: Sun, Apr 09, 2017
Arctic Man 2017 was a success! We had many people stop by the avalanche information kiosk asking questions about conditions and learning avalanche rescue skills. We'll see you all next year.
If you choose to ride the Summit Lake/Isabel Pass area more this spring, pay attention to how the weather is affecting the snow. With poor snow structure, human triggered avalanches are likely during the heat of the day.
Check in at the Eastern Alaska Range Avalanche Center facebook page to share your avalanche, snow, and weather observations. LIVE TO RIDE ANOTHER DAY!
Degrees of Avalanche Danger ?
1. Low
2. Moderate
3. Considerable
4. High
5. Extreme
Problem Details
WIND SLAB OVER PERSISTENT WEAK LAYER:
Elevation:   Above 3000 feet
Aspect:  Lee to north wind
Terrain:   Near ridges, gully walls, rollovers
Sensitivity:   Stubborn
Distribution:   Specific
Likelihood (Human Triggered):   Unlikely
Size:   Small – Large
Danger Trend:   Increasing with daytime warming and no overnight freeze
Forecaster Confidence:   Fair
WET LOOSE AND WET SLAB AVALANCHES:
Elevation: Above 3000 feet
Aspect: slopes absorbing the sun's heat, south and west in the afternoon
Terrain: Steeps >40 degrees
Sensitivity: Responsive
Distribution: Specific
Likelihood (Human Triggered): Possible
Size: Small – Large
Danger Trend: Increasing with daytime warming and no overnight freeze
Forecaster Confidence: Good
AVALANCHE PROBLEM SCALE DESCRIPTORS:
Sensitivity: Non-reactive, Stubborn, Responsive, Touchy
Distribution: Isolated, Specific, Widespread
Likelihood: Unlikely, Possible, Likely, Nearly Certain
Size: Small, Large, Very Large (size scale <here>)
Danger Trend: Increasing, Steady, Decreasing
Forecaster Confidence: Good, Fair, Poor
AVALANCHE PROBLEM TOOLBOX <here>
SNOWPACK DISCUSSION: Information gathered during the Arctic Man event showed very thin snow coverage surrounding the Summit Lake area; 20 inches average snowpack depth.  Below 4000′ the snow was quickly going isothermal – facets becoming wet during daytime thaw.
Above 4000′ ridgelines and gullies were windloaded from north wind events back in March and earlier. 2-8 inches snow fell April 1st  leaving a bit of fresh on top.  Under that new snow, the snow structure was pencil-1 finger (hard/strong) windslab layers over 4finger-fist (weak) facets and depth hoar.
As spring progresses in the area avalanches releasing to ground are expected. Travel in avalanche terrain will require careful route finding and timing. While the snow is frozen, avalanche danger is lower than in the afternoon heat when all the layers are loosening up and primed to head downhill.
Video showing layers of hard cohesive snow over weak punchy facets
Recent Avalanche Activity
Thursday April 7  late in the afternoon a few wet loose avalanches were triggered both naturally and by humans on steeps that baked in the sun all day. The coverage is so thin, the wet snow peeled to ground.
Tuesday April 5 a snowmachiner triggered a small pocket of windslab on a steep sun-warmed slope. The crown was 6″- 2′ thick and released just under the ridge. The avalanche was a size 1, not large enough to bury & kill a person.
Recent Weather
Sunny today for the Arctic Man race. A few clouds possible. Temps in the 40s Fahrenheit near Summit Lake. Light north wind.
Additional Info & Media
| | | |
| --- | --- | --- |
| SNOW HISTORY: | Valdez 2/24 AM | Thompson Pass 2/24 AM |
| 24 Hour Snow / Water Equiv. | <0″/0″ | 0″ /0″ |
| Storm Snow /Water Equiv. (2/22-2/23) | 0.6" /0.05″ | 1″ /0.1″ |
| Current Snow Depth | 48″ | 49″ |
| February Snow / Water Equiv. | 44.9″ /5″ | 43″ / 5.1″ |
| Total Winter Snowfall / Water Equiv. | 222.8″ /20.9" | 282″ / 27.7″ |
| Snowload in Valdez | ~ lbs/sq. ft. | |
SNOWFALL at OTHER STATIONS:
LAST 24 HRS (2/24 AM)/STORM TOTAL (2/22-23)/STORM WATER EQUIV.:
Nicks Valley at 4200 ft (in):
0″ / 0″ / 0″
Upper Tsaina at 1750 ft (in):
0″ / 0″ / 0″
Sugarloaf at 550 ft (in):
0″/ 1″ / 0.1″
| | | |
| --- | --- | --- |
| SNOW DEPTH & WATER SURVEY (2/1/2017) | Depth | Snow Water Equivalent |
| Milepost 2.5 Valdez |  41.5″ |  9.8″ |
| Milepost 18 | 43.9″ | 9.5″ |
| Milepost 29 Worthington Flats | 61.5″ | 16″ |
| Milepost 37 Tsaina River bridge | 42.1″ | 9.3″ |
| This survey is done the first week of each month. | | |
| | | |
Weather Quicklinks:
SNOW CLIMATE ZONES:
Maritime (Coastal) – from the Port of Valdez to Thompson Pass, all waters flowing into Valdez Arm and everything south of Marshall Pass.
Inter-mountain (Transitional) – between Thompson Pass and Rendezvous Lodge.
Continental (Interior) – the dry north side of the Chugach (north of 46 Mile, including the Tonsina River).
Photo of Thompson Pass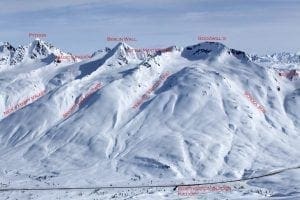 Interactive Map of Valdez Forecast Areas w/ Many Resource Layers (Trevor Grams)
Run Map of Thompson Pass Area (Sean Wisner) (2MB download)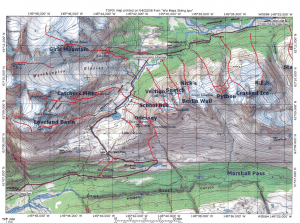 NEWS: Our region is "one of the snowiest places on earth" – Serendipity / Rendezvous snowfall record set in 1963 <here>.
Free smart phone avalanche forecasts at: http://www.avalancheforecasts.com/
NOTE:
Currently, the Eastern Alaska Range Avalanche Center does not issue forecasts. We encourage all users to make educated and informed decisions whenever you choose to travel into avalanche terrain. Careful evaluation of the snowpack, cautious route-finding, and conservative decision-making should be used at all times. Consult recent user observations and available weather resources for more information.
Please refer to the public observations below or our Facebook timeline.