GET the GEAR: Ensure everyone has an avalanche transceiver, shovel, and probe on their person and knows how how to use them.
GET the TRAINING: Take an avalanche class.
GET the FORECAST: Make a riding plan based on the current avalanche and weather forecast.
GET the PICTURE: If you see recent avalanche activity, unstable snow exists. Riding on or underneath steep slopes is dangerous.
GET OUT OF HARM'S WAY: Don't go to help your stuck friend. One at a time on all avalanche slopes. Don't group up in runout zones.

NEWS and EVENTS…..
When you go riding, leave a trip plan with someone you trust (click on a template to the left)
Nov. 4, 2017 – SnowFest – Community backcountry safety and avalanche awareness – Anchorage, AAIC
Dec. 9-10, 2017 – Snowmachine Backcountry Safety Fundamentals – Eureka, AAIC – This is an AARP Sponsored – AIARE based course – Register Here
Jan. 27-18, 2018 – Snowmachine Backcountry Safety Fundamentals – Petersville, AAIC – This is an AARP Sponsored – AIARE based course – Register Here
More courses coming soon.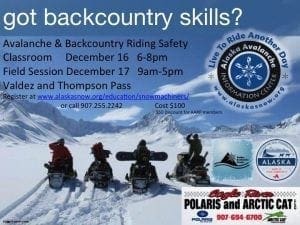 Thanks for the FULL HOUSE turn out November 7, 2016 Avalanche and Backcountry Safety at Eagle River Polaris Arctic Cat. Special thanks to Paul Hughes for hosting.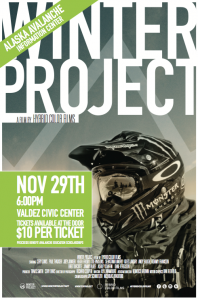 Quick Links for Snowmachiners
Register for a snowmachine specific avalanche course near you!
Snowmachines have the ability to cover significantly more terrain than other backcountry travelers. As a result, snowmachiners have the potential to expose themselves to much more avalanche terrain. Good routes and travel habits can reduce the risk of getting caught in a slide.
Do you have the avalanche skills to live to ride another day?
Think about your group…do they have the skills to dig you out?
The Alaska Avalanche Information Center is working with AIARE to assist in the development of curriculum for snowmobile specific avalanche education in the US. We have been working towards this goal for several years, making headway towards the development and implementation of pertinent and effective avalanche education designed specifically for snowmobilers. If you have ideas or want to schedule a snowmachine specific class for your riding group or club, please contact us.