GET the GEAR: Ensure everyone has an avalanche transceiver, shovel, and probe on their person and knows how how to use them.
GET the TRAINING: Take an avalanche class.
GET the FORECAST: Make a riding plan based on the current avalanche and weather forecast.
GET the PICTURE: If you see recent avalanche activity, unstable snow exists. Riding on or underneath steep slopes is dangerous.
GET OUT OF HARM'S WAY: Don't go to help your stuck friend. One at a time on all avalanche slopes. Don't group up in runout zones.

AIARE
AK Sled Shed Motorized Learning:
BCA Avalanche Safety for Snowmobilers
When you go riding, leave a trip plan with someone you trust (click on a template to the left)
---
UPCOMING TRAINING OPPORTUNITIES
If you are interested in scheduling a program, let us know. email: [email protected] 
---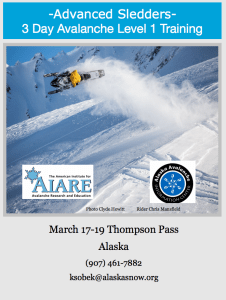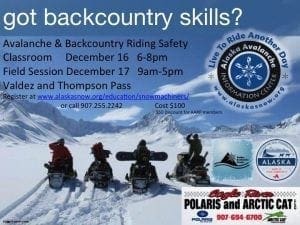 Quick Links for Snowmachiners
Register for a snowmachine specific avalanche course near you!
Snowmachines have the ability to cover significantly more terrain than other backcountry travelers. As a result, snowmachiners have the potential to expose themselves to much more avalanche terrain. Good routes and travel habits can reduce the risk of getting caught in a slide.
Do you have the avalanche skills to live to ride another day?
Think about your group…do they have the skills to dig you out?
The Alaska Avalanche Information Center is working with AIARE to assist in the development of curriculum for snowmobile specific avalanche education in the US. We have been working towards this goal for several years, making headway towards the development and implementation of pertinent and effective avalanche education designed specifically for snowmobilers. If you have ideas or want to schedule a snowmachine specific class for your riding group or club, please contact us.
Past Events
Nov. 4, 2017 - SnowFest - Community backcountry safety and avalanche awareness - Anchorage, AAIC
Dec. 9 – Backcountry Rider Workshop – Eureka Lodge – AAIC Sponsored by the Alaska Department of Public Safety – Learn More / Register
Dec. 10 – Snow Riders workshop – Eureka Lodge – AAIC course Sponsored by AARP Alaska  – Learn More / Register
Jan. 27-28, 2018 - Snowmachine Backcountry Safety Fundamentals - Petersville, AAIC - AIARE based course - Register Here
Feb. 10-11 – Level 1 Snowmachine – Alaska Avalanche School
March 1 – AAIC – DPS – Backcountry Safety – Anchorage Snowmobile Club
March 10 – Safe Backcountry Riders Workshop Level 2 – Anchorage Snowmobile Club
March 10-12 - Level 2 Snowmachine  Alaska Avalanche School
March 17 – Safe Backcountry Riders Workshop Level 1 – Anchorage Snowmobile Club
March 15-April 15 - Thompson Pass Mountain Safety Clinics - Learn more and register here
April 11-14 – AAIC – DPS – Backcountry Riding workshops at Arctic Man - Learn more and register here
(Dates to be announced) Mountain Man Hill Climb – Thompson Pass Valdez
Feb.11, 2017  Snowmachine Recognition of Avalanche Hazard & Fundamentals of Avalanche Safety – Girdwood, Alaska Avalanche School
Feb. 12, 2017  Snowmachine Core Concepts in Avalanche Safety: Travel in Avalanche Terrain – Turnagain Pass, Alaska Avalanche School
March 3-5, 2017  Snowmachine Avalanche Skills 1 – Trapper Creek, Alaska Avalanche School
March 17-19, 2017 Advanced Sledders Level 1 Training, Thompson Pass
Thanks to Rich Loftin, Joe Rowe, Kyle Sobek and other Valdez Snowmachine Club members for making the Avalanche and Backcountry Riding Safety class at Thompson Pass a success December 17, 2016.

Thanks for the FULL HOUSE turn out November 7, 2016 Avalanche and Backcountry Safety at Eagle River Polaris Arctic Cat. Special thanks to Paul Hughes for hosting.