We have lots of ways for you to help!
Support Snow Safety in Alaska Here!
Whether through direct support, in-kind, volunteer or when you shop, you'll find lots of ways you can help advance and sustain snow and backcountry travel safety and information sharing in Alaska.
Donate directly to the Alaska Avalanche Information Center, a not-for-profit 501-c3 organization supporting the operations of a network of information centers around Alaska including: Cordova, Eastern Alaska Range, Haines, Hatcher Pass and Valdez.

The AAIC also strongly supports grass roots efforts of groups working to spread and share information throughout Alaska such as Kenai, Sitka and Juneau. We collaborate with other organizations and agencies including the Chugach National Forest Avalanche Information Center and the Alaska Avalanche School.

Support your local AAIC Center

Memorial funds - Family and friends have established the following funds In memory of those lost
Which ever fund you choose to support, your dollars will be supporting the sharing of avalanche information and education in Alaska.
Please Note: Feel free to include a note to remind us where you would like your funds to go. When you select a center for your donation, although you will be taken to a link that states: Donating to the Alaska Avalanche Information Center, the donation will come to us earmarked for the center or fund you selected. Thanks!
Alaskans can support avalanche and backcountry safety services by donating a portion of your Permanent Fund Dividend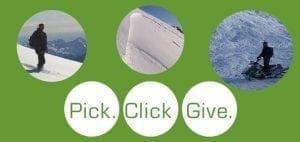 Scholarship and Memorial funds