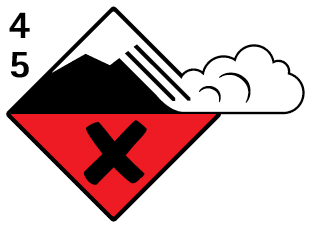 Expires: Thu, Mar 01, 2018
Caution advised in glacier areas: this year's alpine snowpack is thinner than normal and our glaciers are more likely to have thin snow bridges over crevasses.
Degrees of Avalanche Danger ?
1. Low
2. Moderate
3. Considerable
4. High
5. Extreme
Problem Details
The last 48 hours brought around 17″ of new snow in the Lutak zone, ranging down to around 6″ in the Pass zone. Winds were strong out of the south, but have switched to strong out of the north today. The new snow sits over a bed of weak facets about 30-60cm deep. Beneath that, we have a few different mid-pack ice crusts, with faceted layers in between, and depth hoar at the ground in thin areas. See snow profile below.
Problem #1: Storm Snow
Location: All aspects and elevations. We have about 20″ of recent powder that fell upside-down and with strong density interfaces. Strong southerly winds have caused heavy wind loading on NW-N-E aspects, and north winds today will reverse this pattern. As the winds pick up, natural avalanches will be likely today on wind loaded aspects and cross-loaded gullies. Human triggered soft slab avalanches will be likely on any slopes steeper than about 27 degrees. The icy bed surface under the new snow will make for large and fast loose-snow avalanches as well. Stick to the trees today, or stay on low-angle slopes. Be mindful of steep openings in the trees which are often wind loaded and lead to terrain traps below.
Problem #2: Persistent Slab
Trend: danger increasing with the new load from fresh snow. Location: all aspects above 1500ft. Likelihood of triggering: likely. Confidence: moderate. Avalanche Size: moderate-large. Below the upper rain crust sits a thick layer of weak facets, another crust, then more weak facets. We continue to get reports of whumping within the facet layer below the upper ice crust (about 60cm deep now), which shows that this ice crust is decomposing and overloaded. With the added stress from new snow on top, we now have a "loaded gun" type of scenario.
Remote triggering and wide propagation will be possible, leading to large avalanches. Surface avalanches may step down to these facet layers 45-60+cm deep.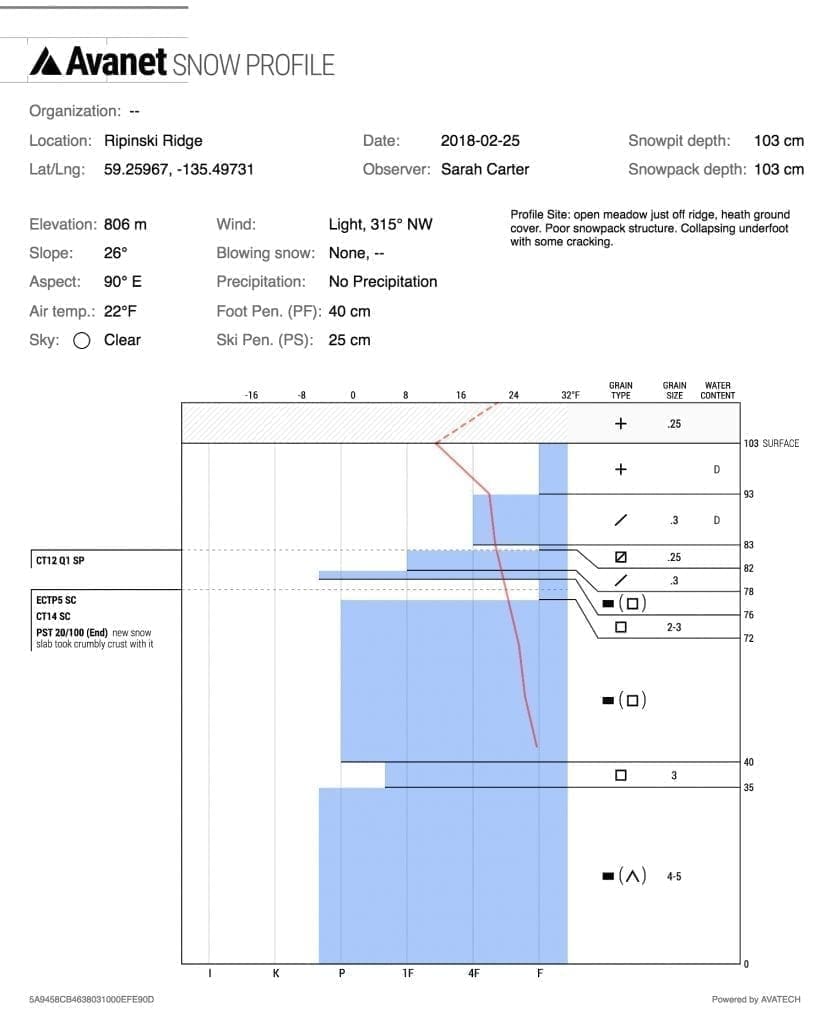 Recent Avalanche Activity
In the last week, lots of whumphing has been reported (failing on facets beneath the upper ice crust), as well as shooting cracks within the recent snow.
In the last two weeks there has been small natural wind slab activity on wind loaded slopes, with crowns up to 25-50cm thick. This is occurring regularly in sync with wind events. Cross-loaded slopes have shown the most activity since the winds have shifted direction several times.
Recent Weather
Tuesday night's storm will be clearing out towards noon today, as strong north winds increase. Snow totals from last night will be 5 – 9″ (bringing 2-day totals to 9 – 18″, highest amounts in the Lutak zone). Thursday-Friday we will see strong arctic outflow: cold, clear, and very windy from the north.
| | | | | | | |
| --- | --- | --- | --- | --- | --- | --- |
| |  Snow Depth [in] | Last 24-hr Snow/SWE [in] | Last 3-days Snow/SWE [in]  | Today's Freezing Level [ft] |  Today's Winds | Next 24-hr Snow/SWE |
| Mount Ripinsky @ treeline | 53″ | 8″ / 0.70 | 17″ / 1.50 | 0 |  strong, N | 0″/ 0.00 * |
| Flower Mountain @ treeline |  41″ | 4″ / 0.30 | 10″ / 0.70 | 0 | strong, NW | 0″/ 0.00 * |
| Chilkat Pass @ 3,500ft |  22″* | 2″ / 0.15 * | 6″ / 0.50 * | 0 | strong, NW | 0″/ 0.00 * |
( *star means meteorological estimate )