Expires: Sun, Feb 25, 2018
2,500 to 3,500ft
Moderate
Degrees of Avalanche Danger ?
1. Low
2. Moderate
3. Considerable
4. High
5. Extreme
Problem Details
BOTTOM LINE
Yesterday one person was partially buried in a human triggered avalanche on Eldorado Peak, SE, 4100′. Predicting avalanches will be continue to be tricky this weekend.
A Moderate Avalanche Hazard, with significant consequences, exists for Persistent Slab Avalanches today.  The Valentines buried persistent weak layer is the main concern.
---
PERSISTENT SLAB AVALANCHE PROBLEM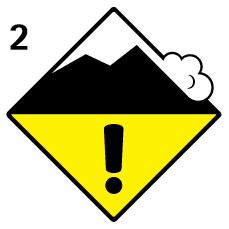 A Moderate Avalanche Hazard exists for Persistent Slab avalanches at all elevations on all aspects, on slopes 35º and steeper.  Expect avalanches to be up to D2 in size, and 1-3 feet deep. Avalanches will be large if triggered.
Poor snowpack structure and the Valentines PWL continues to be the primary concern: 2-3 feet of snow combined from the Valentine's Storm, 2/11 – 2/14, and new snow on 2/22 (~10″), is sitting over widespread persistent, weak facets, on a firm bed surface. This weak layer is more reactive on southerly aspects. Evidence of instability may be difficult and spotty to find.
While the newer 2/22 snow is alarming in appearance from wind sculpting and wind transport, it is generally well bonded to the older snow surface. Shifting, moderate winds on the evening of the 22nd and into the early morning on the 23rd sculpted surfaces and built cohesive widespread, thin (1-6″) slabs that are generally stubborn to trigger, and unreactive. Northerly winds, which often do not show up on the Marmot Weather Station anemometer, played a role in the complex pattern of new snow distribution and shaping.
Stability tests, recent natural avalanches during the 2/22 storm, and a recent human triggered avalanche yesterday, confirm a lingering, persistent slab avalanche problem that will be possible to human trigger today. Mid-upper elevation Southerly slopes have a generally thinner snowpack than the Northerly slopes, making it easier to transfer your weight to weak layers. Lower elevations will have generally thinner snowpacks on all aspects, with a poor snowpack structure. Southerly slopes also have more pronounced melt freeze crust/facet problems. Spatial variability and uncertainty are high and obvious clues are not always present. Shooting cracks and whumphing will likely not be present, and therefore, may lead you to believe stability is better than it actually is.
With significant consequence avalanches possible today, give yourself a buffer from the risk, by choosing lower angle slopes lacking any terrain traps, including gullies, ravines and rocks. Make sure to spread out; one person at a time on slope. Yesterday's human triggered avalanche included a fair bit of luck with no injuries, and terrain shape played a large role in fanning out debris, instead of piling up it up. Better terrain choices can make the difference.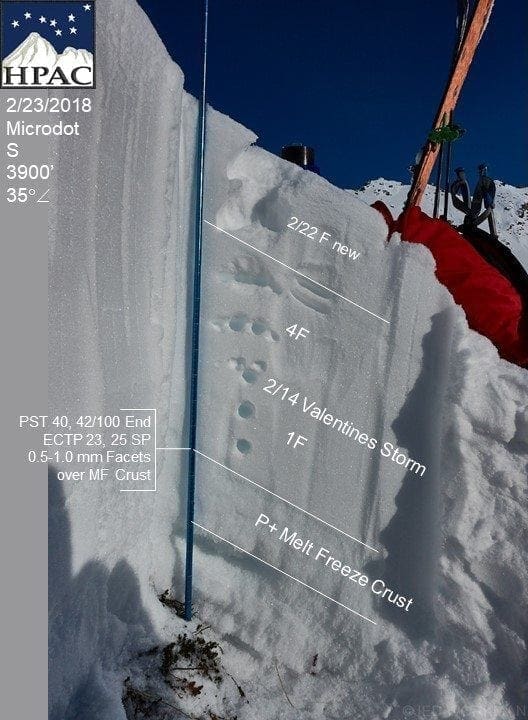 LOOSE SNOW AVALANCHE PROBLEM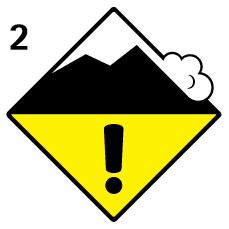 Loose snow avalanches will be small to moderate in volume, and possible to trigger on wind protected slopes 40º and steeper. As snowfall accumulates through the day, expect loose dry avalanches to increase in volume. Loose dry avalanches will have the ability to sweep you off your feet and carry you into more consequential terrains traps.
Link to pit
Recent Avalanche Activity
Recent natural and human triggered avalanches have been observed and reported mid storm on 2/22, and on 2/23.
Recent Weather
This week's weather at 3550′:
Temps averaged 25ºF, with a low of 14ºF and a high of 33ºF.
IM reported 10″ of new snow this week with 0.9″ of water (SWE).
Overnight at 3550′:
Temps averaged 12° F.
~1″ new snow overnight.
This week's weather at 4500′:
Temps averaged 21ºF, with a low of 2ºF and a high of 31ºF.
Winds averaged SE 4 mph, max SE 12 mph . Gusts averaged SE 9mph, max gusts SE 23 mph.
Overnight at 4500′:
Temps averaged  8ºF overnight, with a Low of 4ºF .
Winds averaged SE 6 mph overnight, with a max gust E 14.
---
NWS recreational forecast for Hatcher Pass here
---
NWS point forecast here
---
State Parks snow report here
Additional Info & Media

The avalanche hazard will likely remain the same through the weekend.
If we see heavy snowfall today or strong winds winds, the hazard will increase quickly.
NWS is calling for 4-6″ of snow at Hatcher Pass today, temps in the teens, and light Westerly winds 2-8 mph. More snow and cool temperatures are in the forecast for Sunday evening into early next week.