Expires: Sun, Feb 18, 2018
Thank you for coming out to our annual HPAC fundraiser. Thanks for all the community support and sponsors who helped make this event possible. It was a HUGE success!
Above 3,500ft
Considerable
2,500 to 3,500ft
Considerable
Degrees of Avalanche Danger ?
1. Low
2. Moderate
3. Considerable
4. High
5. Extreme
Problem Details
BOTTOM LINE
Yesterday one person was fully buried in a human triggered avalanche. Considerable avalanche hazard will continue to be a problem today.
A Considerable Hazard exists for Persistent Slab Avalanches.  Buried persistent weak layers, both near the surface and in the mid-pack, will be possible to human trigger at mid and upper elevations.  Natural avalanches are possible. Human triggered avalanches are likely. Expect small avalanches in many areas; or large avalanches in specific areas; or very large avalanches in isolated areas.
A Moderate Hazard exists at low elevation.
---
PERSISTENT SLAB AVALANCHE PROBLEM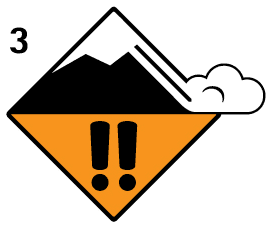 A Considerable Hazard exists for Persistent Slab avalanches at mid to upper elevations on all aspects, on slopes 30º and steeper.  Expect avalanches to be up to D2 in size, and up to 2-3 feet deep. A Moderate Hazard exists at low elevation, on all aspects, on slopes 30º and steeper.
Poor snowpack structure is the primary concern: 2 feet of new snow from the Valentine's Special, 2/11 – 2/14 is sitting over widespread persistent, weak facets and surface hoar, on a slick bed surface. A simple and perfect recipe for avalanches.
The initial storm snow from the evening on 2/11 into 2/12 came in with wind, gusting SE 19-29 for 12 hours, which assisted in making the initial snow a cohesive soft slab. Winds soon subsided, allowing for the rest of the snowfall to be low density powder, lacking cohesion. Expect more cohesive, thicker slabs to exist on the leeward aspects, West to North aspects, on rollovers, cross-loaded features, and steep gully sidewalls, but soft slabs 1-2 feet deep will be possible to trigger on all aspects.
Solar radiation on South to West aspects later in the day will increase the avalanche hazard and may trigger natural avalanche activity. Exposed rocks and rock bands heating up with direct solar gain may be more likely locations for triggering avalanches.
Many avalanches were triggered on Friday with only a moderate number of people in the backcountry. Many people successfully rode steep slopes without consequence which proved to be a false positive for overall stability. In some cases, the same slope was ridden many times before an avalanche was triggered. Evidence of the avalanche problem exists but is not always obvious. Whumphing and shooting cracks may not occur or alert you to the hazard.  Today, the same avalanche problems will continue to persist and stability will be very slow to improve.
Today the number of backcountry users are likely to substantially increased with the weekend,  sunshine, and powder, however, the avalanche hazard remains elevated. Be especially careful of overcrowding and give yourself and others space. One person on slope at a time, do not group up at the base of slopes, use safe zones, spot each other, and be prepared for companion rescue.
The sexy Valentines powder has a strong allure, but danger is afoot.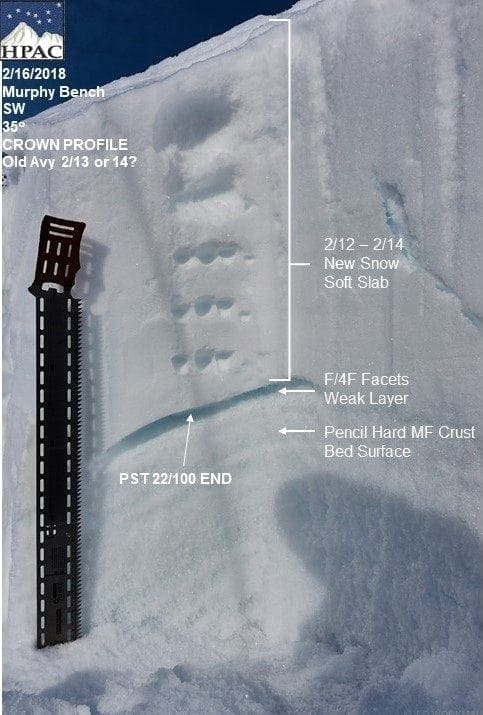 Recent Avalanche Activity
This week, numerous natural avalanches occurred during and directly after the Valentines storm.  Over the last couple days natural activity has subsided, but numerous human triggered avalanche have been triggered. See observations from this week for more information.
Recent Weather
This week's weather at 3550′:
Temps averaged 23ºF, with a low of 9ºF and a high of 29ºF.
IM reported 23″ of new snow this week with 2.9″ of water (SWE).
Overnight at 3550′:
Temps averaged 17° F.
0″ new snow overnight.
This week's weather at 4500′:
Temps averaged 18ºF, with a low of 9ºF and a high of 23ºF.
Winds averaged SE 4 mph, max SE 21 mph . Gusts averaged SE 8mph, max gusts SE 29 mph. SE 19-29 mph gusts accompanied new snow for the first 12 hours of precipitation 2/11.
Overnight at 4500′:
Temps averaged  17ºF overnight, with a Low of 16ºF .
Winds averaged SE 2 mph overnight, with a max gust NW 10 mph.
---
NWS recreational forecast for Hatcher Pass here
---
NWS point forecast here
---
State Parks snow report here
Additional Info & Media

NWS is calling for Sunny skies, a high of 25°F at 3000′, and light variable winds. The avalanche hazard will remain the same through the weekend. Strong winds, thawing temperatures, or a rapid new load will increase the avalanche hazard.