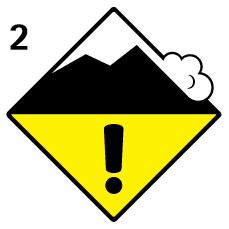 Expires: Sun, Feb 11, 2018
Caution advised in glacier areas: this year's alpine snowpack is thinner than normal and our glaciers are more likely to have thin snow bridges over crevasses.
Degrees of Avalanche Danger ?
1. Low
2. Moderate
3. Considerable
4. High
5. Extreme
Problem Details
We currently have about 2-6″ of recent snow on top of a solid rain crust (around 2″ thick) and a facetting mid-pack. The main concern will be fresh wind slabs at the top of the snowpack. Despite generally low danger in many places, there will be significant areas of MODERATE danger on freshly wind loaded slopes above 3,500′, and in thin/rocky areas where the mid-pack is faceting.
Problem #1: Wind Slab
Location: Wind loaded slopes and cross-loaded terrain features/gullies, above 3,500ft. The upper layer of snowpack is wind blasted, from recent north winds whipping it around into wind slabs and cross loading gullies. This is especially be true on high and exposed slopes, and around ridgelines and summits.  It will be possible to trigger wind slabs in this new snow anywhere it is blown in deeper than a few inches. Test slopes and hand shears will be helpful as you judge the danger from slope to slope. Avoid areas of cohesive wind slab.
Stick to areas where the top layer of snow is still soft and protected (there are still some areas in the trees). Always practice good travel techniques, utilizing safe zones, escape routes, only exposing one person at a time to slopes over 30 degrees.
Problem #2: Persistent Slab
Location: all aspects above 2000ft where the snowpack is thin (< 1.5m deep). Below the upper rain crust, recent cold weather has been slowly faceting (weakening) the layers in the midpack and at the ground in thin, windswept areas. We have been getting reports of significant weakness within these faceted layers where the snow is thinner, and it's safe to assume these conditions are relatively widespread wherever the snowpack is thin. Be aware that in these areas, you may be able to trigger pockets of deeper slab. Use extra caution in these areas.
Recent Avalanche Activity
In the last two weeks there has been increasing small natural wind slab activity on wind loaded slopes, with crowns up to 25-50cm thick. We've also seen human-triggered loose sluffs that have been getting large and swift in steep terrain.
Recent Weather
Sunday will bring one more day of pleasant weather, with light winds, temperatures in the 20's, and maybe some high clouds. Another atmospheric river is lined up to hit Monday-Tuesday, with strong south winds, heavy precipitation, and snow levels rising to around 1000-2000ft. 6-12″ of wet snow is likely above snowline.
| | | | | | | |
| --- | --- | --- | --- | --- | --- | --- |
| |  Snow Depth [in] | Last 24-hr Snow/SWE [in] | Last 3-days Snow/SWE [in]  | Today's Freezing Level [ft] |  Today's Winds | Next 24-hr Snow/SWE |
| Mount Ripinsky @ treeline | 36″ | 0″ / 0.00 | 0″ / 0.00 | 0 |  light, N | 0″/ 0.00 * |
| Flower Mountain @ treeline |  32″ | 0″ / 0.00 | 0″ / 0.00 | 0 | light, NW | 0″/ 0.00 * |
| Chilkat Pass @ 3,500ft |  20″* | 0″ / 0.00 * | 0″ / 0.00 * | 0 | light, NW | 0″/ 0.00 * |
( *star means meteorological estimate )
Additional Info & Media
If you get out on the snow, send in your observations!
---
We will be providing an AIARE Avalanche Level 1 Class this winter in Haines, February 23-25, 2018