Expires: Sun, Feb 11, 2018
2,500 to 3,500ft
Moderate
Degrees of Avalanche Danger ?
1. Low
2. Moderate
3. Considerable
4. High
5. Extreme
Problem Details
BOTTOM LINE
A Moderate Hazard exists for Persistent Slab Avalanches.  Buried persistent weak layers, both near the surface and in the mid-pack, will be possible to human trigger at mid and upper elevations in specific areas.  Natural avalanche are unlikely. Small avalanches in specific areas; or large avalanches in isolated areas.
A Low Hazard exists at low elevation.
---
PERSISTENT SLAB AVALANCHE PROBLEM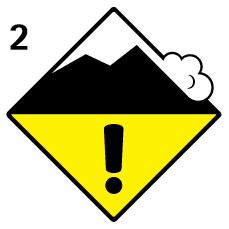 A Moderate Hazard exists for Persistent Slab avalanches at mid to upper elevations. A Low Hazard exists at low elevation.
Strong Easterly winds on February 2-3, gusting to 59 mph, scoured windward slopes and loaded leeward aspects, building stiff, cohesive slabs over weak, persistent layers.  Numerous natural avalanches occurred during and shortly after the wind event, mostly at mid to upper elevations on Southwest to Northwest aspects. Slab thickness varied from a few inches to 2 feet deep. Weak layers were both near surface faceted grains and buried surface hoar. These layers will continue to be the layers of concern today.
Stability has increased substantially since this event, however, it will still be possible to trigger cohesive slabs sitting over buried persistent weak layers (near surface facets and surface hoar) up to 2-3 feet deep, up to D2 in size, in specific areas. Likely locations include mid to upper elevation, previously wind loaded slopes and cross loaded features, mostly on Southwest to Northwest aspects, on slopes 30° and steeper. These areas will have a smoother surface appearance than the safer windward aspects which are highly textured.
This avalanche problem will be difficult to predict and any single instability test will be unreliable. The thickness of these slabs varies greatly. It will be more likely to trigger an avalanche where the slab is thinner, where your weight can more easily transfer to the buried weak layers. Any failure of the weak layer will have the ability to propagate (travel) into much thicker portions of the slab problem, increasing the overall size of the avalanche, and therefore the danger and consequences. It will be possible to remotely trigger avalanches from above, below, or adjacent to problem areas. This avalanche problem may also allow for numerous people to successfully ride on slope, before it finally fails, or it may choose to fail on the first rider, it's a crap shoot.
If you are in and around this hazard, travel one at a time, space out between partners, use islands of safety for decision making points, only have one person on slope at a time, do not group up in the runnout zone. Everyone in your group should be carrying a beacon, shovel and probe on their person, and be prepared and practiced to perform companion rescue.
Pit profile here
Recent Avalanche Activity
No natural of human triggered avalanches have been reported since February 4.
Recent Weather
An inversion continues to persist in our area. At 7AM the temperature at the Palmer Airport is 7°F and RH 87%, while the temperature on Marmot Mountain at 4500′ is 25ºF wit a RH of 20%.
This week's weather at 3550′:
Temps averaged 20ºF, with a low of 11ºF and a high of 30ºF.
1″ of new snow this week.
Overnight at 3550′:
Temps averaged 24° F.
0″ new snow overnight.
This week's weather at 4500′:
Temps averaged 23ºF, with a low of 14ºF and a high of 31ºF.
Winds averaged SE 4 mph, max SE 13 mph . Gusts averaged SE 7mph, max gusts SE 20 mph.
Overnight at 4500′:
Temps averaged  25ºF overnight, with a Low of 24ºF .
Winds averaged SE 6 mph overnight, with a max gust of SE 18 mph.
---
NWS recreational forecast for Hatcher Pass here
---
NWS point forecast here
---
State Parks snow report here
Additional Info & Media

Snow is in the forecast starting tonight and through Monday. A few inches of new snow will increase the likelihood of triggering small, dry loose avalanches Sunday through Monday. While NWS is only calling for a few inches, strong SW flow has the potential for heavy precipitation at HP. Any rapid, heavy load will have the potential to increase the avalanche hazard for higher consequence slab avalanches.
---