Expires: Sun, Jan 28, 2018
Hatcher Pass Avalanche Center Annual Fundraiser and Cabin Fever Reliever,
Saturday, February 10th at the Moose Lodge in Palmer.
Get your tickets online here! or cash only at Backcountry Bike and Ski or Active Soles in Palmer. Buy your tickets whether you plan to attend or not to help sustain HPAC through this season!
——————————————————————————–
TODAY at 11 AM Independence Mine Parking Lot- Ribbon Cutting ceremony, Are You Beeping Signs installation, General public and media invited
2,500 to 3,500ft
Moderate
Degrees of Avalanche Danger ?
1. Low
2. Moderate
3. Considerable
4. High
5. Extreme
Problem Details
BOTTOM LINE
A Moderate Hazard  exists for Loose Dry Avalanches. Hatcher Pass received 8-10″ of  new, low density snow from 1/23-24 with very little wind associated with it. Small, D1, avalanches are possible to human trigger on all aspects, on slopes 45° and steeper. Natural avalanches unlikely, human triggered possible.
A Low Hazard exists for Wind Slabs and Persistent Slab Avalanches. Generally safe avalanche conditions. Watch for unstable snow on isolated terrain features. Natural and human triggered avalanche unlikely.  Small avalanches in isolated areas or extreme terrain.
---
LOOSE DRY AVALANCHE PROBLEM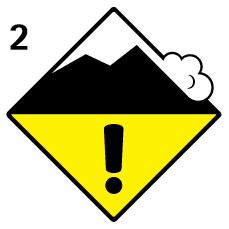 A Moderate Hazard exists for Loose Dry Avalanches today.  This is a widespread problem; Small, D1, avalanches will be possible to human trigger on all aspects at mid to upper elevations, on slopes 45° and steeper. 8-10″ of low density, new snow is sitting on older, hard, and smooth snow surfaces. This avalanche problem has an elevated likelihood of human triggering, but a relatively low consequence risk (compared to more dangerous avalanche problems, like slab avalanches). Correctly executed slope cuts are effective techniques for testing this problem without committing to the hazard.
The best powder riding will be found on slopes less than 45°, where the snow is not likely to sluff and remove your chosen slope of all the soft snow. On steeper slopes, triggering loose dry avalanches will wash your slope clean of powder, leaving you with firm, older snow surfaces.  If you are unlucky enough to be caught in a loose dry avalanche, there is also a good chance you will find yourself in a slide for life situation, sliding down very firm and smooth snow surfaces with speed, which may compound the hazard, especially if you encounter terrain traps.
WIND SLABS AND PERSISTENT SLAB AVALANCHE PROBLEMS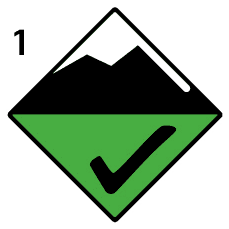 A Low Hazard for Wind Slabs and Persistent Slab Avalanches today. 
Several small, D1-1.5, natural wind slab avalanches failed during or shortly after the wind event on Thursday evening. These shallow slabs have been quickly stabilizing over the last 36 hours and will be unlikely to very unlikely to trigger today. Isolated to specific areas that may be more sensitive, will be upper elevation, leeward slopes, generally South to West aspects and on cross loaded features, closer to the boundary of Palmer and Wasilla where winds were able to transport snow and build cohesive slabs on Thursday evening. Arkose ridgeline to Government Peak received stronger winds, while Independence Mine and Arc Angel areas were generally more wind sheltered. Be suspicious and evaluate stiff surface snow overlying weaker snow. Shooting cracks and whumphing are red flags for a more sensitive avalanche problem, but it will be unlikely to encounter this in avalanche terrain today.
The widespread, persistent slab problem exists at all elevations, on all aspects and consists of poor structure and a buried, persistent weak layer (12/19) in the mid-pack. This weak layer's strength and friction have increased substantially and propagation potential has decreased. This weak layer will be unlikely to very unlikely to human trigger today. Any avalanche triggered on this layer will be isolated and D1-2 in size.
To test for this problem, digging a snowpit will be required. Slope cuts, hand pits and pole tests will not give you reliable instability information. Pole tests will reveal stiffer snow overlying weaker snow and indicate areas requiring further snowpack evaluation and snowpit testing.
The snowpack depth is highly variable, 1 to 5.5 feet deep.
IF YOU SEE AN AVALANCHE or have an observation to share, please submit your findings to the community observation platform HERE! or email us at info@hpavalanche.org
Pit profile here
Recent Avalanche Activity
After new snow accumulation of 7″ (according to IM) on 1/23-1/24, dry loose sluffs were observed on many mid and upper elevation aspects on slopes above 40º. Winds picked up briefly on 1/25-1/26, forming a soft wind slab. A few small wind slab avalanches were observed on leeward aspects, mostly W to N, on mid and upper elevation slopes during and after Thursday night's winds. These small slabs were shallow, in specific locations, and mostly D1 in size.
Recent Weather
This week's weather at 3550′:
Temps averaged 11ºF, with a low of -5ºF and a high of 24ºF.
IM reported 7″ of new snow and 0.7″ water (SWE) on 1/23-1/24. Ground truth reveals  8-10″ of new snow.
Overnight at 3550′:
Temperature averaged 19° F.
0″ new snow overnight.
This week's weather at 4500′:
Temps averaged 11ºF, with a low of -9ºF and a high of 25ºF.
Winds averaged S 4 mph, max S 19 mph . Gusts averaged S 7 mph, max gusts E/ENE 33 mph (on 1/25,1/26) for 10 hours.
Overnight at 4500′:
Temps averaged  18ºF overnight.
Winds averaged SSE 5 mph overnight, with a max gust of SE 17 mph.
---
NWS recreational forecast for Hatcher Pass here
---
NWS point forecast here
---
State Parks snow report here
Additional Info & Media

The avalanche hazard will likely remain the same through Sunday morning with cool temps and light winds.
Sunday afternoon and evening winds may increase. With plenty of available low density snow available for transport, strong winds will be able to increase the avalanche hazard quickly.