Expires: Sun, Jan 21, 2018
Thank you to everyone who participated in the Avalanche Workshop on Saturday, Jan. 13th.  If you attended please share your feedback and be entered to win prizes from Black Diamond, please complete our survey here.
__________________________________________________________
Hatcher Pass Avalanche Center Annual Fundraiser and Cabin Fever Reliever, Saturday, February 10th at the Moose Lodge in Palmer. Get your tickets online here! or cash only at Backcountry Bike and Ski or Active Soles in Palmer. Buy your tickets whether you plan to attend or not to help sustain HPAC through this season!
2,500 to 3,500ft
Moderate
Degrees of Avalanche Danger ?
1. Low
2. Moderate
3. Considerable
4. High
5. Extreme
Problem Details
BOTTOM LINE
A Moderate avalanche hazard exists for persistent slab avalanches due to buried persistent weak layers in the snowpack which will be stubborn to human trigger and large enough to bury, injure and/or kill at mid-upper elevations mostly on leeward aspects, generally West to North. Heightened  avalanche conditions on specific terrain features. Evaluate snow and terrain carefully; identify features of concern. Natural avalanches unlikely, human triggered possible. Small avalanches in specific areas; or large avalanches in isolated areas. 
Low hazard at low elevation. Generally safe avalanche conditions. Watch for unstable snow on isolated terrain features. Natural and human triggered avalanches unlikely. Small avalanches in isolated areas or extreme terrain.
---
PERSISTENT SLAB AVALANCHE PROBLEMS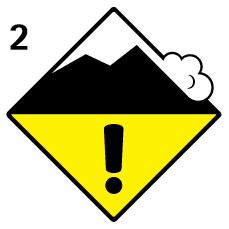 A Moderate Hazard for persistent slabs today. As Drew Hardesty at the Utah Avalanche Center describes the poker face of the persistent slab problem, "…this avalanche problem often holds its cards close where tests and observations may be inconsistent and misleading and avalanches may break well above the committed skier or rider."
Two different buried persistent weak layers of concern exists in the snowpack.
One close to the surface, buried on 1/13, with moderate continuity, that is untrustworthy.
The second buried in the md-pack on 12/19, which we have been focusing on for many week's now.
1/13 Persistent Slab
At the surface, a 1-6″ pencil hard slab sits over weaker near surface facets. This layer was formed on 1/13 to 1/14 during high winds, gusting ESE 62 mph at 4500′. It will be possible to human trigger an avalanche D1-2 in size, at mid to upper elevations, on leeward aspects, generally West to North, on slopes 35° and steeper. It will be possible to human trigger hard, persistent slab avalanches from above, on, below or adjacent to problem areas. Remote triggering may be possible in isolated locations.
Stability tests are highly variable, indicating that this layer should not be trusted. While you may be able to get away with a lot of riding on this layer, use every other advantage in the book to hedge your margins. Ski/board cuts are not good tests for this type of avalanche problem, as slabs are supportive enough to allow you well out onto the slope before they will fail above you.
Identifying this layer is easy if you can identify the wind loaded features, where stiff snow sits over weaker, faceted snow. A quick hand pit test should give you an idea of the bond between this layer and what is is sitting on. ECT tests may also be good indicators of instability. No single test will give you the green light for this problem, but poor test result will alert you to a red light, problem area. ECT's will be quick, will not require extensive excavation to conduct testing, and will provide you with some propagation potential data for decision making.
12/19 Persistent Slab
Widespread, buried facets in the mid-pack are up to 2.5 feet deep. This layer has slowly increased in stability over time, but still may be possible to trigger. Likely locations are at mid to upper elevations, on leeward aspects, generally West to North, on slopes 35º and steeper. Avalanches may be D1-2 in size.
If you are venturing into avalanche terrain this weekend, increase your safety margin by using safe travel protocol, traveling one at a time in avalanche terrain, using spotters, safe zones and good communication. Be prepared, with beacon, shovel and probe on each member of the group and be ready and practiced for companion rescue.
The snowpack depth is highly variable, 1 to 5 feet deep.
IF YOU SEE AN AVALANCHE or have an observation to share, please submit your findings to the community observation platform HERE! or email us at info@hpavalanche.org
Pit profile here
Recent Avalanche Activity
Variable conditions exist, including  supportable, breakable and icy crusts, wind board, and sastrugi.
Recent Weather
This week's weather at 3550′:
Temps averaged 30ºF, with a low of 19ºF and a high of 40ºF.
1/15 and 1/16 were 2 consecutive nights above freezing.
No new snow.
Overnight at 3550′:
Temperature averaged 16° F.
0″ new snow overnight.
This week's weather at 4500′:
Temps averaged 25ºF, with a low of 16ºF and a high of 32ºF.
Winds averaged SE 9 mph, max SE 33 mph . Gusts averaged SE 16, max gusts ESE 62 mph (on 1/13).
Overnight at 4500′:
Temps averaged  15ºF overnight.
Winds averaged SW 1 mph overnight, with a max gust of SW 4 mph.
---
NWS recreational forecast for Hatcher Pass here
---
NWS point forecast here
---
State Parks snow report here
Additional Info & Media

The avalanche hazard will remain the same through the weekend. Cool temps and light winds are in the NWS forecast through the weekend.