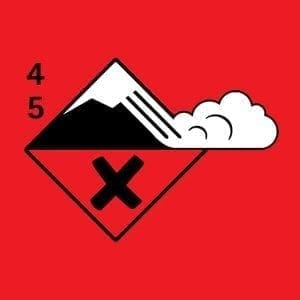 Expires: Sun, Jan 14, 2018
Avoid all avalanche terrain today. Lower runout zones should also be avoided.
Below 1,500ft
Considerable
Degrees of Avalanche Danger ?
1. Low
2. Moderate
3. Considerable
4. High
5. Extreme
Problem Details
What a mess the backcountry is today. There was probably a period of EXTREME danger last night with widespread large natural avalanche activity. The last 24 hours have brought around 2.00″+ of precipitation, falling at first as light, low-density snow, then very heavy, wet snow at extreme rates, then heavy freezing rain, followed by rain. These conditions occurred up to 3000-4000ft. Needless to say, all avalanche terrain should be avoided today. Avalanches are likely to run into deeper weak layers (or possibly to the ground) today, and could be quite large and destructive. Avoid lower runout zones in the valley bottoms.
Problem #1: Wet Avalanches
Location: all zones and aspects below 4000ft. Heavy rain-on-snow today and last night will saturate previous weak layers in the snowpack and cause avalanches to run on the crusts that are buried 30-90cm deep. Steep terrain will shed snow and ice, and gullies / terrain traps will be prone to fill with debris from above.
Problem #2: Storm Snow
Location: All aspects above 4000ft. New snow depths will range from 15-30″ depending on elevation and wind loading. This new snow is moist, heavy, and sitting on a weak layer of low-density snow from yesterday. It will be prone to slides on slopes 25 degrees and steeper.
Underneath the new snow on all aspects and all elevations: Last week's snow rests on a variable surface of crusts, hard slab, and patches of surface hoar. It has since been whipped around by both south and north winds, so expect to find multiple layers of deeper wind slab on any aspect. Beneath and between the slabs, there remain softer weak layers that will be prone to failure, especially on steep, convex, or unsupported slopes. These failure interfaces will be 30-90cm deep.
Problem #3: Deep Slab
We still have 2-4mm depth hoar at the ground, beneath a hard midpack. A snowmachine-triggered slide was reported to the ground in the Chilkat Pass yesterday, proving that it was still possible to trigger this depth hoar layer in thin spots, even before the bulk of the new snow had hit. Given a very heavy and rapid new load from today's precip, this layer is likely to re-activate, causing large and destructive avalanches.
Recent Avalanche Activity
One report from the Pass Saturday included a snowmachine-triggered avalanche that ran all the way to the ground (about 3ft deep). The slide was apparently small but scary. No one was caught.
There were also several of reports of whumping, and small slides within last week's wind slabs/crusts on test slopes on Saturday.
Recent Weather
An atmospheric river is currently overhead. Heavy rain/snow will continue today, tapering off from east to west by evening. Snow levels are around 3000-4000ft. More precipitation is likely Monday-Tuesday, with snow levels between 1500-3000ft.   
| | | | | | | |
| --- | --- | --- | --- | --- | --- | --- |
| |  Snow Depth [in] | Last 24-hr Snow/SWE [in] | Last 3-days Snow/SWE [in]  | Today's Freezing Level [ft] |  Today's Winds | Next 24-hr Snow/SWE |
| Mount Ripinsky @ treeline | 48″* | 12″ / 2.00* | 19″ / 2.40 | 4500 |  Mod, var | 0″/ 0.40 * |
| Flower Mountain @ treeline |  42″ |  10″ / 2.50 |  10″ / 2.50 | 4500 | Mod, var |  0″ / 0.80 * |
| Chilkat Pass @ 3,500ft |  30″* | 10″ / 2.00 * | 10″ / 2.00 * | 4000 | Mod, var |  3″ / 1.00 * |
( *star means meteorological estimate )
Additional Info & Media
A few notes:
We had an extremely dry, cold early-season. Total precipitation October 1st – November 28th was around 30% of normal. Snow depths are between 45-130cm in most areas.  Variability is high due to persistent dry, windy conditions.
Temperatures hovered around 0 – 15°F for almost all of November. This has caused faceting of the thin snowpack and built up 3-5mm depth hoar at the ground in all zones.
If you get out on the snow, send in your observations!
---
We will be providing an AIARE Avalanche Level 1 Class this winter in Haines, February 23-25, 2018