Expires: Sun, Jan 07, 2018
FREE Avalanche Rescue Workshop Jan 13, 2018 at Hatcher Pass. Practice with the pros! Click here for more info.
Mark your calendars for the Hatcher Pass Avalanche Center Annual Fundraiser and Cabin Fever Reliever, Saturday, February 10th at the Moose Lodge in Palmer. You won't want to miss it. More info coming soon.
If you see an avalanche or have observations to share, please submit your findings to the community based observation platform HERE or email us at info@hpavalanche.org
2,500 to 3,500ft
Moderate
Degrees of Avalanche Danger ?
1. Low
2. Moderate
3. Considerable
4. High
5. Extreme
Problem Details
BOTTOM LINE
Small, loose, dry avalanches will be possible to human trigger today on steep slopes.
Buried persistent weak layers in the mid-snowpack will be stubborn to unreactive to human trigger today. If triggered, avalanches may be large enough to bury, injure and/or kill.
---
DRY LOOSE AVALANCHE PROBLEM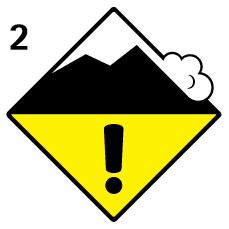 A Moderate Hazard for dry loose avalanches today. Low density new snow will be possible to human trigger on all aspects, on slopes 40º and steeper, at mid to upper elevations and will be D1 or less in size, and low volume. Sluffs will have the ability to sweep you off your feet and compound the risk by carrying you into or over terrain traps and other hazards.
Ski/snowboard cuts and snowmachine cuts can effectively and safely be conducted to test and clean out this problem on your slope of choice to recreate.
PERSISTENT SLAB AVALANCHE PROBLEM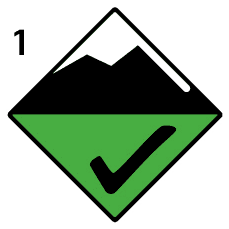 A Low Hazard for persistent slabs today. Low hazard does NOT mean NO hazard. The good news: Buried, persistent weak layers in the mid pack are gaining strength, slowly, over time.  The not so good news: The snowpack's structure still contains flaws and propagation potential is evident in stability tests. Whumphing has been observed in isolated locations, indicating weakness, and the chance of human triggering an avalanche.
Widespread, buried persistent weak layers (PWLs) are 1-4 feet deep, on all aspects, at mid to upper elevations, and capable of producing avalanches up to D2 in size, but are very stubborn to unreactive to human triggers on slopes 35º and steeper. Avalanche size will be on the larger side in areas of previous wind loading and cross-loading, on aspects generally West to North. They may be triggered from above, adjacent to, or from below. Avoid slopes with terrain traps that will compound your exposure to any persistent slab avalanche hazard.
There is a low probability of triggering an avalanche due to a number of factors, including but not limited to: increased weak layer strength, friction between slabs, weak layers and bed surfaces, the continuity of the avalanche problem, and the magical ability of the snow to stabilize over time since the last loading event. This will enable people to successfully ride a wide variety of terrain without incident today, but does not completely eliminate the hazard.
Ski/snowboard cutting and snowmachine cuts are not good testing techniques for persistent slab avalanche problems. This type of avalanche problem is identified by digging into the older layers of the snowpack and conducting instability tests. A band of weaker snow under more cohesive snow is visible in most every pit. We suggest ECT and PCT tests. No single pit will give you the green light, but one may give you the red light, alerting you to a significant problem to avoid.
Audible collapsing and shooting cracks indicate a ripe avalanche problem and areas that should be avoided. Because predicting these types of avalanches is difficult, adding insurance is prudent by maintaining excellent safe travel techniques, wearing beacons on your body, carrying probes and shovels, using proper spacing, safe zones and spotters, considering radios for more effective long distance communication, and being practiced and prepared for companion rescue.
The snowpack depth is highly variable, 1 to 4 feet.
IF YOU SEE AN AVALANCHE or have an observation to share, please submit your findings to the community observation platform HERE! or email us at info@hpavalanche.org
Pit profile here
Recent Avalanche Activity
Last week's widespread Surface Hoar (up to 5.0 mm) was easily destroyed in this weeks strong wind event on 1/2.  That's good news, because it will be hard to find surface hoar that is intact and acting like a buried weak layer under the new snow (Dec 2 and 3).
Natural avalanche activity spiked during or shortly after the wind event gusting SE 75 mph on January 2. Natural and human triggered activity has subsided since then.
Most of these avalanches occurred on West to North aspects, at or near ridgeline, at upper elevations, and were shallow to 1 foot deep, and appear to have been D1 to 2 in size.  Locations include, SW face of Marmot, Back of Sin Valley NNW aspects, West facing spines above Stairstep, and a questionable date of occurrence on a 1 foot deep hard slab near birthday pass on NNW at 4400′, estimated D2 in size.
Pictured below from yesterday, localized, shooting cracks may get your attention today, but will generally be shallow and isolated to micro features. Triggering a tiny pocket of wind pressed snow may be possible, but will not pose a threat, and is not an indicator of the deeper persistent weak layer problem.
Low density, new snow is providing good powder conditions in wind protected areas. Where moderate winds were able to affect the new snow surface, wind pressed snow is grabby, but rideable. This is no big deal for snow machines and snowboards, but can be a bit of a rodeo on skis.
Recent Weather
This week's weather at 3550′:
Temps averaged 25ºF, with a low of 15ºF and a high of 34ºF.
6 inches of new snow and .5 inches of water (SWE) was recorded at IM snotel this week.
Overnight at 3550′:
Temperature averaged 24° F.
0″ new snow overnight.
This week's weather at 4500′:
Temps averaged 22ºF, with a low of 13ºF and a high of 27ºF.
Winds averaged SE 12 mph, max SE 52 mph . Gusts averaged SE 20, max gusts SE 75 mph.
Overnight at 4500′:
Temps averaged  22ºF overnight.
Winds averaged SE 9 mph overnight, with a max gust of 22 mph.
---
NWS recreational forecast for Hatcher Pass here
---
NWS point forecast here
---
State Parks snow report here
Additional Info & Media

Expect the avalanche hazard to remain the same throughout the weekend.
NWS is forecasting cloudy skies through the weekend, followed by a clearing trend Monday through Wednesday with building high pressure and a cooling trend. It's too far out to predict wind speeds accompanying the high pressure beginning Tuesday. If a pressure gradient builds, outflow winds will have plenty of available snow to transport which would likely increase the avalanche hazard mid-week. Low confidence on the accuracy and timing of this prediction.