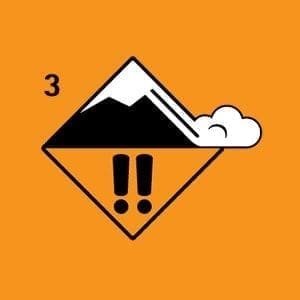 Expires: Sun, Jan 07, 2018
Above 2,500ft
Considerable
1,500 to 2,500ft
Considerable
Degrees of Avalanche Danger ?
1. Low
2. Moderate
3. Considerable
4. High
5. Extreme
Problem Details
Problem #1: Storm Snow
16-32″ of snow fell this week above 2,000ft (highest amounts in the Lutak zone, less at the Pass). This new snowfall fell upside-down: cold and weak underneath with a heavy cohesive slab on top. It sits atop a variable surface of crusts, hard slab, and patches of surface hoar. Bonding of this new snow will be poor and human-triggered avalanches are still likely today, especially in wind loaded areas. Moderate southeast winds have built up thick windslabs on north through west aspects, and cross-loaded terrain features/gullies on other aspects. More northerly winds over the last 48 hours will reverse this pattern, so expect slabby snow on any aspect. On slopes steeper than 25 degrees, anywhere the new snow is wind-affected, expect dangerous storm slab conditions to persist for another day or two. 
Problem #2: Deep Slab
We still have 2-4mm depth hoar at the ground, beneath a hard midpack. In late December several slides ran on this layer as a heavy load of new precipitation placed strain on it. Triggering this deep layer will be difficult, but still possible. This is especially true in thin/rocky areas which will act as trigger points, and may cause remote triggering and wide propagation. The best way to manage this danger is to stick to areas with a deeper snowpack, make sure your safe areas are well-outside the danger zone, and include a wide safety margin. Careful group management is crucial right now, as any slides that break this deep could be large, and break wider than expected. The heavy load of new snow will increase the likelihood of deep collapses until the snow pack has had some time to adjust.
Recent Avalanche Activity
Recent natural avalanche activity from several days ago includes:
Isolated D1-D2 wind slabs at the top of the snowpack, on steep slopes above treeline, all aspects.
Isolated full-depth D2-D3 hard slabs that came down during last week's wet, wild weather.  On steep slopes above treeline, all aspects.
Recent Weather
4-8″ of new snow is expected Saturday-Sunday with snow levels near sea level.  Winds will be light and variable, though there may be brief southerly push Saturday evening. A cooling/clearing trend will start Sunday afternoon, which will bring in a beautiful sunny week ahead. 
| | | | | | | |
| --- | --- | --- | --- | --- | --- | --- |
| |  Snow Depth [in] | Last 24-hr Snow/SWE [in] | Last 6-days Snow/SWE [in]  | Today's Freezing Level [ft] |  Today's Winds | Next 24-hr Snow/SWE |
| Mount Ripinsky @ treeline | 37″* | 1″ / 0.10* | 31″ / 2.70 | 0 |  mod, var | 6″/ 0.50 * |
| Flower Mountain @ treeline |  32″ |  0″ / 0.00 |  18″ / 1.55 | 0 | mod, var |  6″ / 0.50 * |
| Chilkat Pass @ 3,500ft |  21″ * | 0″ / 0.00 * | 16″ / 1.40 * | 0 | mod, var |  4″ / 0.30 * |
( *star means meteorological estimate )
Additional Info & Media
A few notes:
We had an extremely dry, cold early-season. Total precipitation October 1st – November 28th was around 30% of normal. Snow depths are between 45-130cm in most areas.  Variability is high due to persistent dry, windy conditions.
Temperatures hovered around 0 – 15°F for almost all of November. This has caused faceting of the thin snowpack and built up 3-5mm depth hoar at the ground in all zones.
If you get out on the snow, send in your observations!
---
We will be providing an AIARE Avalanche Level 1 Class this winter in Haines, February 23-25, 2018