Expires: Sun, Dec 31, 2017
Please consider making your tax deductible DONATION today! Last chance before the end of the year!
HPAC survives on your DONATIONS. Thank you for all of your support! Happy New Year!
FREE Avalanche Rescue Workshop Jan 13, 2018 at Hatcher Pass. Practice with the pros! Click here for more info.
2,500 to 3,500ft
Moderate
Degrees of Avalanche Danger ?
1. Low
2. Moderate
3. Considerable
4. High
5. Extreme
Problem Details
BOTTOM LINE
Buried persistent weak layers will be stubborn, but possible, to human trigger today, and difficult to predict. This is a low probability/high consequence avalanche problem.
A moderate avalanche hazard exists on all aspects at mid to upper elevation today. Heightened avalanche conditions on specific terrain features. Evaluate snow and terrain carefully; identify features of concern. Natural avalanches are unlikely, human triggered avalanches are possible. Small avalanches in specific areas; or large avalanches in isolated areas.
A low hazard exists on all aspects at low elevation. Generally safe avalanche conditions. Low hazard does not mean no hazard. Natural and human triggered avalanches unlikely. Small avalanches in isolated areas or extreme terrain. Watch for unstable snow on isolated terrain features.
---
PERSISTENT SLAB AVALANCHE PROBLEM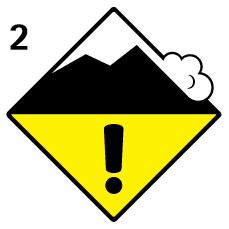 Buried, persistent weak layers in the mid pack are 1-3 feet deep, and possible to human trigger on slopes 35º and steeper.
The distribution is widespread on all aspects at mid to upper elevations, and low continuity will keep the avalanche size to D1-2. However, this avalanche problem is more prevalent on common features of specific terrain, generally North to West, with previous wind loading and cross loading, where avalanches will be closer to D2 in size. Pay close attention to any unsuspecting gully or depression that has been cross-loaded (See example picture of Bullion Mt in recent activity below.)
Avalanches will be stubborn to trigger, often allowing multiple riders on slope before finding the weakest, thinnest trigger point in the slab.  Avalanches may be triggered from below or remotely. This makes predicting where and when an avalanche will occur difficult, and adds uncertainty.
Stiffer, more cohesive snow overlying weaker snow is the recipe. This problem can feel "drummy" or hollow, and can sometimes be identified with pole tests and instability tests. In some locations the weak layer is thinner, making it more difficult to identify with pole tests (such as in picture below). In these cases you will need to dig. If you have a highly calibrated eye, you may also be able to identify specific, loaded, problem areas by their appearance. See pictures under recent activity.
Use good travel protocol, ride one at a time, avoid slopes with terrain traps. All members of your party should wear avalanche transceivers, and carry shovels and probes. Consider using radios to tighten up communication when you become spread out from partners.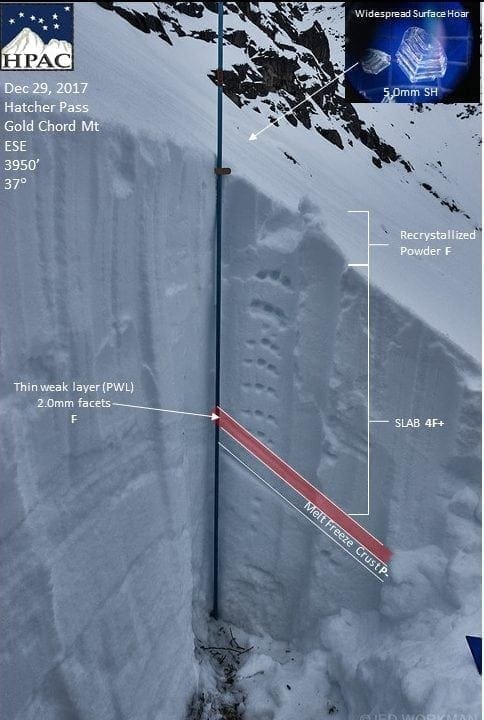 The snowpack depth is highly variable, 8 inches to 4 feet, due to wind scouring and loading over the last couple of weeks.
Gold Chord, ESE, 3950′, PST 45/100, showing propagation potential in Persistent Weak Layers in the mid-pack
Please view and contribute to the community observation platform HERE!
Pit profile here
Recent Avalanche Activity
MANY THANKS TO ALL WHO HAVE CONTRIBUTED OBSERVATIONS THIS SEASON!
Many human triggered avalanches were reported this week. View recent observations here
An example of cross-loaded features from previous winds on Bullion Mountain. All the depressions and gullies are loaded.
Recent Weather
This week's weather at 3550′:
Temps averaged 21ºF, with a low of 7ºF and a high of 32ºF.
No new snow was recorded at IM snotel this week.
Overnight at 3550′:
Temperature averaged 18° F.
0″ new snow overnight.
This week's weather at 4500′:
Temps averaged 16ºF, with a low of 6ºF and a high of 28ºF.
Winds averaged SE 3 mph, max SE 13 mph . Gusts averaged SE 7, max gusts SE 25 mph.
Overnight at 4500′:
Temps averaged  14ºF overnight.
Winds averaged SE 8 mph overnight, with a max gust of  16 mph.
---
NWS recreational forecast for Hatcher Pass here
---
NWS point forecast here
---
State Parks snow report here
Additional Info & Media

Expect the avalanche hazard to remain the same throughout the weekend.