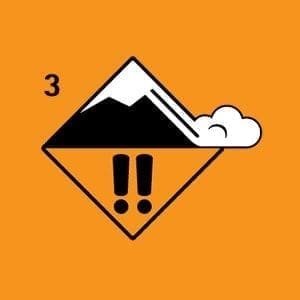 Expires: Mon, May 01, 2017
The VAC is wrapping up daily avalanche forecasts for the season this weekend on April 30. While the avalanche hazard will remain well beyond that date, we will monitor any critical developments and post updates only when deemed necessary. Please continue to share your observations so those still recreating in the mountains can stay in tune with the quickly changing snowpack. Thank you all for another great season in the amazing Chugach!!!
The snowpack continues to melt, weaken and fall off the mountains as warm season sets in. Rain, warm temperatures and direct sun can accelerate this process. Limit your lingering below steep slopes to avoid issues.
Above 2,500ft
Considerable
1,800 to 2,500ft
Considerable
Below 1,800ft
Considerable
Degrees of Avalanche Danger ?
1. Low
2. Moderate
3. Considerable
4. High
5. Extreme
Problem Details
FRIDAY
SATURDAY
SUNDAY&MONDAY
WET AVALANCHES:
Elevation:   Below 6000′
Aspect:   All steep terrain, especially aspects that have direct sun
Terrain: Slopes >35 degrees near rocks and vegetation.
Sensitivity:   Touchy when warmed.
Distribution:   Specific.
Likelihood (Human Triggered):  Likely when warmed.
Size:   Small-Large
Danger Trend:   Increasing quickly each day with warming temperatures, falling with freezing at night
Forecaster Confidence:   Good
CORNICE FALL:
Elevation:  ALL
Aspect:   ALL
Terrain: corniced ridgelines
Sensitivity:   Responsive 
Distribution:   Specific
Likelihood (Human Triggered):  Possible
Size:   Small to Large
Danger Trend: Increasing
Forecaster Confidence:   Fair
AVALANCHE PROBLEM SCALE DESCRIPTORS:
Sensitivity: Non-reactive, Stubborn, Responsive, Touchy
Distribution: Isolated, Specific, Widespread
Likelihood: Unlikely, Possible, Likely, Nearly Certain
Size: Small, Large, Very Large (size scale <here>)
Danger Trend: Increasing, Steady, Decreasing
Forecaster Confidence: Good, Fair, Poor
AVALANCHE PROBLEM TOOLBOX <here>
SNOWPACK DISCUSSION: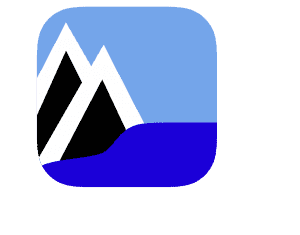 Maritime (Coastal) Specific: 
When you add the weight and weakening properties of rain on snow, natural avalanche activity from above is possible. Wet avalanche can travel greater than expected distances and are incredibly dense and powerful. Limit any exposure to overhanging snow and evaluate the snow underneath you as you travel through the mountains. It may be difficult to see signs of red flag activity when the visibility is poor. If the snow is shifting easily under skis or machine and you can easily sink deep into underlying layers of snow, consider calling it a day. Large, crushing, wet slabs can be triggered quite deep this time of year. There is a chance for some snowflake accumulation up high, but it just depends on the air temperatures and mixing patterns up high.
Sharing your observations creates an informed community that everyone benefits from at some point.
Recent Avalanche Activity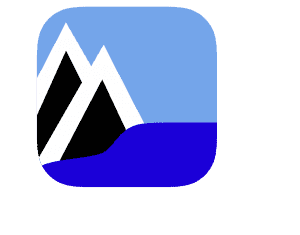 Maritime (Coastal) Specific:
April 23 Natural wet slab D2.5 above Deserted Glacier, west aspect, 5800′. Lots of south and west cornice failure and wet loose activity into the Woodworth and Deserted Glaciers.
April 17 The Wall/Tomahawk rockfall resulting in D3+ avalanche.
April 13-16 More wet loose activity in the afternoon on steep solar affected slopes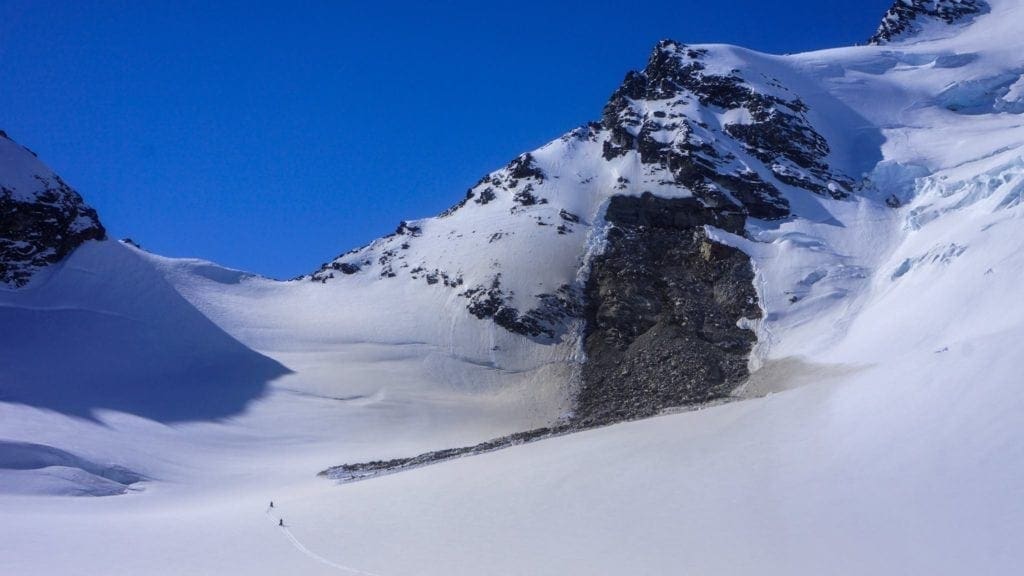 April 18th  "Things are coming unglued out there" Photo: Jeremy Martin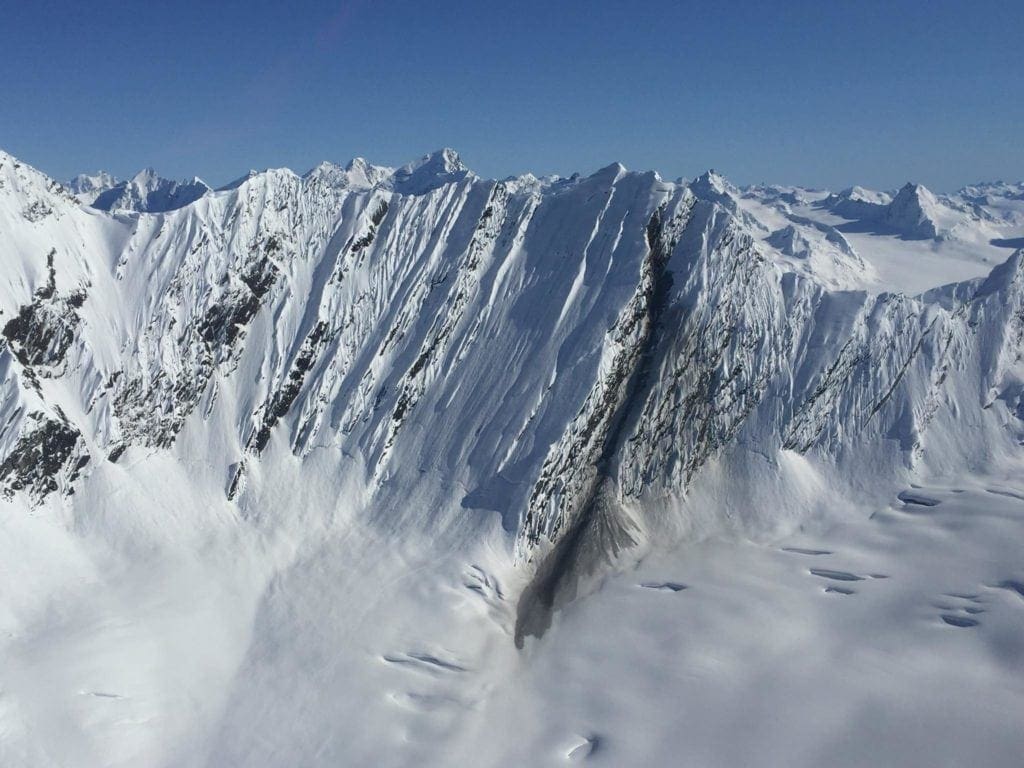 Large avalanche on, "The Wall/Tomahawk" caused by rockfall Photo: Jed Workman
Recent Weather
WEATHER FORECAST for NEXT 24 HRS at 3,000 ft:
Temperature Forecast (Min/Max *F):
 29 / 32
Ridgetop Wind Forecast (direction/mph):
 SW / 0-15
Snowfall (in/water equivalent):
 0″ / 0.18″
WIND & TEMPERATURE
PAST 24 hours
Ferry Terminal
Thompson Pass
Average Wind Speed (mph) / Direction
 8 / Var
 8 / S
Max Wind Gust (mph) / Direction
 17 / W
 20 / SE
Temperature Min / Max (*F)
 41 / 46
 31 / 34
Weather Forecast: The region has cooled off as temperatures have dropped in the upper elevations with overcast skies and precipitation. Thompson Pass dipped just below freezing and will not warm much today, possibly facilitating in actual frozen forms of water up near the mountain tops. The cloud cover and moisture will slowly fade as the day progresses possibly resulting in a window of clearing tonight and tomorrow. Late Saturday, another front will push in and bring moisture Sunday and into next week .
Additional Info & Media
| | | |
| --- | --- | --- |
| SNOW HISTORY: | Valdez 4/28 AM | Thompson Pass 4/24 AM |
| 24 Hour Snow / Water Equiv. |  0"/0.12″ | 0″ /0″ |
| Storm Snow /Water Equiv. (3/26-4/9) |  16.9″ /4.1″ | 24″ /2.4″ |
| Current Snow Depth | 3.5″ | 39″ |
| April Snow / Water Equiv. | trace″ /2.23″ | 8″ / 0.8″ |
| Total Winter Snowfall / Water Equiv. | 239.8″ /24.88" | 327″ / 31.4″ |
| Snowload in Valdez | ? lbs/sq. ft. | |
SNOWFALL at OTHER STATIONS:
LAST 24 HRS (4/24 AM)/STORM TOTAL (3/27-4/6)/STORM WATER EQUIV.:
Nicks Valley at 4200 ft (in):
0″ / ~16″ / ?"
Upper Tsaina at 1750 ft (in):
0″ / ?" / 1.2+"
Sugarloaf at 550 ft (in):
0″/ 20+rain" / 2.8″
| | | |
| --- | --- | --- |
| SNOW DEPTH & WATER SURVEY (4/2/2017) | Depth | Snow Water Equivalent |
| Milepost 2.5 Valdez |  41.9″ |  11.9″ |
| Milepost 18 | 40″ | 11.9″ |
| Milepost 29 Worthington Flats | 62.2″ | 19.6″ |
| Milepost 37 Tsaina River bridge | 46.3″ | 12.5″ |
| This survey is done the first week of each month. | | |
| | | |
Weather Quicklinks:
SNOW CLIMATE ZONES:
Maritime (Coastal) – from the Port of Valdez to Thompson Pass, all waters flowing into Valdez Arm and everything south of Marshall Pass.
Inter-mountain (Transitional) – between Thompson Pass and Rendezvous Lodge.
Continental (Interior) – the dry north side of the Chugach (north of 46 Mile, including the Tonsina River).
Photo of Thompson Pass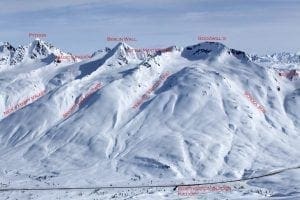 Interactive Map of Valdez Forecast Areas w/ Many Resource Layers (Trevor Grams)
Run Map of Thompson Pass Area (Sean Wisner) (2MB download)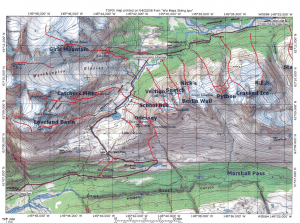 NEWS: Our region is "one of the snowiest places on earth" – Serendipity / Rendezvous snowfall record set in 1963 <here>.
Free smart phone avalanche forecasts at: http://www.avalancheforecasts.com/