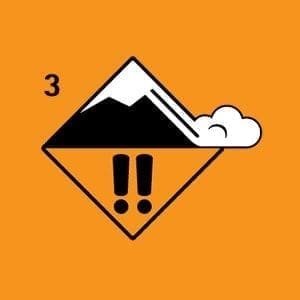 Expires: Sun, Apr 30, 2017
Expose yourself to avalanche prone terrain only when necessary. Even if you are standing on flat ground, the upper slopes above you are harboring large amounts of weakening snow that could travel great distances if it happens to release.
Steer clear of warming slopes in the afternoon; have a plan and expose only one rider at a time.
Above 2,500ft
Considerable
1,800 to 2,500ft
Considerable
Below 1,800ft
Considerable
Degrees of Avalanche Danger ?
1. Low
2. Moderate
3. Considerable
4. High
5. Extreme
Problem Details
THURSDAY
FRIDAY
SATURDAY&SUNDAY
WET AVALANCHES:
Elevation:   Below 5500′
Aspect:   East in AM, South all day, then West in PM
Terrain: Steep terrain near rocks and vegetation.
Sensitivity:   Touchy when warmed.
Distribution:   Specific.
Likelihood (Human Triggered):  Likely when warmed.
Size:   Small-Large
Danger Trend:   Increasing quickly each day with warming temperatures, falling with freezing at night
Forecaster Confidence:   Good
CORNICE FALL:
Elevation:  all
Aspect:   all
Terrain: corniced ridgelines
Sensitivity:   Responsive 
Distribution:   Specific
Likelihood (Human Triggered):  Possible
Size:   Small to Large
Danger Trend: Increasing
Forecaster Confidence:   Fair
AVALANCHE PROBLEM SCALE DESCRIPTORS:
Sensitivity: Non-reactive, Stubborn, Responsive, Touchy
Distribution: Isolated, Specific, Widespread
Likelihood: Unlikely, Possible, Likely, Nearly Certain
Size: Small, Large, Very Large (size scale <here>)
Danger Trend: Increasing, Steady, Decreasing
Forecaster Confidence: Good, Fair, Poor
AVALANCHE PROBLEM TOOLBOX <here>
SNOWPACK DISCUSSION: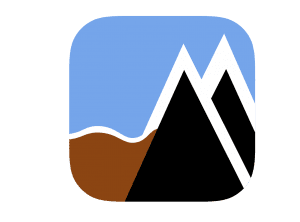 Continental (Interior) Specific:
Warm temperatures yesterday led to poor overnight freezing of the snowpack. When you add the weight and weakening properties of rain on snow, natural avalanche activity from above is possible. Wet avalanche can travel greater than expected distances and are incredibly dense and powerful. Limit any exposure to overhanging snow and evaluate the snow underneath you as you travel through the mountains. It may be difficult to see signs of red flag activity when the visibility is poor. If the snow is shifting easily under skis or machine and you can easily sink deep into underlying layers of snow, consider calling it a day. Large, crushing, wet slabs can be triggered quite deep this time of year. There is a chance for some snowflake accumulation up high, but it just depends on the air mixing patterns and wind.
Sharing your observations creates an informed community.
Recent Avalanche Activity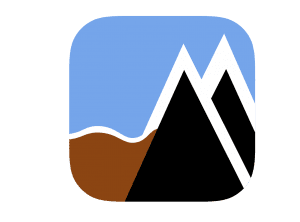 Continental (Interior) Specific: 
April 23 Natural wet slab D2.5 above Deserted Glacier, west aspect, 5800′. Lots of south and west cornice failure and wet loose activity into the Woodworth and Deserted Glaciers.

April 14: reports of cornice failure triggering slab avalanches on steep upper elevation slopes in the Continental zone (see photo)

March 31: skier triggered size D2 avalanche at 3500′ North aspect. 40-60cm storm slab failed on buried near surface facets with a old windslab as the bed surface. A possible sympathetic released lower on the same slope, with a crown depth 60-100cm, harder slab.
Recent Weather
See Maritime Zone for updated weather.
Additional Info & Media
Weather Quicklinks:
SNOW CLIMATE ZONES:
Maritime (Coastal) – from the Port of Valdez to Thompson Pass, all waters flowing into Valdez Arm and everything south of Marshall Pass.
Inter-mountain (Transitional) – between Thompson Pass and Rendezvous Lodge.
Continental (Interior) – the dry north side of the Chugach (north of 46 Mile, including the Tonsina River).
Photo of Thompson Pass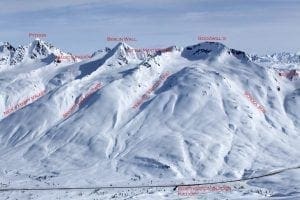 Interactive Map of Valdez Forecast Areas w/ Many Resource Layers (Trevor Grams)
Run Map of Thompson Pass Area (Sean Wisner) (2MB download)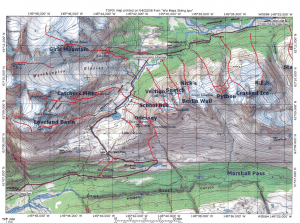 NEWS: Our region is "one of the snowiest places on earth" – Serendipity / Rendezvous snowfall record set in 1963 <here>.
Free smart phone avalanche forecasts at: http://www.avalancheforecasts.com/