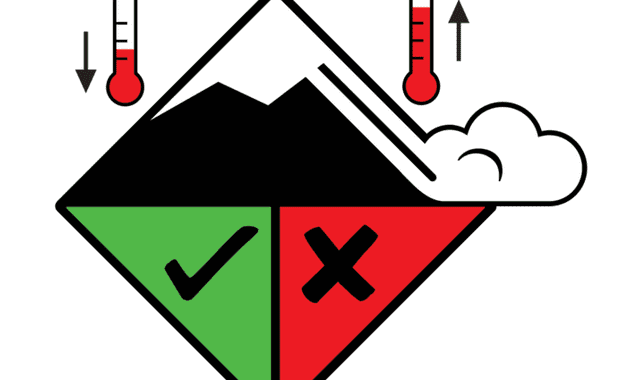 Expires: Tue, Apr 25, 2017
Degrees of Avalanche Danger ?
1. Low
2. Moderate
3. Considerable
4. High
5. Extreme
Problem Details
This will be the last update of the season. Standard caution is advised through May, as natural and human-triggered avalanches are still going to be likely in some areas. The main concerns will be related to solar heating, but also be careful of any fresh storm slabs in the high mountains after new snowfalls, especially wind loaded areas.
Problem #1: Wet Avalanches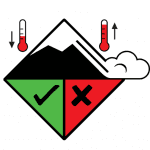 Distribution: ALL aspects at ALL elevations, steeper than 30 degrees. The danger will start as low in the morning while the snow is still frozen, but as the day heats up and melt water increases, the danger of wet slabs and large point-releases will rise quickly. Travel in the early morning to avoid this danger. Plan to be off of any sunny slopes before the snow softens to ankle-deep. Wet slabs may run on the weak interface 1 meter deep. Even north aspects will be prone to wet slides now that the late-afternoon sun is starting to bake them. Stay out of gullies and chutes that channel wet debris.
Problem #2: Glide Avalanches
Distribution: Steep West through South through East aspects. Glide cracks are beginning to open up on steep sunny aspects, and they will continue to slowly widen and occasionally fail, leading to large full-depth avalanches. Glide avalanches are unpredictable and can run any time of day or night. It's best to stay away from any glide cracks and to not travel below them.
Recent Avalanche Activity
On warm, sunny days over the last two weeks, we've seen widespread large point-release activity on sunny aspects. These loose-wet slides have been gouging deep and quickly building into dangerous avalanches. Many are running during the heat of the afternoon. There has also been isolated wet-slab activity on south aspects, size D2-D3. A few glide cracks are beginning to open up as well.
Recent Weather
Alpine temperatures for the next few days will be starting in the upper-20's early morning, and rising to the upper-30's. Expect increasing cloudiness this week, with a few bouts of light precipitation. Strong sunshine can be expected between periods of clouds.
April 21st we had a light rain event up to 5,000ft.
About 10″ of new snow fell above the snow level (~2500ft) April 5th.
Additional Info & Media
We've been getting widespread reports of sketchy conditions for the last several days. This includes lots of whumphing, shooting cracks, and fresh avalanche activity. Be conservative, and avoid avalanche terrain when possible.