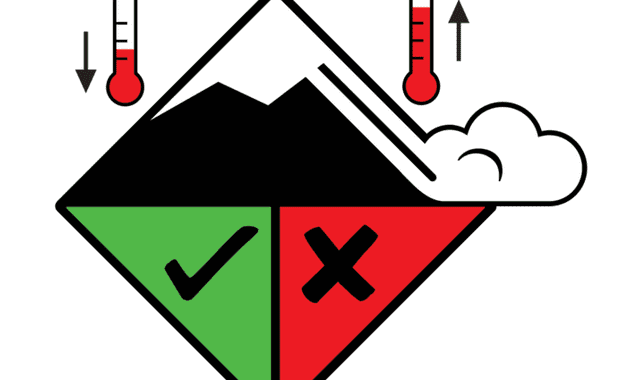 Expires: Fri, Apr 21, 2017
Strong solar heating will quickly increase the danger of wet slabs, cornice fall, and dry slabs during the heat of the day. Remember that we still have a deep persistent weak layer 1m down and include a wide safety margin to manage the uncertainty.
1,500 to 2,500ft
Considerable
Degrees of Avalanche Danger ?
1. Low
2. Moderate
3. Considerable
4. High
5. Extreme
Problem Details
Problem #1: Wet Avalanches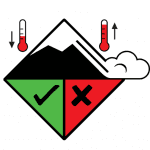 Distribution: Solar aspects at ALL elevations, steeper than 30 degrees. The danger will start as low in the morning while the snow is still frozen, but as the day heats up and melt water increases, the danger of wet slabs and large point-releases will rise quickly. Travel in the early morning to avoid this danger. Plan to be off of any solar aspects before the snow softens to ankle-deep. Any wet slabs will run on the weak interface 1 meter deep.
Problem #2: Deep Slab
Distribution: All aspects above 1500ft. About 1 meter deep, we have hard slab with weak, facetted snow underneath. There's also an old rain crust below acting as a slick bed surface. This weak layer has compressed and strengthened over the last week or two, but the weakness still exists. Heavy triggers like cornice drops, snowmachines, or small avalanches may trigger this stubborn weak layer and cause large, destructive hard slab avalanches. The low-probability, high-consequence nature of deep slab instability requires conservative decision making and a wide risk-margin. Think about where your "safe zones" are, and what could happen if the slab breaks wide enough to take out your safe zone. 
Recent Avalanche Activity
At the end of the last storm on April 6th, there was D2-D3 deep slab activity running on the early March facet layer (all aspects). Since then, we've seen mostly large point-release activity on sunny aspects. These loose-wet slides have been gouging down to the deep facet layer and quickly building into dangerous avalanches. Many are running during the heat of the afternoon.
Recent Weather
Alpine temperatures for the next few days will be starting in the mid-20's early morning, and rising to the mid-30's. Moderate North winds will continue, with continuous strong sunshine. Increasing clouds and some light precipitation is possible Wednesday-Friday.
About 10″ of new snow fell above the snow level (~2500ft) April 5th. South winds were strong.
Prior to that, snow levels on the 4th were about 3500ft, with .2-.5″ of precipitation.
Additional Info & Media
We've been getting widespread reports of sketchy conditions for the last several days. This includes lots of whumphing, shooting cracks, and fresh avalanche activity. Be conservative, and avoid avalanche terrain when possible.