Expires: Sun, Apr 16, 2017
This is the last avalanche advisory for the season. The observation platform will remain active through the rest of the season, please contribute. Stay safe and enjoy the spring!
If you are interested in volunteering or helping with the installation of our new HPAC "Are You Beeping" signs this summer/fall up at Hatcher Pass, please contact us.
2,500 to 3,500ft
Moderate
Degrees of Avalanche Danger ?
1. Low
2. Moderate
3. Considerable
4. High
5. Extreme
Problem Details
Bottom Line: The avalanche hazard will  be MODERATE today for Wet-Loose avalanches on east through west aspects, with largest wet-loose on southerly aspects, at all elevations, on slopes above 35º. Human triggered avalanches are possible. Rapidly rising temperatures in the afternoon could increase the likelihood of natural wet-loose activity.
The avalanche hazard will be LOW today for Persistent Slabs at mid and upper elevation, on all aspects, on slopes above 35º.  Human triggered and natural avalanches are unlikely- but not impossible.
---
Problem 1: Wet-Loose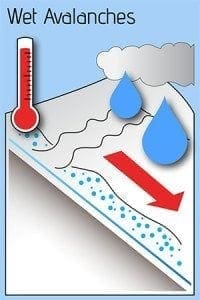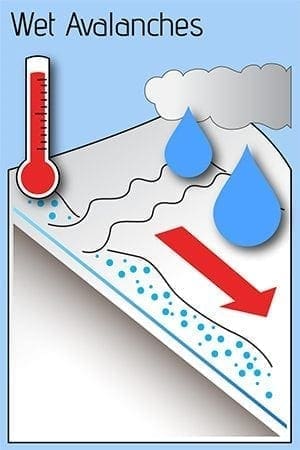 For the adventurous souls denying winter's end, grieving the lack of powder this winter, and seeking the last lines of the season, timing is everything!  Wet-loose activity is becoming more frequent as temperatures increase, days lengthen, and the bright star delivers vitamin D to our deficient Alaskan souls.
Expect wet-loose activity on east through west aspects, although most likely on southerly, at all elevations, on slopes above 35º. Timing for best riding conditions is a bit of a guessing game out there- so beat the odds! Precursors to wet avalanche activity should be obvious- including roller balls, pinwheels, and unsupportable snow- which will all increase in the afternoon. Time of day will be integral to staying safe. Although some wet-loose activity might be small- the consequences can be large. The debris is wet and heavy and can easily tweak a knee, or bury a person.
Remember that aspect can change -ever so slightly- especially if you're seeking that sweet line-and increase the likelihood of triggering an avalanche.  Travel one at a time.  Avoid dangerous terrain traps that could compound the risk, and stay out of the runout of skiers/riders below and above you.
In the near future……As temperatures increase and nighttime temperature stay above freezing- expect wet avalanches to become more frequent. Below is some helpful advice relating to wet-loose activity.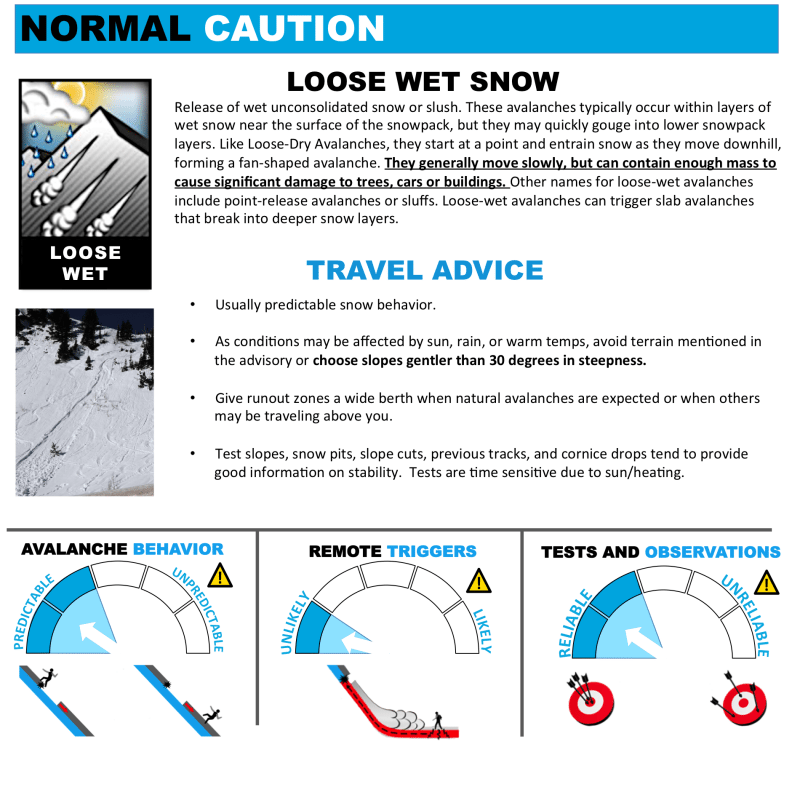 ---
Problem 2: Persistent Slab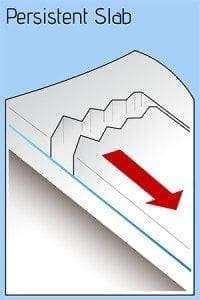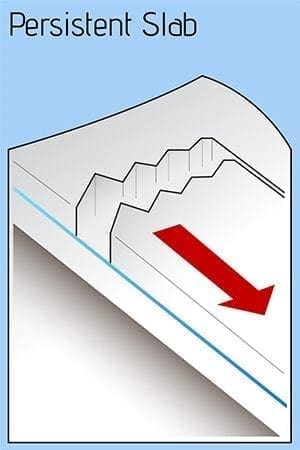 Persistent slab avalanches are unlikely today- but not impossible.
As we move further into the spring, pay close attention to the warming temperatures.  A good rule of thumb for a wet-slab cycle typically requires 3 nights with above freezing temperatures. So far this season we have not seen that.  Once this does happen, we will see a shedding cycle where all the Southern and western slopes fail as wet slabs (old persistent slabs). The shedding cycle will eventually progress to all aspects and elevations. Until then, expect wet loose avalanches in the surface snow to be able to activate outlier, persistent slabs, in the mid-layers to deep snowpack.
Look and listen for signs of instability. The snowpack is rapidly changing day to day, so don't be caught off guard. Pole tests, hand shears, and other tests can reveal where the slab over weaker snow exists. SEE PIT HERE.
Warm temps will also enable your weight to transfer deeper into the snow, increasing your chances for triggering slab avalanches.  Check out this link from the CNFAIC about a recent human triggered wet-slab and the full report here.
Recent Avalanche Activity
A combination of -below freezing evening temps- and -not quite warm enough day time temps- helped contribute to a slower avalanche pace this week. No new slab activity was observed or reported this week. Some new wet-loose activity was observed, as well as many of last week's wet-loose avys growing in size. The largest wet-loose activity is primarily on southerly aspects, but includes east through west- on slopes above 35 deg. at all elevations.
---
Current Conditions:
Conditions include crust skiing on east through west aspects in the morning, and turning to slop on southerly aspects by noon. Some crusts have been staying firm through the day on east and west- but will rapidly change with the increase in temps and fierce sun today. North aspects hold a variety of conditions from old wind slabs, crusts, and facets turning round. Timing is key to your riding pleasure.
One week makes a big difference. See pics below.
Recent Weather
This week's weather at 3550′:
Temps averaged  29ºF, with a low of  22ºF and a high of  43ºF.
No new snow since 3/28-3/29.
Overnight at 3550′:
Temperature averaged 30° F.
No new snow overnight.
This week's weather at 4500′:
Temps averaged  27ºF, with a low of 19ºF and a high of 40ºF.
Wind averaged 4 mph SE, with gusts averaging 7 mph SE. Winds gusted 18-22 mph E for 5 hours on 4/13-4/14.
Overnight at 4500′:
Temps averaged 27º F overnight.
Winds averaged 3 mph , gusting 7 mph WSW.
Additional Info & Media
 
The avalanche danger will stay the same through the weekend. If temperatures continue to rise, and stay above freezing overnight, wet avalanche hazard will increase.
---
AK State Parks snow report for Hatcher Pass here.
---
NWS point forecast for Hatcher Pass here.