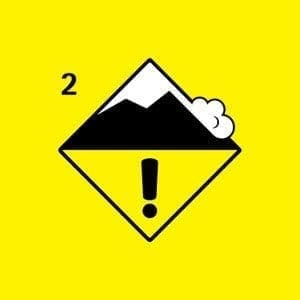 Expires: Sat, Apr 15, 2017
Spring conditions are in full swing:
Low avalanche danger in the morning….Moderate danger in the afternoon with rising temperatures and solar warming!
Areas protected from wind and lower in elevation will be more susceptible to warming and avalanche hazard.
Intense snow transport yesterday was flagging off peaks and drifting into fresh wind slabs that are likely sensitive.
As the sun warms and weaken snow on steep southerly faces, plan your day appropriately….limiting exposure to avalanches from above. Wet avalanches can run much farther than expected.
Friday April 14: VAC Full Moon Spring Fling FUNraiser with Acoustic Avalanche at the Tsaina Lodge.   Grab a date and come boogie! Fire dancing, DJ and raffle too!
1,800 to 2,500ft
Moderate
Degrees of Avalanche Danger ?
1. Low
2. Moderate
3. Considerable
4. High
5. Extreme
Problem Details
THURSDAY
FRIDAY
 SATURDAY & SUNDAY
WET AVALANCHES:
Elevation:   Below 5000′
Aspect: South, East in AM, West in PM
Terrain: Steep terrain near rocks and vegetation.
Sensitivity:   Touchy when warmed.
Distribution:   Specific.
Likelihood (Human Triggered):   Possible
Size:   Small-Large
Danger Trend:   Increasing quickly each day with warming temperatures, falling at night
Forecaster Confidence:   Good
WIND SLAB:
Elevation:   Above 3000′
Aspect:   Southerlies
Terrain: Near ridgelines, rollovers and gully walls.
Sensitivity:   Responsive to Touchy when sitting on sun crust.
Distribution:   Specific.
Likelihood (Human Triggered):  Possible
Size:   Small
Danger Trend:   Increasing.
Forecaster Confidence:   Fair
PERSISTENT SLAB:
Elevation:   Above 2500′
Aspect: All
Terrain: Slopes > 35*
Sensitivity:   Stubborn on northerlies, Touchy when warmed by sun
Distribution:   Widespread
Likelihood (Human Triggered):   Possible
Size:   Small – Large
Danger Trend:   Decreasing
Forecaster Confidence:   Fair
AVALANCHE PROBLEM SCALE DESCRIPTORS:
Sensitivity: Non-reactive, Stubborn, Responsive, Touchy
Distribution: Isolated, Specific, Widespread
Likelihood: Unlikely, Possible, Likely, Nearly Certain
Size: Small, Large, Very Large (size scale <here>)
Danger Trend: Increasing, Steady, Decreasing
Forecaster Confidence: Good, Fair, Poor
AVALANCHE PROBLEM TOOLBOX <here>
SNOWPACK DISCUSSION: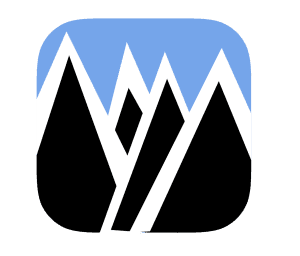 Inter-Mountain (Transitional) Specific:  
Winds have been consistently strong out of the NE and have been moving the recent soft snow to southerly aspects, sometimes resting on sun crust and triggering easily. As these winds die down Friday, expect the solar radiation to be more impactful on exposed slopes at higher elevations that have been cooled as of late.
Dig and look for buried surface hoar that was found all the way up to ridgeline. Seen still standing under new snow near the summit of Girls Mountain.
The most recent storm produced 2-3 feet of new snow in the inter-mountain region surrounding Thompson Pass. The new snow has settled to around 1 foot of medium density powder in areas that haven't been baked away by the sun. One must travel to elevations around 5000~ feet to find soft powder snow.
There have been reports of the afternoon sun triggering natural avalanches. The first type being wet avalanches which have the potential to slide to the ground. They are most likely to be triggered on southerly aspects especially in elevations below 5000′ when temperatures reach above 32 degrees. The second type being dry slab avalanches consisting of the most recent snowfall. These avalanches are possible on all aspects other than south, realistically anywhere dry powder snow can be found. The warmer temperatures in the afternoon will certainly increase the chances of triggering a slide. 
Sharing your observations creates an informed community.
Recent Avalanche Activity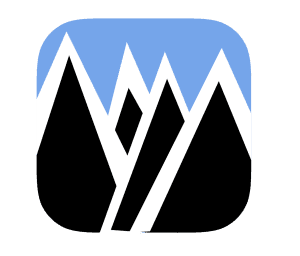 Inter-Mountain (Transitional) Specific:  
April 11: With more direct sun, more wet loose releasing out of steep, south aspects entraining snow to D2.5, sometimes to ground
April 7?: Sun induced slab avalanche on the WSW face of Sapphire
Recent Weather
See Maritime Zone for updated weather.
Additional Info & Media
Weather Quicklinks:
SNOW CLIMATE ZONES:
Maritime (Coastal) – from the Port of Valdez to Thompson Pass, all waters flowing into Valdez Arm and everything south of Marshall Pass.
Inter-mountain (Transitional) – between Thompson Pass and Rendezvous Lodge.
Continental (Interior) – the dry north side of the Chugach (north of 46 Mile, including the Tonsina River).
Photo of Thompson Pass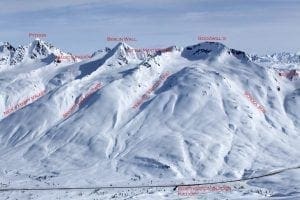 Interactive Map of Valdez Forecast Areas w/ Many Resource Layers (Trevor Grams)
Run Map of Thompson Pass Area (Sean Wisner) (2MB download)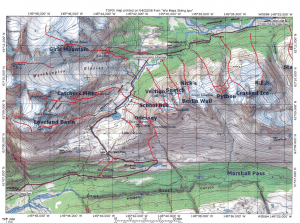 NEWS: Our region is "one of the snowiest places on earth" – Serendipity / Rendezvous snowfall record set in 1963 <here>.
Free smart phone avalanche forecasts at: http://www.avalancheforecasts.com/