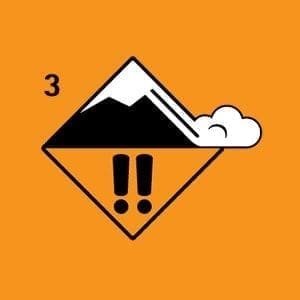 Expires: Thu, Apr 13, 2017
Strong solar heating will quickly increase the danger of wet slabs below treeline, and cornice fall and dry slabs above treeline during the heat of the day. Remember that we still have a deep persistent weak layer 1m down and include a wide safety margin to manage the uncertainty.
1,500 to 2,500ft
Considerable
Degrees of Avalanche Danger ?
1. Low
2. Moderate
3. Considerable
4. High
5. Extreme
Problem Details
Problem #1: Wet Avalanches
Distribution: South-ish aspects below treeline, steeper than 30 degrees. Intense solar radiation and warm weather is causing south aspects to hold 30+cm of wet snow. As the day heats up and melt water increases, the danger of wet slabs and large point-releases will rise to considerable. Travel in the early morning to avoid this danger. Plan to be off of any solar aspects before the snow softens to ankle-deep.
Problem #2: Wind Slab
Distribution: West-North-Northeast aspects above 3500ft. Last week's snow was blown around by SE winds, building wind slabs at the top of the snowpack. Be especially careful of this on wind loaded slopes steeper than 30 degrees. As the sun warms the new snow these slabs will weaken and the danger will increase. Avoid steep slopes with strong solar radiation. Test slopes and snowpit tests can help you evaluate the risk of this on a particular slope.
Problem #3: Deep Slab
Distribution: All aspects above 1500ft. About 1 meter deep, we have hard slab with weak, facetted snow underneath. There's also an old rain crust below acting as a slick bed surface. This weak layer has started to slowly strengthen, but the weakness still exists. Heavy triggers like cornice drops, snowmachines, or small avalanches may trigger this stubborn weak layer and cause large, destructive hard slab avalanches. The low-probability, high-consequence nature of deep slab instability requires conservative decision making and a wide risk-margin. Think about where your "safe zones" are, and what could happen if the slab breaks wide enough to take out your safe zone. 
Problem #4: Falling Cornice
Cornices built by south winds throughout the season are going to start sagging and weakening now that the snowpack is warming up. We've reached that time of year when they start dropping and collapsing frequently. Give cornices a wide berth…stay as far away from them as possible while traversing ridgelines, as they tend to break much farther back onto a ridge than expected. Cornice/snow ledge collapse has caused serious accidents and even a fatality in the last few years.
Recent Avalanche Activity
At the end of the last storm on April 6th, there was D2-D3 deep slab activity running on the early March facet layer (all aspects). Since then, we've seen mostly large point-release activity on sunny aspects. These loose-wet slides have been gouging down to the deep facet layer and quickly building into dangerous avalanches. Many are running during the heat of the afternoon.
Recent Weather
We're locked into an AMAZING weather pattern. Expect sunny skies with passing clouds through the next week or more. Alpine highs will be in the mid-upper 30's, with lows in the mid-20's. Strong solar radiation will be baking south aspects. Winds will be light.
About 10″ of new snow fell above the snow level (~2500ft) April 5th. South winds were strong.
Prior to that, snow levels on the 4th were about 3500ft, with .2-.5″ of precipitation.
Additional Info & Media
We've been getting widespread reports of sketchy conditions for the last several days. This includes lots of whumphing, shooting cracks, and fresh avalanche activity. Be conservative, and avoid avalanche terrain when possible.