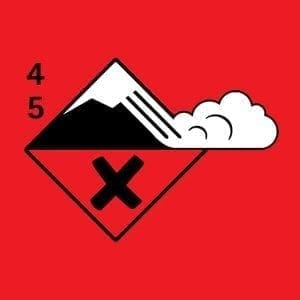 Expires: Wed, Apr 05, 2017
Degrees of Avalanche Danger ?
1. Low
2. Moderate
3. Considerable
4. High
5. Extreme
Problem Details
Problem #1: Wet Avalanches
Distribution: All aspects below 3,500ft where rain is falling. Rain-on-snow will rapidly weaken our snowpack as water begins to run on some of the deeper crusts, weakening the bond of overlying snow. Wet loose slides will be common in steep terrain, and destructive wet slabs are possible as well. Stay away from slopes with wet snow, and chutes/gullies that channel avalanche debris.
Problem #2: Persistent Slab
Distribution: All aspects above 1500ft. If you dig down about 1 meter deep, we have hard slab with weak, facetted snow underneath. There's also an old rain crust below that with facets above and below (see profile below). Last week, we saw lots of natural and human-triggered slides on these layers. These weak layers have started to slowly strengthen, but loading is increasing and they may re-activate. The added load from new snow will increase the amount of stress on these weak layers, and some large natural avalanches 3-6ft deep are possible.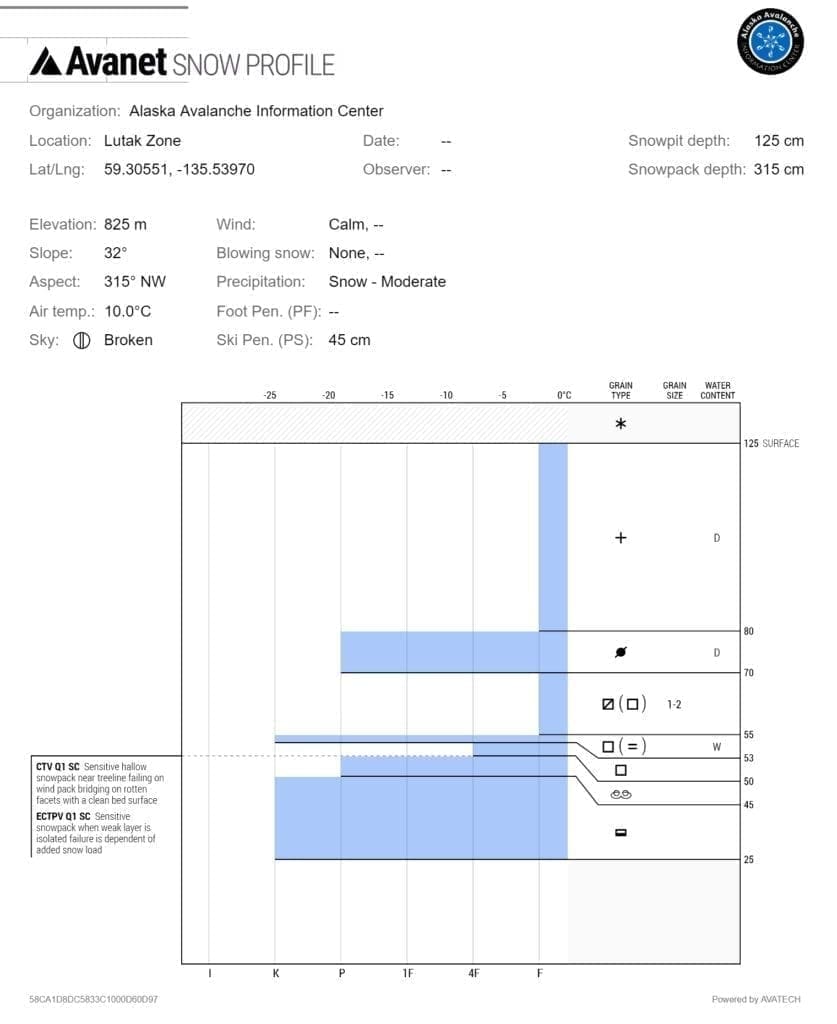 Problem #3: Wind Slab
Distribution: West-North-Northeast aspects above 3500ft. Today's new snow will be blown around by SE winds, building fresh wind slabs at the top of the snowpack. Any cohesive, slabby areas of new snow will be sensitive to human weight. Be especially careful of this on wind loaded slopes steeper than 30 degrees.
Problem #4: Deep Slab
Distribution: Isolated, on wind-blown slopes with thin snowpack less than 1m thick. Generally around ridgelines, and anywhere rocks are exposed or thinly buried. All aspects. Elevations above 3000ft. In the Pass zone, there are extensive weak facets at the ground in any areas of thin snowpack. We're now seeing natural slides on this basal facet layer in areas north of the Pass (see photo). Even in places with deeper snow, there remain trigger points near rocks/thin areas. If you were to trigger a slide on this layer, it would be a deep, wide, hard slab avalanche with deadly consequences. This is a low-probability high-danger situation that is very difficult to manage, so it's best to exercise caution. Be very careful to avoid rocky trigger points and thin areas. Stick to slopes with a deeper, more uniform snowpack.
Recent Avalanche Activity
Last week's avalanche activity included several D3 slides, running about a meter deep on the troublesome Early March facet layer. This includes some slides that have been remotely triggered from ridgelines, and some skier-triggered slides and close calls.
Recent Weather
Alpine temperatures reached about 30F on Tuesday, with strong sunshine on south aspects. A weather front will come in Tuesday night-Wednesday, with moderate-heavy precipitation, south winds, and snow levels rising to near 3500ft. About 1″ of precipitation is expected over the mountains. Expect some clearing and sunshine for Friday-Saturday.
Recent Snowfall:
3-8″ of snow above 1500ft March 30-Apr 2.
3-8″ on March 29th above 2000ft. This was mostly in the Lutak Zone.
6-12″ on March 27th above 1000ft.
Additional Info & Media
We've been getting widespread reports of sketchy conditions for the last several days. This includes lots of whumphing, shooting cracks, and fresh avalanche activity. Be conservative, and avoid avalanche terrain when possible.