Expires: Sun, Apr 02, 2017
Make an OBSERVATION on the HPAC observation platform this week and win a live rooster! Don't wait, roosters are limited!
2,500 to 3,500ft
Moderate
Degrees of Avalanche Danger ?
1. Low
2. Moderate
3. Considerable
4. High
5. Extreme
Problem Details
Bottom Line: The avalanche hazard will be MODERATE today for persistent slabs.  5-6 inches of new snow, moderate winds, and an increase in temperature have added stress to the snowpack. Human triggered avalanches will be possible on all aspects at mid and upper elevation on slopes above 35º for persistent slabs.  Natural avalanches are unlikely.  However, if temperatures rise to 37ºF at 3000′ today, as predicted, or we see rain, the avalanche hazard could rise to considerable for wet-loose at mid and low elevation on slopes 35º and steeper.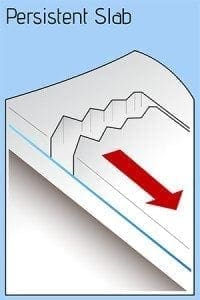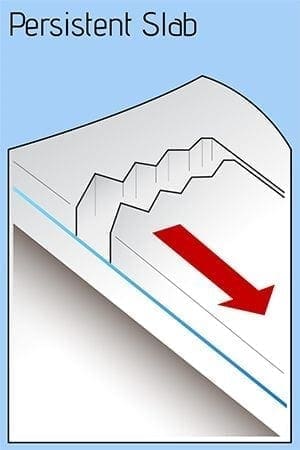 Persistent Slab: The upper to mid-pack persistent slab that formed over two weeks ago is beginning to wake up and activate. This week's new snow, moderate wind, and warmer temps are affecting the snowpack in two ways.
1) Above 3500′, at upper elevation, mostly on leeward aspects (SW-NE), where winds gusted 15-30mph 3/28-3/31, wind loading is tipping the strength/stress balance of the persistent slab. Expect slabs 6-12″ thick to be possible to human trigger in wind loaded zones, near ridges, on smooth pillow looking features, and gully side walls, on slopes above 35º. New cornice features are good indicators of wind loading on leeward slopes . The snowpack continues to have poor structure and low energy- but are failing and propagating easier than last week. Slabs will be touchy to stubborn to trigger, and small to moderate in size, due to the lack of a continuous persistent slab.
2) Below 3500′, at low and mid elevation, on all aspects, new snow and warm temps have significantly changed the the snowpack. Temperatures barely froze at 3450′ overnight and are reporting 33ºF at 5am this morning.  Expect dense slabs 4-6″ thick to be possible, but stubborn, to human trigger on slopes above 35º today.  The abrupt change in snowpack quality now resembles cream cheese and is obvious when skinning up or skiing/riding downhill. This upside down snow- heavy over old light facets- is acting as a slab and is the result of warming temps. The wind was not strong enough to form slabs at these elevations. The new snow load is adding stress to the snowpack.  Warming temperatures have allowed the new snow to form a cohesive slab which is failing on the same old facet layer under the crust.  See picture below.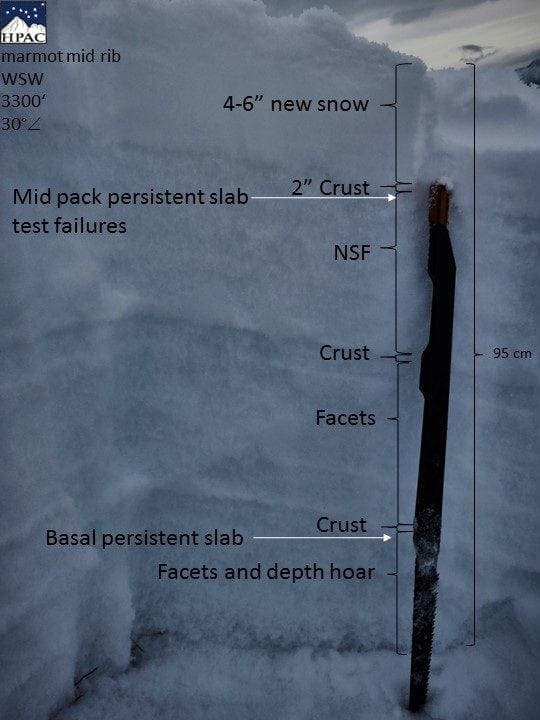 .
---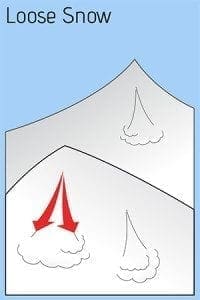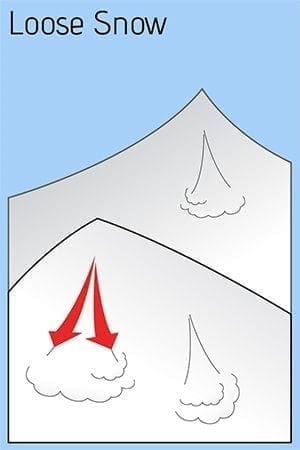 Wet-loose avalanches have not been a factor yet this spring, however, temperatures are on trajectory to increase- especially for today.  Temperatures have risen 10ºF each day the past two days, and another rise is expected today.  Temperature are predicted to rise to 37ºF at 3000′ today and 43ºF at 1000′ with a 20% chance of rain after 4pm at 3000′.  The avalanche hazard could rise to considerable and moderate to large size -wet-loose avalanches will be likely to human trigger and naturals will be possible.
Don't let the weather catch you off guard. Sun, rain, or above freezing temps will increase the likelihood of naturals and human triggered wet-loose avalanches. In some locations, almost the entire snowpack consists of facets. This loose snow loses strength rapidly with heat, and could produce large, wet-loose avalanches in the near future. Wet-loose avalanches are predictable and avoidable.
Recent Avalanche Activity
Clouds and poor visibility made it challenging to see lots of terrain this week. Weather improved enough on Friday to see a natural avalanche, likely from 3/29 or 3/30 on the north face of Arkose Ridge at 4000′, facing the road. This avalanche occurred as a result of new snow that formed a cohesive slab which failed on the persistent slab. SS-N-D1.5-O.
No other naturals or human triggered avalanches were reported or observed this week.
---
Current Conditions:
Imagine yourself inside this ping pong ball….that was the story most of the week.
April is here and it's no joke that the snowpack is feeling the heat. Temperatures have increased significantly over the past few days – with highs 17ºF on 3/30, 27ºF on 3/31, and predicted to be 37ºF today at 3000′. That's a 10ºF increase each day.
Despite the new snow this week, conditions are still quite variable. Most locations now resemble upside down cake- with the heavy stuff on top and the light on the bottom. 5-6 inches of new snow covered some old tracks, but dont be caught off guard with the low light and old tracks underfoot. Wind slabs, thick ( think cream cheese) new snow over facets, and old crust surfaces continue to proliferate the landscape.
Recent Weather
This week's weather at 3550′:
Temps averaged  19ºF, with a low of  7ºF and a high of  37ºF.
5-6 inches of new snow and .5 inches of water was recorded at IM snotel 3/28-3/29.
Overnight at 3550′:
Temperature averaged 31° F overnight, 33ºF at 5am.
No new snow overnight.
This week's weather at 4500′:
Temps averaged  16ºF, with a low of 7ºF and a high of 28ºF.
Wind averaged 5 mph SE, with gusts averaging 10 mph SE. Winds gusted 20 mph on 2/28, 20-30 mph on 3/30, and 18-20 mph on 3/31 ESE/SSE.
Overnight at 4500′:
Temps averaged 28º F overnight.
Winds averaged 9 mph, gusting 14 mph ESE  .
Additional Info & Media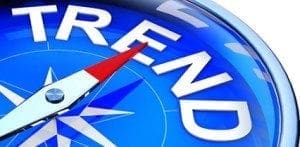 Any significant increase in temperature and/or rain precipitation this weekend will weaken bonds in the snowpack, increasing the likelihood of avalanches, and increasing the avalanche hazard.
---
AK State Parks snow report for Hatcher Pass here.
---
NWS point forecast for Hatcher Pass here.