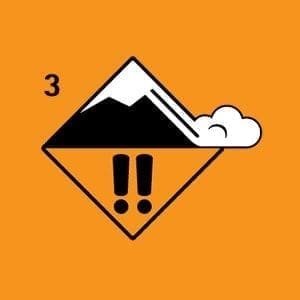 Expires: Sun, Apr 02, 2017
DOT will be doing avalanche control work from MP 37-42 today! Expect delays.
Another 5 inches of snow tallies up to 23 total at Thompson Pass for this storm cycle.
Limited visibility and unstable snow slabs will complicate travel and terrain selection.
Evaluate the new snow to old snow bonding and mid-storm weaknesses as temperatures have been quite variable throughout the storm.
Friday April 14: VAC Spring Full Moon FUNraiser with Acoustic Avalanche @  Tsaina Lodge
Above 2,500ft
Considerable
1,800 to 2,500ft
Moderate
Degrees of Avalanche Danger ?
1. Low
2. Moderate
3. Considerable
4. High
5. Extreme
Problem Details
THURSDAY
FRIDAY
SATURDAY & SUNDAY
STORM SLAB:
Elevation: All
Aspect: All
Terrain: All
Sensitivity: Responsive
Distribution: Widespread
Likelihood (Human Triggered): Likely
Size: Small – Large
Danger Trend: Increasing
Forecaster Confidence: Fair
PERSISTENT:
Elevation:   Above 2500′
Aspect: more likely on northerly aspects
Terrain: unsupported steep slopes with thin coverage
Sensitivity:   Stubborn
Distribution:   Isolated where windslab exists over facets/depth hoar
Likelihood (Human Triggered):   Possible
Size:   Small – Large
Danger Trend:   Steady
Forecaster Confidence:   Poor
AVALANCHE PROBLEM SCALE DESCRIPTORS:
Sensitivity: Non-reactive, Stubborn, Responsive, Touchy
Distribution: Isolated, Specific, Widespread
Likelihood: Unlikely, Possible, Likely, Nearly Certain
Size: Small, Large, Very Large (size scale <here>)
Danger Trend: Increasing, Steady, Decreasing
Forecaster Confidence: Good, Fair, Poor
AVALANCHE PROBLEM TOOLBOX <here>
SNOWPACK DISCUSSION: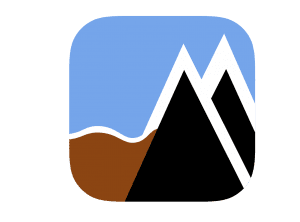 Continental (Interior) Specific:  
An upside down snowpack (strong over weak) has developed since temperatures warmed Wednesday, peaking in the high 30s down near the port and mid to high 20s near 3000′. 2 feet of snow has been measured in the port and on Thompson Pass, with more likely in the upper elevations which is colder and dryer.
The further you get from the pass the new snow levels dramatically decrease. This has been a trend all season, with most of our storms hammering the maritime zone, while leaving the intermountain/continental zones high and dry. Tuesday, heavy snowfall (1"/hour) was falling at 46 Mile slowing decreasing into the interior with only a dusting in Kenny Lake.
Human triggered avalanches were reported on the road run the last couple of days and slab and wet loose snow was moving on very steep slopes around the port on Wednesday. Maintain vigilance in evaluating the bonding of new snow to old and mid-storm weaknesses that have been failing with a top heavy load.
Given the poor structure in the interior, you are most likely to trigger a storm slab with a chance of it stepping down to a persistent slab. The interior region, and even some parts of the intermountain region, have a persistent weak layer that has the potential to release the entire season's snow pack in a very large, catastrophic avalanche. This persistent weak layer is going to be put to the test with the adding up snow load over the next week.
This may be what happened in the large chute on the east face of Mt. Tiekel. It was reported to have avalanched (D2.5) March 28th with in the last 24 hours with dirt in the debris.
Find more photos and observations at the bottom of the page. Sharing your observations creates an informed community.

Recent Avalanche Activity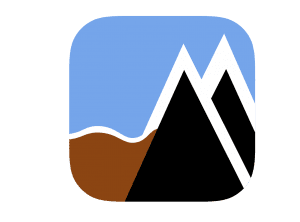 Continental (Interior) Specific: 
Poor visibility have limited observations: please share if you have seen anything!!!
March 28: The large chute on the east face of Mt. Tiekel release a D2.5 avalanche which dusted the highway
 March 25: reports of upper elevation (>4500′ elevation) human triggered windslab to size D1.5 to a foot thick releasing off steep slopes, mostly in the Maritime to Intermountain areas
March 24: significant collapses, as large as whole basins whumphing, in areas on the northerly and easterly outreaches of our Inter-mountain zone, and into the Continental zone.
Recent Weather
See Maritime Zone for updated weather.
Additional Info & Media
Weather Quicklinks:
SNOW CLIMATE ZONES:
Maritime (Coastal) – from the Port of Valdez to Thompson Pass, all waters flowing into Valdez Arm and everything south of Marshall Pass.
Inter-mountain (Transitional) – between Thompson Pass and Rendezvous Lodge.
Continental (Interior) – the dry north side of the Chugach (north of 46 Mile, including the Tonsina River).
Photo of Thompson Pass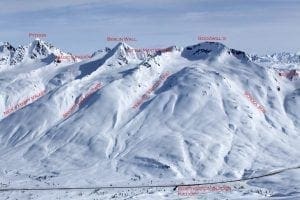 Interactive Map of Valdez Forecast Areas w/ Many Resource Layers (Trevor Grams)
Run Map of Thompson Pass Area (Sean Wisner) (2MB download)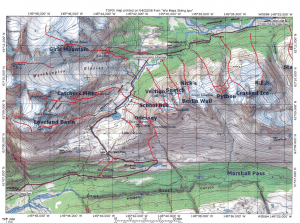 NEWS: Our region is "one of the snowiest places on earth" – Serendipity / Rendezvous snowfall record set in 1963 <here>.
Free smart phone avalanche forecasts at: http://www.avalancheforecasts.com/