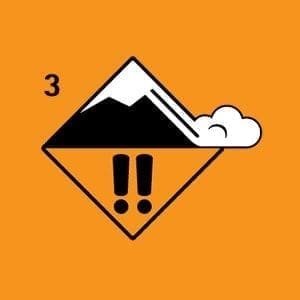 Expires: Wed, Mar 29, 2017
Above 2,500ft
Considerable
1,500 to 2,500ft
Considerable
Degrees of Avalanche Danger ?
1. Low
2. Moderate
3. Considerable
4. High
5. Extreme
Problem Details
Problem #1: Storm Snow
Distribution: All aspects above 1000ft. 6-12″ of new snow Monday combined with moderate and variable winds will be creating fresh storm slabs to watch out for. Wind-protected areas will be your best bet, just watch out for anywhere the new snow becomes cohesive and slabby.
Problem #2: Persistent Slab
Distribution: All aspects above 1500ft. If you dig down 60-90cm deep, we have layered hard slab with lots of weak, facetted snow underneath. There's also an old rain crust below that with facets above and below (see profile below). Last week, we saw lots of natural and human-triggered slides on these layers. These weak layers have started to slowly strengthen, but they remain an area of concern and triggering is still quite possible. You still need to be thinking about deeper layers and digging to assess them. Although the likelihood of triggering these layers is decreasing, slides this deep are very dangerous and high consequence.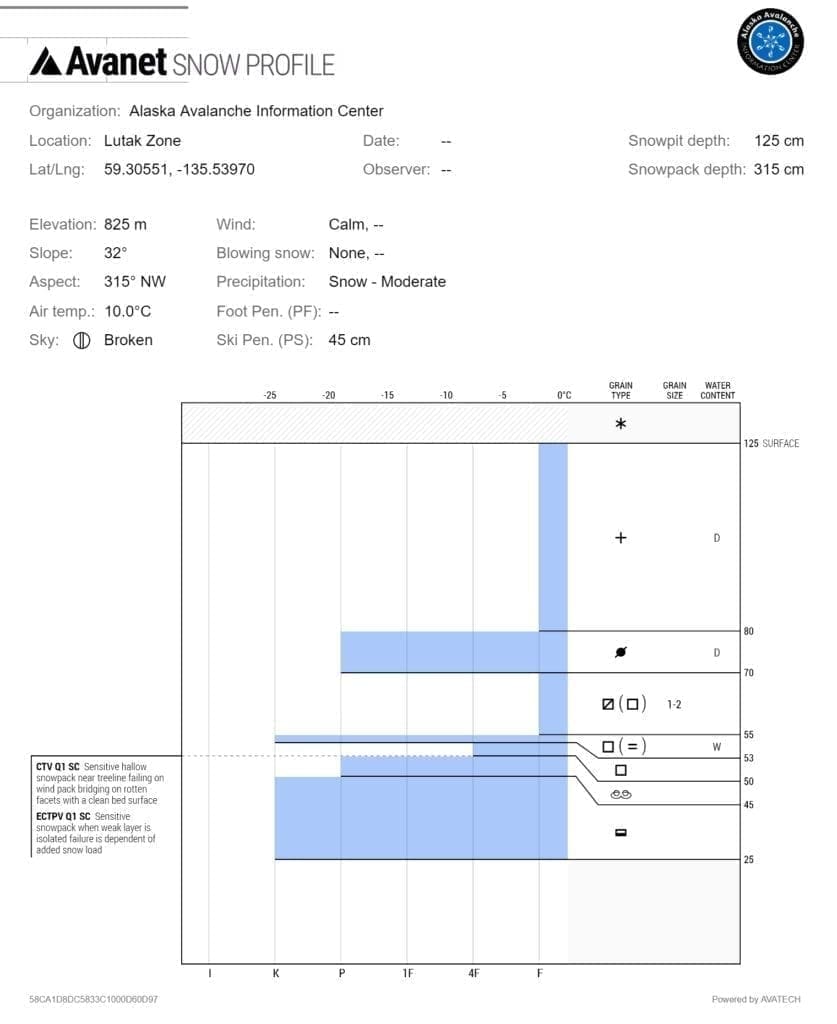 Problem #3: Deep Slab
Distribution: Isolated, on wind-blown slopes with thin snowpack less than 1m thick. Generally around ridgelines, and anywhere rocks are exposed or thinly buried. All aspects. Elevations above 3000ft. In the Pass zone, there are extensive weak facets at the ground in any areas of thin snowpack. We're now seeing natural slides on this basal facet layer in areas north of the Pass (see photo). Even in places with deeper snow, there remain trigger points near rocks/thin areas. If you were to trigger a slide on this layer, it would be a deep, wide, hard slab avalanche with deadly consequences. This is a low-probability high-danger situation that is very difficult to manage, so it's best to exercise caution. Be very careful to avoid rocky trigger points and thin areas. Stick to slopes with a deeper, more uniform snowpack.
Recent Avalanche Activity
We've had recent avalanches reported several days over the last week. Most slides have been D3, running about a meter deep on the troublesome facet layer we've been warning about. This includes some slides that have been remotely triggered from ridgelines, and some skier-triggered slides and close calls.
Recent Weather
Onshore flow this week will bring a series of weak/moderate storms, with winds turning southerly and a warming trend. Snow levels will rise to 1000-1500ft Monday afternoon. 6-12″ of new snow is likely above that level by Tuesday morning. Another wave of steady precipitation hits Wednesday.
March 19th-23rd brought 8-16″ of snow.
24-36″ of snow fell march 12th-17th.
Additional Info & Media
We've been getting widespread reports of sketchy conditions for the last several days. This includes lots of whumphing, shooting cracks, and fresh avalanche activity. Be conservative, and avoid avalanche terrain when possible.