Expires: Sun, Mar 26, 2017
It is still the season for "PICK, CLICK, GIVE." HPAC is not a recipient yet, but don't let that stop you from DONATING to your favorite grassroots- local-homegrown-valley avalanche center today. Every dollar counts. CLICK HERE, and thanks!
Degrees of Avalanche Danger ?
1. Low
2. Moderate
3. Considerable
4. High
5. Extreme
Problem Details
Bottom Line:  The avalanche hazard will be LOW today for persistent slabs. Human triggered avalanches are unlikely- but not impossible on leeward aspects in steep terrain, wind loaded features, or extreme terrain.  Maintain good travel habits, cause low danger does not mean no danger. If winds increase as predicted today, danger could rise to MODERATE for -upper to mid pack- persistent slabs at upper elevation on leeward aspects on slopes above 30º.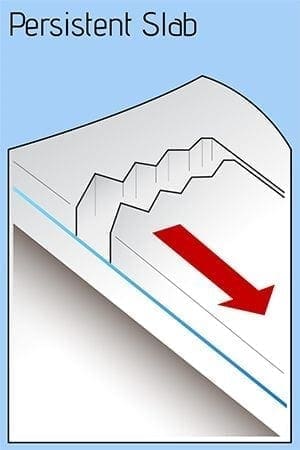 The persistent slab problem is dormant.
Persistent Slab #1: The upper to mid-pack persistent slab that formed as a result of wind 3/13-3/15 exists mostly on leeward aspects W- NE at mid and upper elevation. Expect slabs to be 4-8″ thick, isolated to ridgelines, starting zones, and wind hammered passes. These slabs will be stubborn to trigger on slopes above 30º.  This layer shows propagation potential, fortunately, the likelihood and consequence are low due to the slab being patchy and non-continuous for the most part. Watch for unstable snow in isolated terrain features, cause the next step will likely resemble walking in a sandbox. Variability exists everywhere.
Fortunately, this unseasonably cold March weather has magically transformed most of these slabs into some fine facet powder.
Continue to stay off of and away from smooth looking, and hollow sounding areas where the slabs still exist.
There has been no evidence of natural or human triggered activity with this persistent slab problem this week. See PIT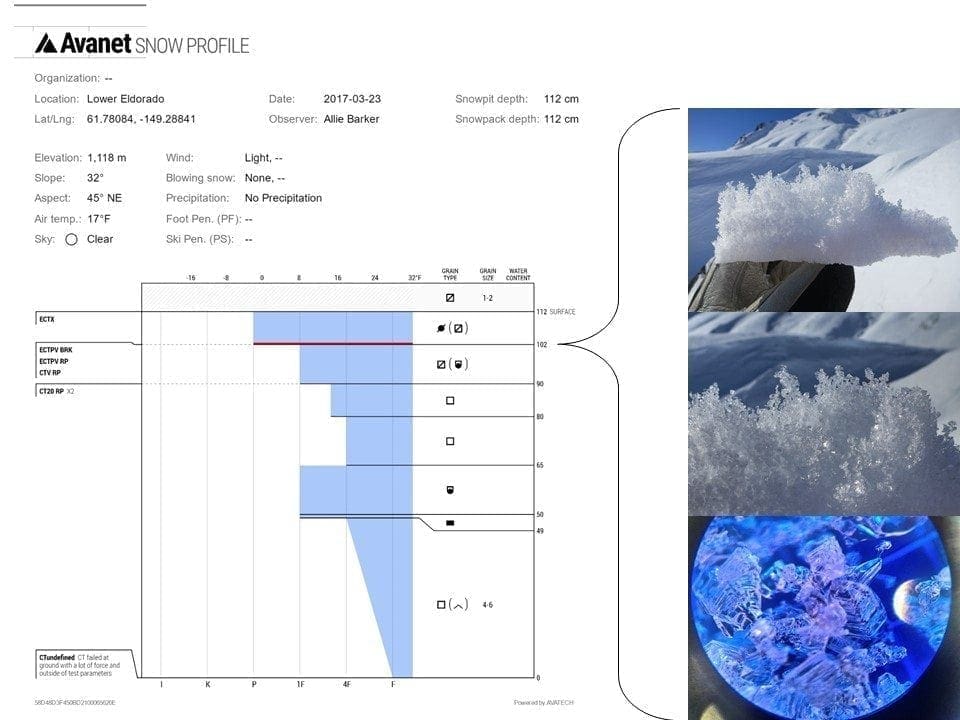 Persistent Slab #2: Weak basal facets and depth hoar at the base of the snowpack are still present. Dig down, and you'll find um. Persistent slabs 2′+ deep, on all aspects, mostly at mid-upper elevations, will be stubborn to trigger on slopes 30º and steeper. Because of cold weather, in some locations this slab has faceted out- losing cohesion- potentially becoming less of a problem or non-existent. Although visual evidence of this avalanche problem is not currently evident, dig down to the base of the pack to see the potential demon. We continue to find that the patchy distribution of this slab, AND the lack of  a continuous slab make finding the right spot to trigger one of these avalanches less likely. A significant increase in temperature or a new load of snow with wind, could be the right combo to wake up this sleeping basal facet layer. Just don't forget it's down there!
---
Don't get caught with your pant's down! Spring is around the corner. Don't get complacent because of the lack of avalanches out there. A rapid increase in temperature or lack of freezing overnight will change the avalanche hazard.
Maintain good communication with your partners. Ski/ride/travel one at a time.  Use appropriate safe zones. Speak up if you are uncertain or uncomfortable with your group's decision making . Make sure everyone in your group knows how to use and has practiced with beacon, probe, shovel, and ideally an airbag. Enjoy the sun and longer days!
Recent Avalanche Activity
No avalanche activity has been observed or reported this week.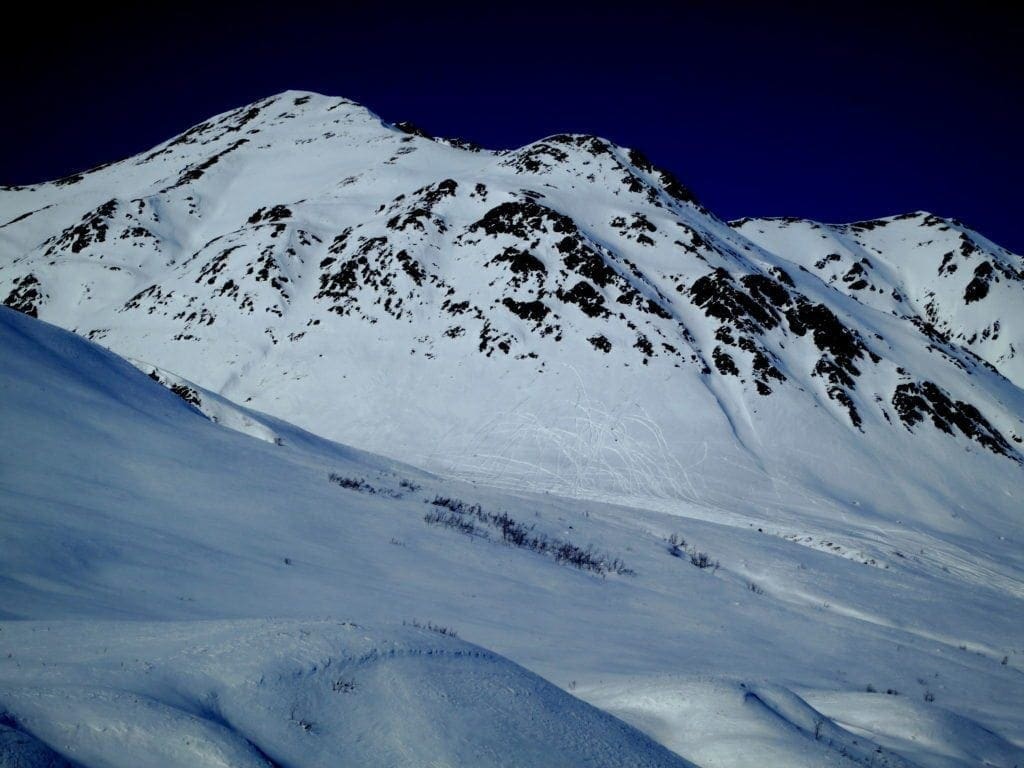 Photo: Significant high-marking on south aspect of Skyscraper- not even a point release!
---
Current Conditions:
This March has been one of the coldest on record. HP has not received any precipitation since February 24th- that's a whole month! We have yet to turn the corner towards spring thaw, and for now are in a holding pattern. If you are a pilot- or a backcountry enthusiast at HP- you probably don't like hearing that. Skinning/travelling uphill can be challenging and resembles walking through a sandbox. While some of you will choose to pull out the skateboards, hold on…cause there are soft, surface facets to be enjoyed. Find the facets, find the goods! Don't be fooled by all the sastrugi either, as much of it has been recrystallized and softened. HP will be in a holding pattern until we see a paradigm change likely from 1. a sudden or consistent increase in temperature 2. another wind event (facets can be formed into slabs) 3. more snow! Until then, be creative!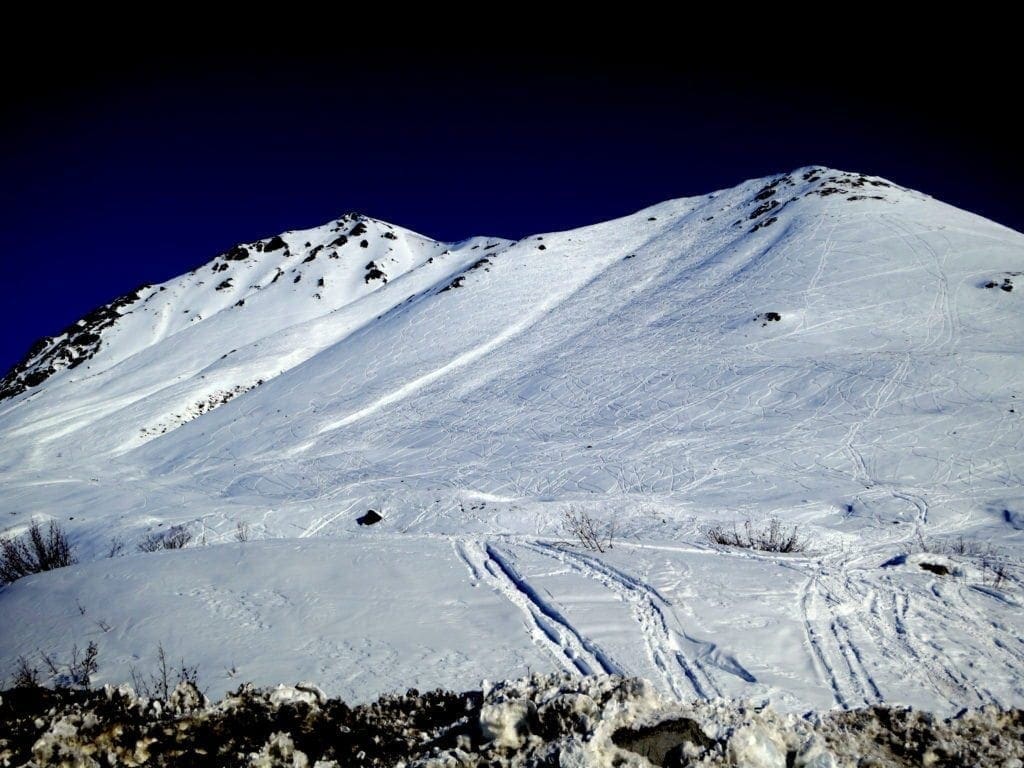 What a month of no snow will do. Betcha can squeeze in another line.

photo panorama: Idaho Pk-Delia-Stairstep-Arkose
Recent Weather
This week's weather at 3550′:
Temps averaged 14ºF, with a low of -1ºF and a high of 30ºF.
No snow accumulation this week.
Overnight at 3550′:
Temperature averaged  12° F overnight.
No new snow overnight.
This week's weather at 4500′:
Temps averaged 11ºF, with a low of  1ºF and a high of 23ºF.
Wind averaged 3 mph SSE, with gusts averaging 6 mph, max gust 18 mph E .
Overnight at 4500′:
Temps averaged   9º F overnight.
Winds averaged 3 mph, gusting 6 mph S.
---
Below: Starting to see the diurnal heartbeat with daytimes highs getting warmer- but very slowly.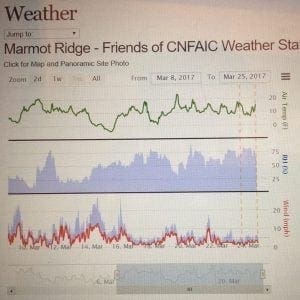 We might not finish March like a lion- but rather a frostbitten spruce hen who's lost its feathers to the wind and cold.
Additional Info & Media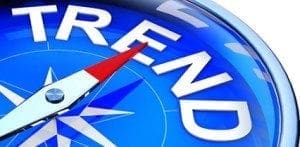 The avalanche hazard will remain the same through the weekend. Winds are expected to increase to E 10-23 mph at 3000′ , and E 20-25 mph at 4364′ at HP today. Any significant increase in wind could increase the avalanche hazard.
---
AK State Parks snow report for Hatcher Pass here.
---
NWS point forecast for Hatcher Pass here.