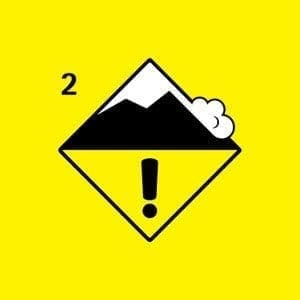 Expires: Sun, Mar 26, 2017
While the new snow seems to be bonding well to old surfaces, wind formed soft slabs on top of the recent snow is not so stable.
Manage the loose snow sluffs in steep, consequential terrain.
Join the VAC Basecamp FREE classes every day this week in the One Love Lot (MP 29.5). Check our Facebook page for more details!
Degrees of Avalanche Danger ?
1. Low
2. Moderate
3. Considerable
4. High
5. Extreme
Problem Details
THURSDAY
FRIDAY
SATURDAY & SUNDAY
PERSISTENT SLAB:
Elevation:   All
Aspect:   All
Terrain: Most
Sensitivity:   Non-reactive
Distribution:   Widespread
Likelihood (Human Triggered):   Possible
Size:   Small – Large
Danger Trend:   Steady
Forecaster Confidence:   Poor
WIND SLAB:
Elevation:  above 2000′
Aspect:   lee to north and east wind
Terrain: near ridgetop, rollovers, gully walls
Sensitivity:   Responsive
Distribution:   Specific
Likelihood (Human Triggered):   Possible
Size:   Small – Large
Danger Trend:   Steady
Forecaster Confidence:   Good
AVALANCHE PROBLEM SCALE DESCRIPTORS:
Sensitivity: Non-reactive, Stubborn, Responsive, Touchy
Distribution: Isolated, Specific, Widespread
Likelihood: Unlikely, Possible, Likely, Nearly Certain
Size: Small, Large, Very Large (size scale <here>)
Danger Trend: Increasing, Steady, Decreasing
Forecaster Confidence: Good, Fair, Poor
AVALANCHE PROBLEM TOOLBOX <here>
SNOWPACK DISCUSSION: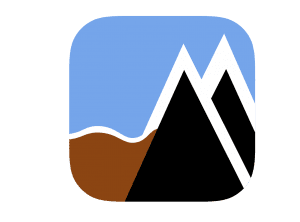 Continental (Interior) Specific: 
The last storm that hit us Sunday to Monday was enthusiastically welcomed after a parched spell of no precipitation. There was significant variation of new snow throughout the region. Cordova reported 8 inches at sea level Monday AM, with 2 feet at 1000′, while the town of Valdez received 2 inches with 1 foot at the pass, and trace amounts of snow at 56 Mile.
Since the storm, many available and willing testers reported numerous natural and skier triggered soft slab avalanches on Monday and Tuesday….mostly smaller in the destructive spectrum with deeper slabs the closer you get to Cordova.  North winds picked up Tuesday and have stripped and moved snow into firmer slabs in exposed terrain features. While the unconsolidated snow seems to be bonding quite well to older firm surfaces, the newer soft slabs formed on top of these weak snow crystals are more concerning. Evaluate the upper snow surfaces before committing. Older, pre-storm snow, has not seen any avalanche activity as of late.
The last reported human triggered avalanche was March 11th on Mt. Tiekel, a near ridgetop windslab size D2. Testing March 15 near MP 50 (on the shoulder of Mt. Tiekel) demonstrated poor snow structure with easy-moderate propagation results. Knife hard wind slabs and firm rain crusts will now serve as bed surfaces. 
Find more photos and observations at the bottom of the page. Sharing your observations creates an informed community that everyone benefits from at some point.
Recent Avalanche Activity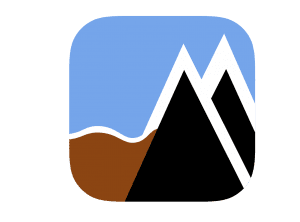 Continental (Interior) Specific: 
The dusting of new snow will be transported by east – north wind, expect soft windslab near ridgetops to be reactive to human trigger.
March 11 report of upper elevation skier triggered avalanche that ran on a previously released slope (March 3rd?) which has reloaded. The hard slab avalanche fracture crown was two feet deep, propagated 400 feet across the start zone, and ran 1000 feet. The skier was able to ski off the moving slab and wasn't captured.
March 7 report of two size D1 soft slab avalanches (3500' SW 20cm and 4000' NE 15cm). Plus long running dry loose and several collapses on low angle terrain.
Recent Weather
See Maritime Zone for updated weather.
Additional Info & Media
Weather Quicklinks:
SNOW CLIMATE ZONES:
Maritime (Coastal) – from the Port of Valdez to Thompson Pass, all waters flowing into Valdez Arm and everything south of Marshall Pass.
Inter-mountain (Transitional) – between Thompson Pass and Rendezvous Lodge.
Continental (Interior) – the dry north side of the Chugach (north of 46 Mile, including the Tonsina River).
Photo of Thompson Pass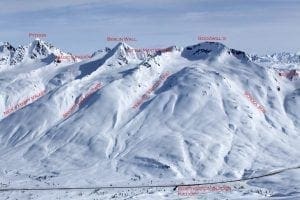 Interactive Map of Valdez Forecast Areas w/ Many Resource Layers (Trevor Grams)
Run Map of Thompson Pass Area (Sean Wisner) (2MB download)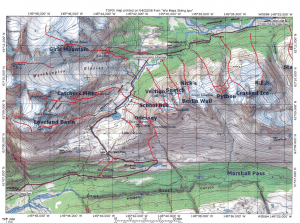 NEWS: Our region is "one of the snowiest places on earth" – Serendipity / Rendezvous snowfall record set in 1963 <here>.
Free smart phone avalanche forecasts at: http://www.avalancheforecasts.com/