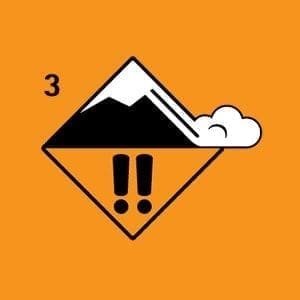 Expires: Wed, Mar 22, 2017
Use extra caution this week. Note the persistent slab problem 70-100cm deep beneath hard wind slabs. This is a dangerous time to be in avalanche terrain. Remember that most avalanche accidents occur during times of Considerable danger.
Above 2,500ft
Considerable
1,500 to 2,500ft
Considerable
Degrees of Avalanche Danger ?
1. Low
2. Moderate
3. Considerable
4. High
5. Extreme
Problem Details
Problem #1: Persistent Slab
Distribution: All aspects, especially wind loaded slopes and cross-loaded terrain features, treeline and up. Underneath the recent fresh snow, we have layered hard slab with lots of weak, facetted snow underneath. There's also an old rain crust 70+cm down which is beginning to facet (see profile below). We're seeing easy failures and propagation on these layers almost a meter deep, and this danger will persist for a while. These slabs are underneath the new snow, so you'll need to be thinking about deeper layers and digging to assess them. This is a dangerous time to be in avalanche terrain.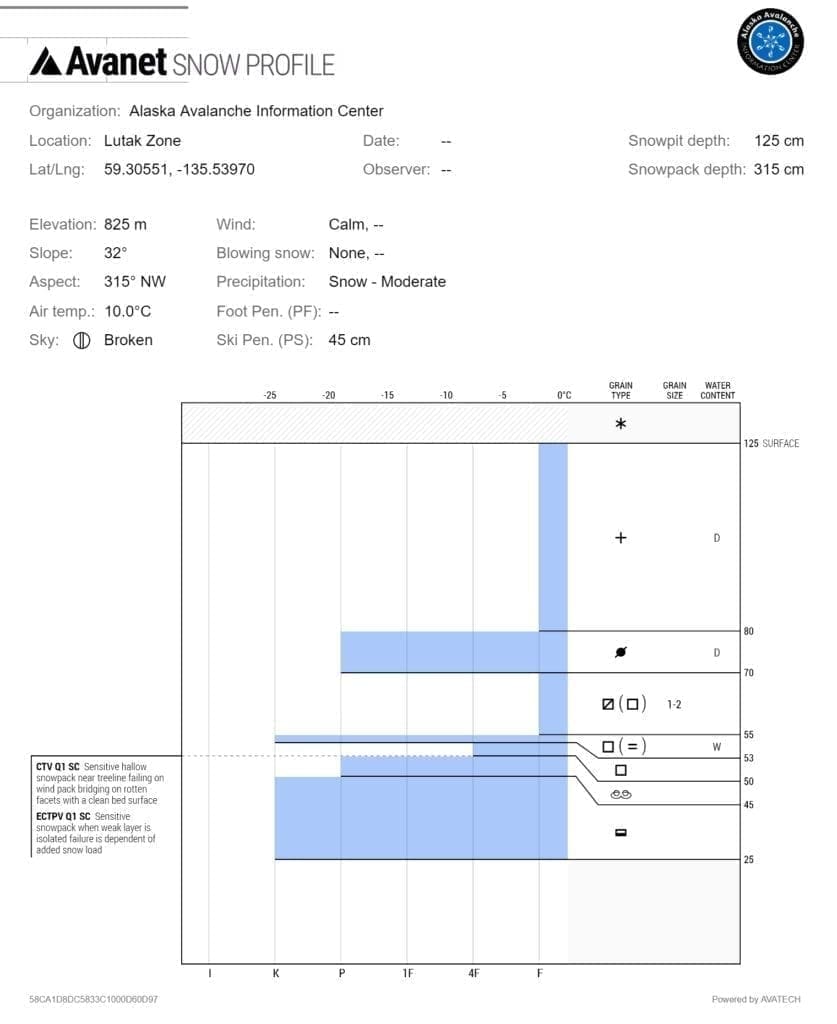 Problem #2: Wind Slab
Distribution: Wind loaded lee slopes (all aspects) from treeline and up. NW winds last week and southeast winds Monday blew the new storm snow into fresh wind slabs at the top of the snowpack. Cold temperatures will limit the amount of bonding between these layers.  These fresh slabs have weak snow underneath and will be sensitive to human weight. Avoid wind loaded slopes 25-degrees and steeper.
Problem #3: Deep Slab
Distribution: Isolated, on wind-blown slopes with thin snowpack less than 1m thick. Generally around ridgelines, and anywhere rocks are exposed or thinly buried. All aspects. Elevations above 3000ft. In the Pass zone, there are extensive weak facets at the ground in any areas of thin snowpack. We're now seeing natural slides on this basal facet layer in areas north of the Pass (see photo). Even in places with deeper snow, there remain trigger points near rocks/thin areas. If you were to trigger a slide on this layer, it would be a deep, wide, hard slab avalanche with deadly consequences. This is a low-probability high-danger situation that is very difficult to manage, so it's best to exercise caution. Be very careful to avoid rocky trigger points and thin areas. Stick to slopes with a deeper, more uniform snowpack.
Recent Avalanche Activity
The last observed avalanche activity was during the last storm cycle Feb 11-15th. There was a natural avalanche cycle within the new storm snow, with widespread D2-D3 slides on all aspects. These were dry slabs above 4000ft, and some nasty wet slabs below that level. A few large avalanches occurred, with crowns up to 2m tall. Some slides hit the valley floors and lower runouts.
Recent Weather
Light precipitation continues Monday night, with a few more inches falling above 1000ft. This will bring Sunday-Monday snow totals to around 6-12″. The weather breaks on Tuesday, with a little clearing possible, cooling temperatures, and light north winds. Some light snow is likely Wednesday night-Thursday.
24-36″ of snow fell march 12th-17th. Snow ratios were near 20:1 for the most part.
Additional Info & Media
We've been getting widespread reports of sketchy conditions for the last several days. This includes lots of whumphing, shooting cracks, and fresh avalanche activity. Be conservative, and avoid avalanche terrain when possible.