Expires: Sun, Mar 19, 2017
'Tis the season for "PICK, CLICK, GIVE." HPAC is not a recipient yet, but don't let that stop you from DONATING to your favorite grassroots- local-homegrown-valley avalanche center today. Every dollar counts. CLICK HERE, and thanks!
————————————————————————————-
Now is a great time to reassess your decision making skills. Check out the new podcast, SLIDE: The Avalanche Podcast.
Degrees of Avalanche Danger ?
1. Low
2. Moderate
3. Considerable
4. High
5. Extreme
Problem Details
Bottom Line: The avalanche hazard will be LOW today for persistent slabs and loose snow avalanches (sluffs). Human triggered avalanches are unlikely- but not impossible. Avalanches in isolated areas or extreme terrain. Watch for unstable snow on isolated terrain features.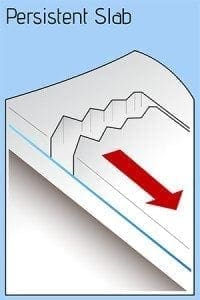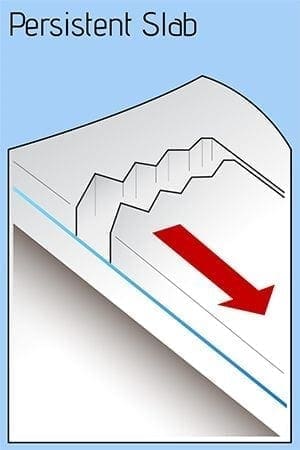 Mid-pack persistent slabs exist in specific locations. Cold temperatures and large temperature gradients within the snowpack have allowed stiff, dense slabs to lose moisture to the atmosphere and become less dense and less "slab-like." This is a small chink in the slabs armor that improves the riding conditions, but does not remove the slab/weak layer problem. This process, near surface faceting, has created square powder near the surface.
Weak basal facets and depth hoar at the base of the snowpack are still present. Persistent slabs 2-4′ deep, on all aspects, mostly at mid-upper elevations, will be stubborn to trigger on slopes 30º and steeper. A patchwork of distribution and a lack of  a continuous slab make finding the right spot to trigger one of these avalanches less likely. Pole or probe tests are a simple way to find stiffer snow overlying weaker snow.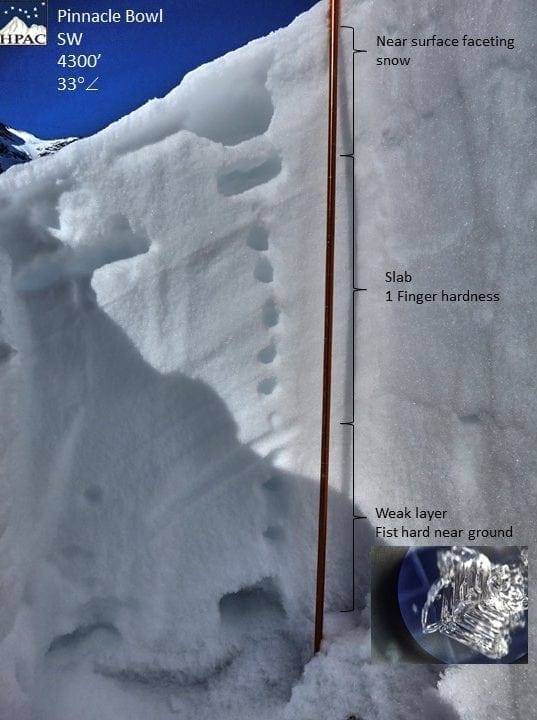 See Pit here.
---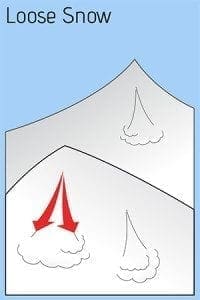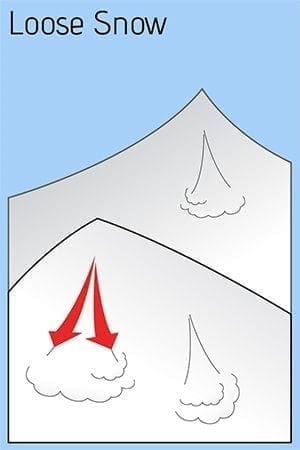 Loose snow avalanches will be active on SE-SW aspects at mid to upper elevations on slopes 35º and steeper. Although HP has not received new snow in over 2 weeks, old snow has faceted out, losing it's ability to bond to it's neighboring snow, and sluffing naturally due to sun heating and human triggers.
Temperatures are expected to rise to 20º F at 1000′ today. Up until now, cold temps have kept sluffing to a minimum. This can change rapidly with a little heat, a lot of sun, and loose snow (facets) galore.  As spring rounds the corner, pay attention to time of day to anticipate potential sluff activity. Any rapid temperature increase will significantly increase avalanche hazard.
Choose lines wisely, pick appropriate safe zones, spread out ! and remember that terrain traps can compound the consequences of any avalanche. Sluff management, avoidance, and safe terrain decisions can minimize your exposure to this hazard.
Recent Avalanche Activity
No new slab avalanches have been reported or observed this week.
Several small loose sluffs have been observed SW- SE aspects at mid and upper elevation on slopes above 35º.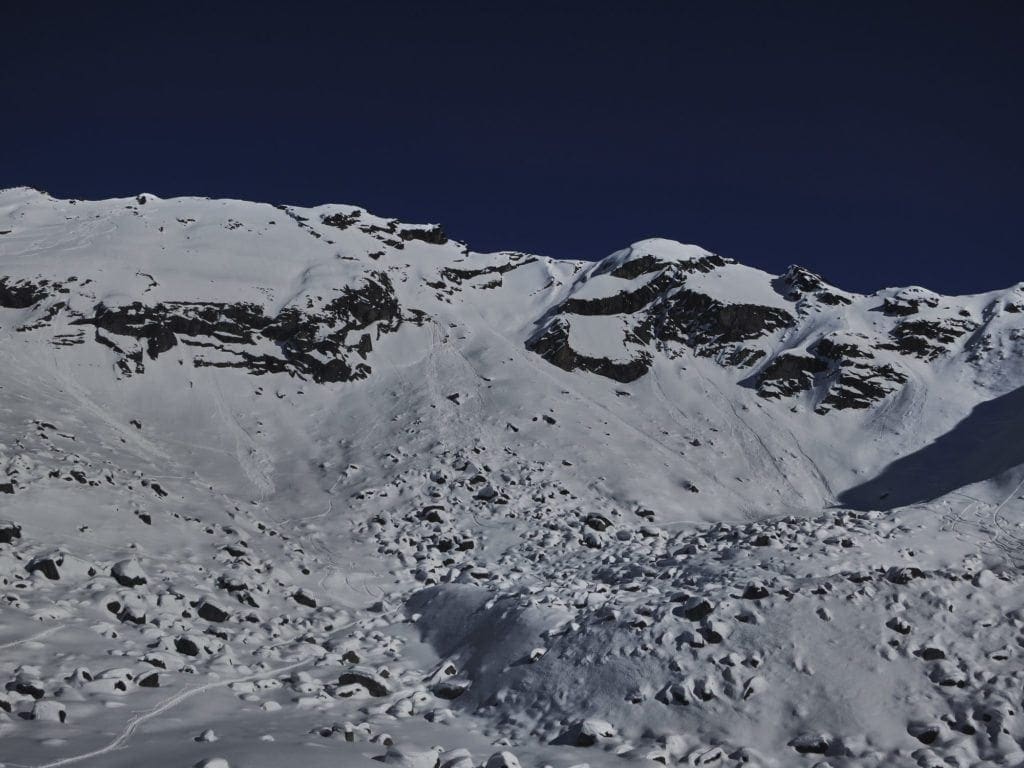 Natural loose snow avalanches (sluffs), SW aspect 4700′ Pinnacle Bowl.
---
Current conditions:
For the persistent and determined folk, may you find powder! Webster's dictionary would likely define the conditions as "variable": recrystallized (faceted)powder, wind board, old windslab, new windslab, sastrugi, wind waves.
Picture below: Variable conditions still exist 3/17.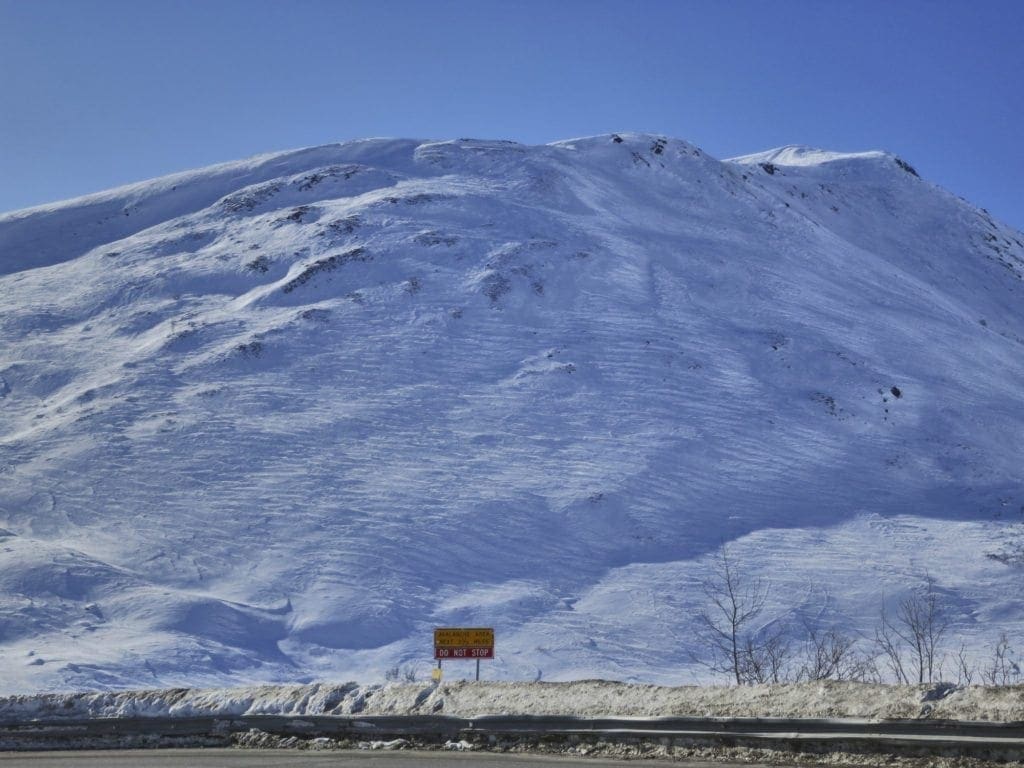 Recent Weather
This week's weather at 3550′:
Temps averaged 8ºF.
No snow accumulation this week.
Overnight at 3550′:
Temperature averaged  2° F overnight.
No new snow overnight.
This week's weather at 4500′:
Temps averaged 9ºF, with a low of -4ºF and a high of 21ºF.
Wind averaged 5 mph, max 13 mph with gusts averaging 10 mph, max 28 mph E/ESE.
On 3/13 winds gusted NE 22 mph. On 3/14 winds gusted NE 28 mph. On 3/15 winds gusted NE 28 mph.
Winds calmed down Friday.
Overnight at 4500′:
Temps averaged  3º F overnight.
Winds averaged N 2 mph .
Additional Info & Media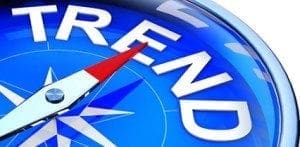 The avalanche hazard will remain the same through the weekend.
---
AK State Parks snow report for Hatcher Pass here. (Most recent report 3/10.)
---
NWS point forecast for Hatcher Pass here.