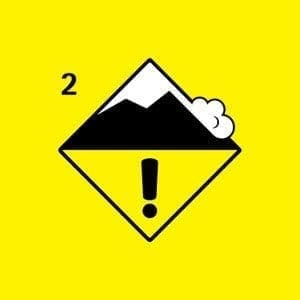 Expires: Mon, Mar 20, 2017
Degrees of Avalanche Danger ?
1. Low
2. Moderate
3. Considerable
4. High
5. Extreme
Problem Details
Recent Avalanche Activity
Recent Weather
Cold dry weather has dominated the last 3 weeks. Strong north wind has stripped most of the available snow above tree line. This created some isolated wind slabs on protected depressions, though most of the windblown snow sublimated back into the atmosphere.  Solar radiation has increasingly affected steep southern aspects.
Expect a few snowflakes Tuesday and an inch of light snow down to sea level Wednesday. Moderate northeast winds will move new snow to southwest aspects. Weather looks to dry out after that until Sunday. Temperatures should stay below freezing, though rapidly increasing sunshine will bring warmer daytime temperatures. Caution should be used on steep wind loaded and sun baked southwestern aspects above tree line.
Additional Info & Media