Expires: Sun, Mar 12, 2017
Degrees of Avalanche Danger ?
1. Low
2. Moderate
3. Considerable
4. High
5. Extreme
Problem Details
Bottom Line:  The avalanche hazard will be LOW today for persistent slabs. Human triggered avalanches are unlikely- but not impossible.  
Keep in mind that triggering an avalanche will probably fail at or near the ground, be a hard slab, and carry high consequences.
Since the snowpack is the question, terrain is the answer. Use safe travel protocol to limit your exposure and choose conservative terrain without terrain traps.
---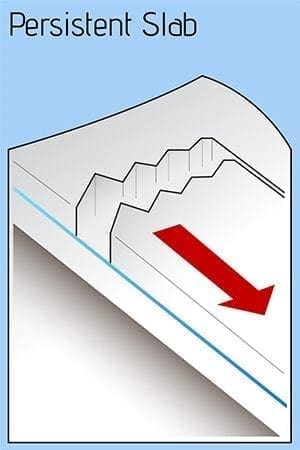 AVALANCHE PROBLEM: PERSISTENT SLAB
The snowpack's underlying problem of poor structure is still present, however, it is tired and old and won't respond very easily to human triggers. A low hazard exists for persistent slabs through the weekend, but this does not mean that triggering an avalanche is impossible, just unlikely.
Two Persistent slab problems exist. One sits on weak facets in the mid-pack and another on depth hoar at or near the ground.
1.Mid-pack persistent slabs (formed by last week's wind) 4″-24″ thick in specific locations, on leeward aspects, mostly W to NE at mid and upper elevations on slopes above 35º, and stubborn to trigger.
2.The deeper, basal facet, persistent slab, 2-4′ thick, still exists at the base of the snowpack on all aspects, and is most evident at mid and upper elevations. This slab will be stubborn to trigger on slopes 30° and steeper. A patchwork of distribution and a lack of  a continuous slab also make finding the right spot to trigger one of these avalanches less likely.
When you see Low Hazard in the forecast this weekend, approach this with great respect. Do not become complacent. Be vigilant, be picky. Choose the right terrain, the right partners, and choose conservative travel protocol.
If you find yourself considering that big line, or very large open bowl, or extreme challenge, perhaps take the extra few seconds to question your decision and think again about risking it all for terrible to mediocre snow quality.
For both of these hazards, a good rule of thumb is to avoid slopes that have the heaviest wind loads.
Heavily wind loaded locations have missle hard snow, formed by the wind, which will allow you to beat on it, will be unpredictable, and unlikely to fail, but could cause a high consequence avalanche if triggered. Hard slab avalanches are very difficult to predict.
Since the snowpack is the question, terrain is your answer. Use conservative travel protocol, limit your groups' exposure, and avoid any avalanche terrain with terrain traps.
Some shallower locations actually lack any base or slab at all, where the snowpack is entirely soft facets top to bottom. These locations lack the avalanche problem, but provide no protection from the rocks that want to destroy your gear.
Avoid the largest wind loaded slopes that will have the most continuous slabs, and slopes with runnouts into terrain traps. Instability tests may be inconclusive by themselves. Don't get complacent and get caught with your pants down; increase your insurance policy this weekend by traveling with partners, having everyone carry beacons, shovels, probes and possibly airbags. Know how to use, and have practiced with, the rescue gear. Travel one at a time, use proper spacing, use safe zones, communicate well, have a plan if something goes wrong. And then, have a great time.
Recent Avalanche Activity
No avalanche activity observed this week.
Recent Weather
This week's weather at 3550′:
Temps averaged 6ºF. (Cooler temps this week, average 14º F last week)
No snow accumulation this week.
Overnight at 3550′:
Temperature averaged 15° F overnight.
No new snow overnight.
This week's weather at 4500′:
Temps averaged 6ºF, with a low of -6ºF and a high of 21ºF.
Wind gusts averaged 10 mph this week.  Average wind speed and direction this week, 5 mph Easterly.
Overnight at 4500′:
Temps cooled since yesterday's high of 21º F.
Temps averaged 12º F overnight, with a max of 13º F and min of 10º F.
Winds averaged 3 mph varying WNW to E , gusting 9 mph.
Additional Info & Media

The avalanche hazard will remain the same through the weekend.
Strong winds, rapid warming and heavy precipitation could quickly increase the avalanche hazard.
Strong Northeast winds are forecasted to increase Sunday afternoon, which could increase the avalanche hazard by loading leeward aspects at upper elevations.
---
AK State Parks snow report for Hatcher Pass here
---
NWS point forecast for Hatcher Pass here