Expires: Tue, Mar 07, 2017
Give wind-loaded terrain features time to bond and test small features before going big.
New wind slabs can release much larger and deeper than expected….leading to consequential avalanches with firm and powerful blocks of snow.
This zone continues to have persistent weaknesses buried deeper in the snowpack that are of concern and should be evaluated as well.
1,800 to 2,500ft
Moderate
Degrees of Avalanche Danger ?
1. Low
2. Moderate
3. Considerable
4. High
5. Extreme
Problem Details
SATURDAY
SUNDAY
MONDAY & TUESDAY
WIND SLAB:
Elevation:   All'
Aspect:   Lee to northerly winds
Terrain:   Near ridgelines, rollovers, and gully walls
Sensitivity:   Responsive
Distribution: Specific
Likelihood (Human Triggered):   Possible
Size: Small – Large
Danger Trend:  Decreasing slowly
Forecaster Confidence:   Poor
PERSISTENT SLAB:
Elevation:   All
Aspect:   All
Terrain: Most
Sensitivity:   Non-reactive
Distribution:   Widespread
Likelihood (Human Triggered):   Unlikely
Size:   Small – Large
Danger Trend:   Decreasing
Forecaster Confidence:   Poor
AVALANCHE PROBLEM SCALE DESCRIPTORS:
Sensitivity: Non-reactive, Stubborn, Responsive, Touchy
Distribution: Isolated, Specific, Widespread
Likelihood: Unlikely, Possible, Likely, Nearly Certain
Size: Small, Large, Very Large (size scale <here>)
Danger Trend: Increasing, Steady, Decreasing
Forecaster Confidence: Good, Fair, Poor
AVALANCHE PROBLEM TOOLBOX <here>
SNOWPACK DISCUSSION: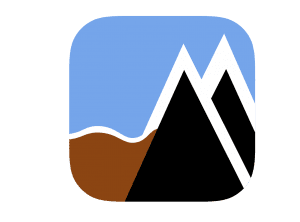 Continental (Interior) Specific: 
Today and early tomorrow will provide a brief respite from strong outflow winds forcing their way over passes and ridgelines from the north. They will likely pick up again Sunday afternoon and into Monday. Extreme winds that peaked near 90 mph scoured deep into older snow and drift snow into low lying gullies, trees, crevasses and rollovers.  Many natural wind slab avalanches released throughout our region while few human triggered were reported…likely due to the inhospitable conditions. Expect firm and variable conditions with exposed old crusts, wind board and sastrugi dominating the environment. Extra effort will be necessary to seek out the wind protected nooks that harbor soft snow. Be wary along corniced and loaded ridgelines, convex rollovers and steep gully walls. Wind slab needs time to bond to underlying snow and can trigger very large and unpredictable avalanches….especially when adding weight and stress to weak sugar snow at the ground.
The Interior region of the Chugach has seen significantly less precipitation compared to costal areas. Ground level facets (sugar snow) were found on a widespread scale through out this part of the range. These facets take time, possibly even an entire season to change their structure into something less avalanche prone. The likelihood of triggering an avalanche on these facets is low, but the consequences are high (could be fatal). This is why travel techniques (1 at a time) are crucial in exposed areas i.e. through/under an avalanche path, terrain traps.
There also has been recently reported findings of widespread buried surface hoard and near surface facets within the maritime zone….something that could easily be extending into all zones into the interior. No details on how sensitive they were, but worthy of noting and to keep tabs on.
Find more photos and observations at the bottom of the page. Sharing your observations creates an informed community that everyone benefits from at some point.
Recent Avalanche Activity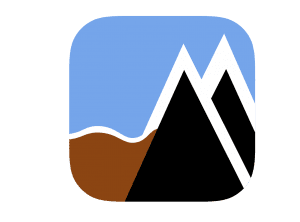 Continental (Interior) Specific: 
Mar. 2: Just up the road at Milepost 40, human triggered winds slabs were triggered on lee aspects of a cross-loaded ridgelet. Expect similar in the continental zone where basal facets further complicate things.
Recent Weather
See Maritime Zone for updated weather.
Additional Info & Media
Weather Quicklinks:
SNOW CLIMATE ZONES:
Maritime (Coastal) – from the Port of Valdez to Thompson Pass, all waters flowing into Valdez Arm and everything south of Marshall Pass.
Inter-mountain (Transitional) – between Thompson Pass and Rendezvous Lodge.
Continental (Interior) – the dry north side of the Chugach (north of 46 Mile, including the Tonsina River).
Photo of Thompson Pass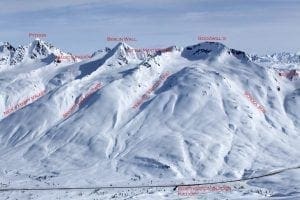 Interactive Map of Valdez Forecast Areas w/ Many Resource Layers (Trevor Grams)
Run Map of Thompson Pass Area (Sean Wisner) (2MB download)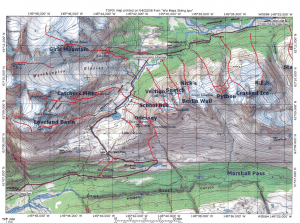 NEWS: Our region is "one of the snowiest places on earth" – Serendipity / Rendezvous snowfall record set in 1963 <here>.
Free smart phone avalanche forecasts at: http://www.avalancheforecasts.com/