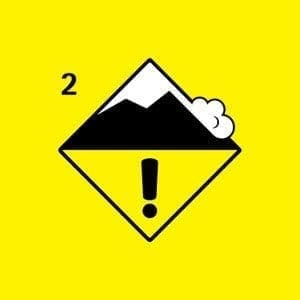 Expires: Sun, Mar 05, 2017
2,500 to 3,500ft
Moderate
Degrees of Avalanche Danger ?
1. Low
2. Moderate
3. Considerable
4. High
5. Extreme
Problem Details
Bottom Line:
The avalanche danger will be on the high end of MODERATE today for persistent slabs at mid and upper elevation. A high level of uncertainty in assessing and predicting these types of avalanches increases the risk.  Two persistent slab problems exist; a mid-pack slab formed by the wind, and the (old) basal slab at/near the ground. Persistent slabs will be possible to human trigger today and shallower persistent slabs could step down to the ground resulting in a high consequence avalanche. Heightened avalanche danger on specific terrain features. Identify features of concern and evaluate snow carefully. Small avalanches in specific areas or large avalanches in isolated areas.
At low elevation, the danger is LOW.
---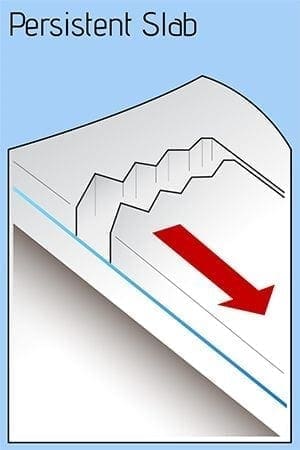 AVALANCHE PROBLEM: PERSISTENT SLAB
The avalanche hazard is MODERATE today for persistent slabs at mid to upper elevations on all aspects.
Strong easterly Mat Valley winds transformed the snowpack at HP this week. Marmot Wx Station 4500′ recorded winds gusting 22-44 mph for over 18 hours. March 1st came with a bang…  -1ºF and 44 mph winds! For those of you longing for your old favorite bump run- may your wish be granted-with sastrugi up to your knees. Challenging skiing/riding conditions will be the name of the game for awhile, in locations affected by the wind.
Two persistent slabs exist, the mid-pack slab and the basal slab.
PERSISTENT SLAB #1:
It will be possible to trigger  mid-pack persistent slabs (formed by this week's wind) 4″-24″ thick in specific locations, on leeward aspects, mostly W to NE at mid and upper elevations on slopes above 35º. Pay attention in and around passes as the wind significantly cross loaded features which will have this avalanche problem. These slabs will be stubborn to touchy to trigger- and may let you get out onto the slab before failing. These types of avalanches may be triggered from below, stay out of the runnout of avalanches from above.  These pencil to knife hard slabs are easy to spot with their smooth surface appearance.
A human triggered avalanche on Marmot was triggered on 3/2? that pulled out sections of the side wall gully. See picture below.
Below is  a picture of a remotely human triggered avalanche, that failed on decomposing fragments/near surface facets in the mid-pack. While remotely triggered avalanches are less likely today, the weak layer will still be reactive to human triggers. Shooting cracks and whumping are bulls-eye clues for this problem. Other clues include hollow sounding snow where stiff snow overlays weaker snow.
PERSISTENT SLAB #2:
The deeper, basal facet, persistent slab, 2-4′ thick, still exists at the base of the snowpack on all aspects, and is most evident at mid and upper elevations. This problem has been hard to predict because of the snowpack's non-continuous slab. However, this week, the wind performed its magic- and built slabs- which was enough stress to tip the balance.
Several natural avalanches failed on this layer on 3/1-3/2 after a significant wind event rapidly overloaded the snowpack. While natural avalanches are not likely today, human triggering a persistent slab at or near the ground is possible and will have high consequences. Most of the natural avalanches this week have been large enough to bury, injure, or kill a person.
Triggering a shallower, mid-pack slab avalanche, may be capable of stepping down to the ground and producing a high consequence avalanche.
              Travel Advice:
As good friend and forecaster, Drew Hardesty always reminds us,
If snowpack is the question, terrain is the answer. Terrain is the one thing you can control. One can avoid uncertainty of the snowpack by choosing conservative terrain.
Safe travel rituals save lives. Make a plan, communicate, one-at-a-time, get out of the way at the bottom. Practice shallow and deep burials with your avalanche rescue gear. Remember the trust you put in your backcountry partners.
Recent Avalanche Activity
Conditions:
Hatcher Pass has widespread wind board, sastrugi, wind waves and sculpted snow surfaces. Strong winds have loaded and strengthened persistent slabs. Isolated, wind protected areas still have powder, but it is hard to find.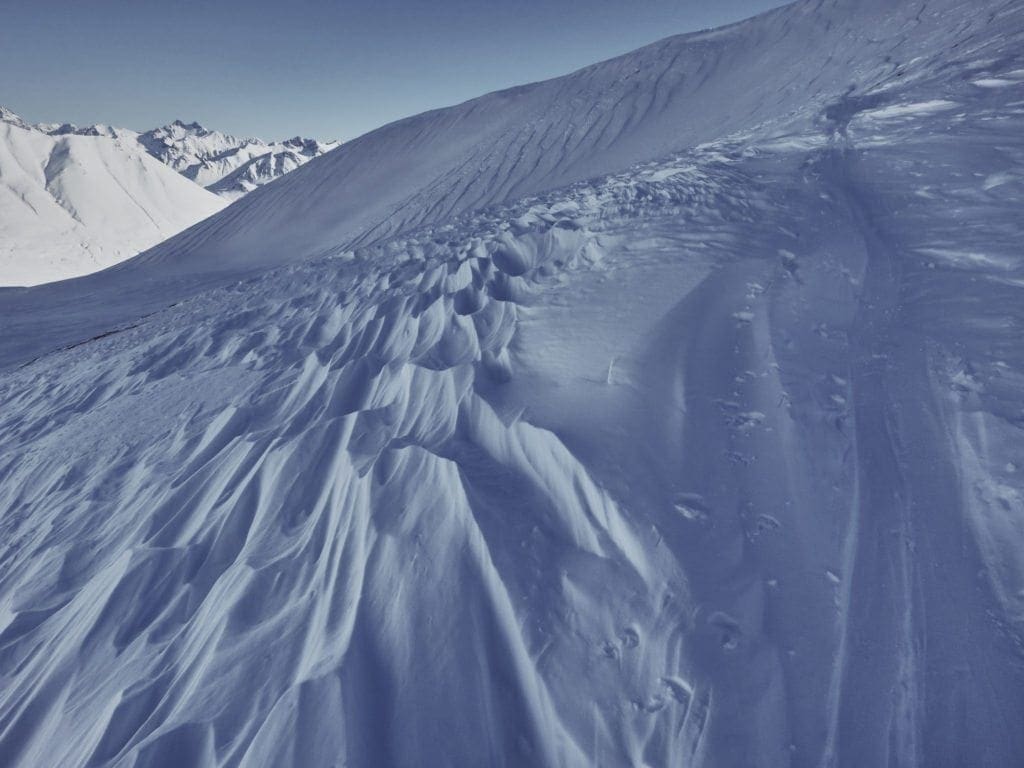 Several natural, human triggered, and remotely triggered slab avalanches were observed or reported this week. Most of these avalanches occurred between 3/1 and 3/2, on leeward aspects- W to NE, at mid and upper elevation, on slopes above 35º.
Recent Weather
This week's weather at 3550′:
Temps averaged 14ºF.
No snow accumulation this week.
Overnight at 3550′:
No new snow overnight.
This week's weather at 4500′:
Temps averaged 8ºF, with a low of -3ºF and a high of 22ºF.
Winds remained in the single digits and teens, gusts averaging 12 mph for the beginning of the week. Winds increased 2/28-3/2, with gusts reaching 22-44 mph for over 18 hours on 2/28 and 3/1 . Some wind data is missing from the 2/25 and 2/26.
Overnight at 4500′:
Temps averaged 4º F overnight.
Winds averaged 2 mph, gusting  9 mph ESE.
Additional Info & Media

The avalanche hazard will remain the same through the weekend unless there is a rapid weather change. Strong winds, precip and/or warming could increase the hazard.
---
NWS rec forecast here.
---
State Parks Snow Report for March 1st, 2017 here.