Expires: Sun, Jan 22, 2017
NWS Special Weather Statement for today, click here.
Effective Monday, January 23, 2017, Southcentral Alaska Mountain Forecast (AKA: Recreational Forecast) will be expanded to cover the area around Hatcher Pass.
Above 3,500ft
Considerable
2,500 to 3,500ft
Moderate
Degrees of Avalanche Danger ?
1. Low
2. Moderate
3. Considerable
4. High
5. Extreme
Problem Details
Hatcher Pass recently received a good dump of new snow, however, the coverage is still thin. Rocks are covered just enough to hide them, and you will be challenged to avoid them. State Parks is opening the motorized corridor from the Fishhook Lot to the Fishhook Willow road to Hatcher Pass proper on Sunday. If you get out this weekend on your snowmachine, be advised that it's a bit of a minefield out there and damaging your sled or yourself will be easy. Click here for more information on this opening.
---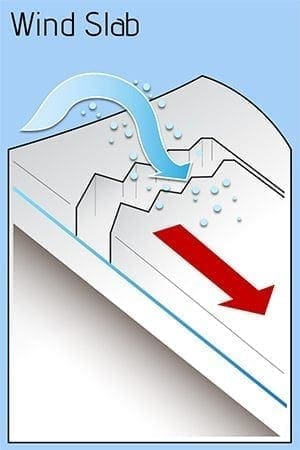 Avalanche Problem 1: Wind Slab
A considerable hazard for soft wind slabs, 6-18″ thick, exists at upper elevation ridgelines and on leeward features, generally West to North aspects, on slope 35° and steeper. Wind slabs will be likely, and sensitive to human triggers. Natural wind slab avalanches will be possible in these specific areas, especially if winds continue to transport snow today.
A moderate hazard for wind slabs exists at mid elevations on leeward slopes,West to North aspects, on slopes 35° and steeper, and a low hazard exists at low elevation.
Identifying this hazard will be difficult. Winds picked up yesterday and overnight, but died down this morning, This means visual clues in the surface snow texture will be hidden by a new blanket of undisturbed snow. Pole tests will allow you to feel for buried harder snow overlying old weak snow. If you are on a snowmachine, getting off and punching in with a leg will also allow you to identify the presence of wind slab and identify harder snow overlying weaker snow in the mid pack. Hollow sounding snow, whumphing, and shooting cracks are bulls-eye clues.  Your assessment of the hazard should include identifying these clues on small, non-consequential test slopes. Ski and snowmachine cuts on test slopes can also be an effective assessment tool with soft wind slabs.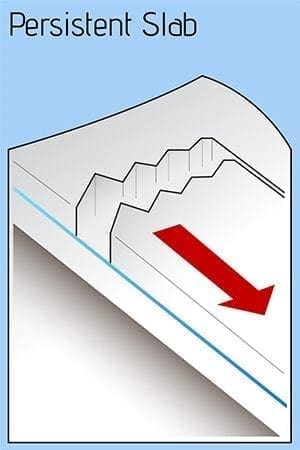 Avalanche Problem 2: Persistent Slab
A moderate hazard for persistent slabs exists in isolated locations, mostly at upper elevations, on slopes 30° and steeper, on a variety of aspects, where winds previously loaded ridgelines, starting zones, and leeward features earlier in the season. Persistent slabs have been covered by two storm cycle's blankets of new snow, making it near impossible to identify this problem through visual inspection of the landscape. While triggering a persistent slab is not likely today, it is possible. More important is the consequence of triggering a persistent hard slab. The depth of these slabs will vary from 2-4 feet deep and growing with the storm today. The continuity of this problem is low, which limits the potential size of these avalanches, to small to medium, but capable of burying, injuring or killing a person. Avoid slopes with terrain traps.  These persistent slabs are unreliable and will be difficult to predict.
Basal weak layers are still showing propagation in instability tests. See January 20th observation at the bottom of the page.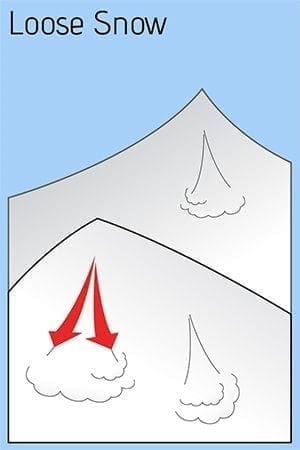 Avalanche Problem 3: Loose Dry
Medium size, human triggered and natural, loose dry avalanches will be likely on all aspects, at all elevations, on slopes 40° and steeper. 13 inches of low density cold smoke (4%) overnight sit on top of about 12″ of this week's previous storm snow. In some locations that lacked wind effect, all of this snow will act as loose dry avalanches.
Sluffs will have the ability to knock you over, or entrain and carry you into other hazards, such as terrain traps, cliffs, or rocks. Ski cuts are an effective technique for mitigating this hazard. We don't get to say this much at HP, but "keep an eye over your shoulder in the steep terrain and watch out for your sluff!"
While the likelihood and number of these avalanches may be high, the consequence of this type of avalanche is fairly low compared to slab avalanches. As a result you may have noticed that loose dry avalanches are a considerable hazard according to likelihood, however, based on the travel advice and the consequences of this type of avalanche, the hazard rating for the day is significantly lower. North American Public Avalanche Danger Scale
Recent Avalanche Activity
This week the dormant, persistent slab problem, re-awakened after winds overloaded this slope. Expect this problem to keep rearing it's ugly head.
Widespread, naturally triggered, storm snow avalanches failed on an interface within the new snow and on the old snow surface. These avalanches were approximately 4″ deep and small in destructive size.
COVERAGE IS THIN even with this new storm snow. For the most part we lack a good base.
Recent Weather
Winter has returned!
NWS point forecast for HP here.
Temperature
This week  at 4500′:
Temps averaged 3° F with a low of -12° F.
Overnight temps averaged 11 °F.
Wind
This week at 4500′:
Winds remained low most of the week, averaging 6 mph from SSE, gusting 11 mph.
Winds began to pick up Friday (1/20) afternoon and overnight (for 12 hours) blowing 11-17 mph, gusting 20-31 mph from the SE and SSE.
Winds have begun to die down as of 2:00 am.
New snow
This week at 3500′:
As of 1/16, 4 inches of new snow accumulated at HP, totaling 12-18″ of new snow from 1/13-1/16.
Friday's storm into Saturday morning (1/20-21 at 6 am) brought 0.6″ water with 13 inches of new snow at 4% density. That's "Utah cold smoke" we rarely see. These snow totals are starting to add up with over 24″ of new snow since 1/13.
---
Changes to NWS Southcentral Alaska Mountain Forecast Effective January 23, 2017
Effective Monday, January 23, 2017 the NWS Weather Forecast Office (WFO) in Anchorage, AK (ANC) will begin transmitting an updated Southcentral Alaska Mountain Forecast (WMO/AWIPS Header SXUS41 PAFC/RECAER). The current product, located here, will be expanded to cover the area around Hatcher Pass.
Additional Info & Media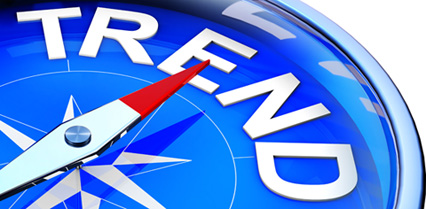 The avalanche hazard will rise throughout the day with added snowfall and/or wind. If winds pick up, the avalanche hazard could rise very quickly due the the amount of snow available for transport.
NWS is calling for heavier snowfall this morning, with 4-6″ possible today, light winds.
---