Expires: Sun, Jan 22, 2017
Continuously strong winds out of the NE are rapidly moving and creating SENSITIVE WINDSLABS (already seen yesterday) on lee aspects near ridges, gullies, rollovers, and bowls.
Despite sunshine, severe wind chills will result in bundling up and lack of vitamin D. Be prepared for longer than expected forays away from a heat source.
Above 2,500ft
Considerable
1,800 to 2,500ft
Moderate
Degrees of Avalanche Danger ?
1. Low
2. Moderate
3. Considerable
4. High
5. Extreme
Problem Details
THURSDAY
FRIDAY
SATURDAY & SUNDAY
WIND SLAB:
Elevation: Above 1800′
Aspect: Shifting winds have loaded (top and cross-loaded) all aspects exposed to wind in the last week
Terrain: Ridges, gullies, bowls, rollovers
Sensitivity: Touchy
Distribution: Specific
Likelihood (Human Triggered): Likely
Size: Large
Danger Trend: Steady
Forecaster Confidence: Good
AVALANCHE PROBLEM SCALE DESCRIPTORS:
Sensitivity: Non-reactive, Stubborn, Responsive, Touchy
Distribution: Isolated, Specific, Widespread
Likelihood: Unlikely, Possible, Likely, Nearly Certain
Size: Small, Large, Very Large (size scale <here>)
Danger Trend: Increasing, Steady, Decreasing
Forecaster Confidence: Good, Fair, Poor
LIST OF AVALANCHE PROBLEMS <here>
SNOWPACK DISCUSSION: Coverage isn't much better than before the Jan.13-17 storm that laid down 54 inches of snow. Both south and north winds have stripped and redistributed the new snow. Now, a strong northeast wind is once again wreaking havoc on our mountain slopes.  Expect firm windslab depths to 3 feet or more on lee features. In semi-protected areas, soft windslabs were easily sliding off of steep rollovers on Wednesday. The cold temperatures, near or below zero F, at Thompson Pass and inland will slow the bonding of fresh windslab to old surfaces.
In wind protected areas, the storm snow has settled quickly and has formed a soft, supportable slab with wind skin in areas. Luckily, the recent storm snow seems to be bonding quite well despite its weak nature in relation to overlying new windslabs. Failures have been non-planar breaks that won't support propagation.
In the lower part of the firm midpack, below our knife-hard wind slabs from early this year, old facets are firming and tending to holding tight to eachother.
Most unsettling are scattered areas with a structurally weak base of sugar snow that is precariously holding up heavy mid and upper slab layers. Large whumphs were reported Tuesday near the Worthington Glacier, reminding us we cannot fully trust this snowpack yet: especially in areas that are colder with a thin snowpack (inland of MP 33 where these conditions are more likely to be found).
It is still possible for smaller upper layer avalanches to step down to deep old persistent weak layers and create very large events.
Find more photos and observations at the bottom of the page. Sharing your observations creates an informed community that everyone benefits from at some point.
Recent Avalanche Activity
Even with great visibility, not much large avalanche activity was observed Wednesday. Many upper, exposed areas were dramatically scoured. Several small, loose dry avalanches in very steep, rocky terrain throughout the corridor next to the road. Significantly less snow hit the continental and northern part of the inter-mountain zones. Please share what you see.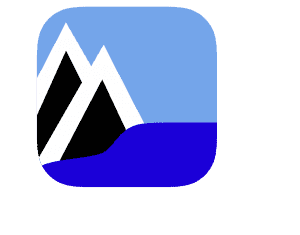 Maritime (Coastal):
Dec. 17: Reported mid-storm debris below the N face of Benzine sliding into the popular ski line.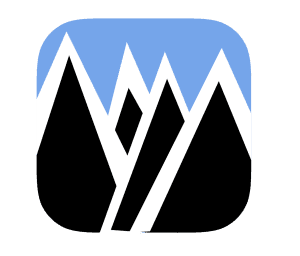 Inter-Mountain (Transitional):  
Dec 18: Max High Peak had some old-ish (mid-storm?) debris below the SE aspect at about MP 35 (see Trevor's map link below for location)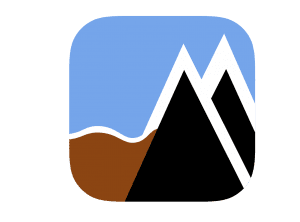 Continental (Interior):
Recent Weather
WEATHER FORECAST for NEXT 24 HRS at 3,000 ft:
Temperature Forecast (Min/Max *F):
 -11 / -3
Ridgetop Wind Forecast (direction/mph):
NE / 10-45
Snowfall (in):
 0″
WIND & TEMPERATURE
PAST 24 hours
Ferry Terminal
Thompson Pass
Average Wind Speed (mph) / Direction
  12/ ENE
 42 / NE
Max Wind Gust (mph) / Direction
 28 / ENE
 57 / NE
Temperature Min / Max (*F)
 15 / 23
 -3 / 3
Weather Forecast: Clear, cold and crisp winds will be the story of the day. Clouds, dropping winds and warming temps could arrive Friday as a low pushes east off the Bering and over mainland. Model variance leads to a bit of uncertainty as to the track of this low and how it will impact us. Don't dream of too much precipitation, but at least the brutal temps and wind will shift this weekend.
Additional Info & Media
| | | |
| --- | --- | --- |
| SNOW HISTORY: | Valdez 1/19 AM | Thompson Pass 1/18 AM |
| 24 Hour Snow / Water Equiv. | 0" /0" | 1″ /0.01″ |
| Storm Snow /Water Equiv. (1/13-1/17) | 46.4" /3.2″ | 54″ /4.2″ |
| Current Snow Depth | 37″ | 36″ (wind scoured) |
| January Snow / Water Equiv. | 46.4″ /3.2″ | 54″ / 4.2″ |
| Total Winter Snowfall / Water Equiv. | 44.9″ / 13" | 197″ / 18.6″ |
| Snowload in Valdez | 27.56 lbs/sq. ft. | |
SNOWFALL for LAST 24 HRS at OTHER STATIONS:
Nicks Valley at 4200 ft (in):
0″
Upper Tsaina at 1750 ft (in):
0″
Sugarloaf at 550 ft (in):
0″
| | | |
| --- | --- | --- |
| SNOW DEPTH & WATER SURVEY (1/3/2017) | Depth | Snow Water Equivalent |
| Milepost 2.5 Valdez |  22.7″ |  4.7″ |
| Milepost 18 | 27.9″ | 5.9″ |
| Milepost 29 Worthington Flats | 44″ | 9.9″ |
| Milepost 37 Tsaina River bridge | 33.8″ | 5.6″ |
| This survey is done the first week of each month. | | |
| | | |
Weather Quicklinks:
SNOW CLIMATE ZONES:
Maritime (Coastal) – from the Port of Valdez to Thompson Pass, all waters flowing into Valdez Arm and everything south of Marshall Pass.
Inter-mountain (Transitional) – between Thompson Pass and Rendezvous Lodge.
Continental (Interior) – the dry north side of the Chugach (north of 46 Mile, including the Tonsina River).
Photo of Thompson Pass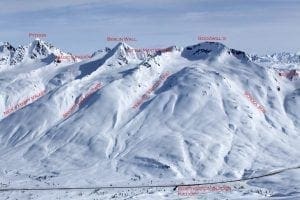 Interactive Map of Valdez Forecast Areas w/ Many Resource Layers (Trevor Grams)
Run Map of Thompson Pass Area (Sean Wisner) (2MB download)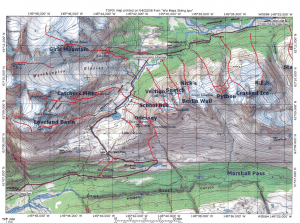 NEWS: Our region is "one of the snowiest places on earth" – Serendipity / Rendezvous snowfall record set in 1963 <here>.
Free smart phone avalanche forecasts at: http://www.avalancheforecasts.com/