Expires: Wed, Jan 18, 2017
HEAVY PRECIPITATION CONTINUES TO RAPIDLY INCREASE THE AVALANCHE HAZARD TODAY WITH ANOTHER 15 INCHES OF SNOW TO ARRIVE BY LATE AFTERNOON.
Storm cycle in progress. With heavy snowfall adding weight and stress, all steep terrain is primed to avalanche. Choose conservative routes with a large margin of safety from large slopes above and adjacent to you. It only takes a small avalanche to knock you off your feet and cause harm.
Above 2,500ft
Considerable
1,800 to 2,500ft
Considerable
Degrees of Avalanche Danger ?
1. Low
2. Moderate
3. Considerable
4. High
5. Extreme
Problem Details
SUNDAY
MONDAY
TUESDAY & WEDNESDAY
STORM SNOW:
Elevation: All
Aspect: All
Terrain: Slopes steeper than 30 degrees, especially where new storm snow fell on hard surfaces.
Sensitivity: Touchy
Distribution: Widespread
Likelihood (Human Triggered): Possible
Size: Small – Large
Danger Trend: Increasing 
Forecaster Confidence: Good
PERSISTENT SLAB:
Elevation: Mostly above 2500′
Aspect: All
Terrain: Steep rocky slopes where facets exist under old and between windslab, especially interior of Thompson Pass
Sensitivity: Stubborn
Distribution: Specific
Likelihood (Human Triggered): Possible
Size: Small – Large
Danger Trend: Increasing with extra snow load
Forecaster Confidence: Poor
AVALANCHE PROBLEM SCALE DESCRIPTORS:
Sensitivity: Non-reactive, Stubborn, Responsive, Touchy
Distribution: Isolated, Specific, Widespread
Likelihood: Unlikely, Possible, Likely, Nearly Certain
Size: Small, Large, Very Large (size scale <here>)
Danger Trend: Increasing, Steady, Decreasing
Forecaster Confidence: Good, Fair, Poor
LIST OF AVALANCHE PROBLEMS <here>
SNOWPACK DISCUSSION: This storm has dropped 31 inches of moist snowfall with 3.5 inches water equivalent at Thompson Pass. Heavy rain mixed with snow fell Saturday below 1800′. The storm began cooler and then warmed up, making a top heavy slab. Where the storm snow has not bonded to the old surfaces (hard windboard), human triggered avalanches are likely. Signs of instability include avalanche activity, collapsing, whumphing, shooting cracks, and paying attention to your intuition.
Interior of Thompson Pass the snowpack was weak and thin before this storm. The new weight will stress old persistent weak layers either naturally triggering avalanches or setting up a situation prime for human trigger. This is the time to use test slopes to get a feel for the snow before exposuring ourselves to bigger steep terrain that could kill us. Conditions may be very different above you due to wind transport.
Find more photos and observations at the bottom of the page. Sharing your observations helps others make informed decisions.
Recent Avalanche Activity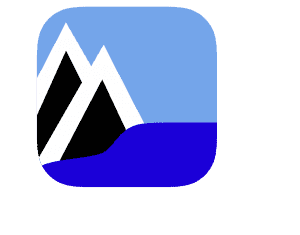 Maritime (Coastal):
Saturday wet loose avalanches to size 2 were releasing in steep terrain. Some slab activity suspected, but cloud obscured visibility to the upper elevations.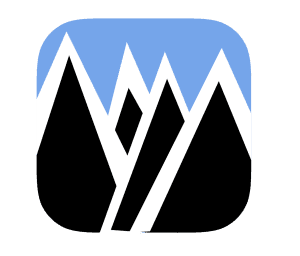 Inter-Mountain (Transitional):  Poor visibility did not allow for observations. The January 6 extreme wind event triggered numerous avalanches inland of Thompson Pass many releasing to ground, again reminding us of the dangers of the buried weakness of sugar snow (facets) at the ground) now covered with 2-3 feet thick hard windslab.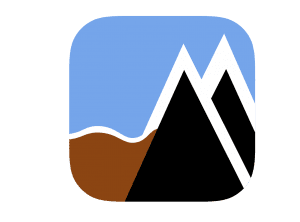 Continental (Interior):
Poor visibility limited new observations. Storm slab avalanches suspected, capable of stepping down into deeper persistent layers.
Recent Weather
WEATHER FORECAST for NEXT 24 HRS at 3,000 ft:
Temperature Forecast (Min/Max *F):
 12/20
Ridgetop Wind Forecast (mph/direction):
4-30/SE shifting NE
Snowfall (in):
 2-16″
WIND & TEMPERATURE
PAST 24 hours
Ferry Terminal
Thompson Pass
Average Wind Speed (mph) / Direction
 7/W
 22/Var
Max Wind Gust (mph) / Direction
 24/W
 37/SE
Temperature Min / Max (*F)
 30/35
 15/28
Weather Forecast: After mixed rain and snow most of yesterday, precipitation intensified around 8pm then tapered off and skies cleared for a few hours, which cooled things down a bit. Clouds are building now as the next storm moves in quickly. Flurries will turn to snowfall, heavy at times Sunday evening. Accumulation of up to 16 more inches snow by Monday afternoon. While the snow is falling, expect light to moderate southeast wind, with a shift to north-northeast as the storm wraps up. Intense wind transport will cause blizzard conditions at Thompson Pass and glacial outflow valleys like Valdez Glacier Stream.
Additional Info & Media
| | | |
| --- | --- | --- |
| SNOW HISTORY: | Valdez 1/15 AM | Thompson Pass 1/15 AM |
| 24 Hour Snow / Water Equiv. | 2.3" /1.79" | 14″ /2.1″ |
| Storm Snow /Water Equiv. (1/12-1/15) | 16" settled stormsnow + rain/3.2″ | 31″ /3.5″ |
| Current Snow Depth | 37″ | 42″ |
| January Snow / Water Equiv. | 38.6″ /3.2″ | 31″ / 3.5″ |
| Total Winter Snowfall / Water Equiv. | 100.2″ / 12.81" | 175″ / 18″ |
| Snowload in Valdez | 28 lbs/sq. ft. | |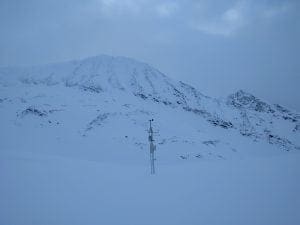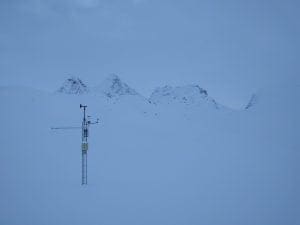 Photos of our new Nicks Valley Weather Station Python to the east, Berlin Wall to the west.
SNOWFALL for LAST 24 HRS at OTHER STATIONS:
Nicks Valley at 4200 ft (in):
10″
Upper Tsaina at 1750 ft (in):
10″
Sugarloaf at 550 ft (in):
13″
| | | |
| --- | --- | --- |
| SNOW DEPTH & WATER SURVEY (1/3/2017) | Depth | Snow Water Equivalent |
| Milepost 2.5 Valdez |  22.7″ |  4.7″ |
| Milepost 18 | 27.9″ | 5.9″ |
| Milepost 29 Worthington Flats | 44″ | 9.9″ |
| Milepost 37 Tsaina River bridge | 33.8″ | 5.6″ |
| This survey is done the first week of each month. | | |
| | | |
Weather Quicklinks:
SNOW CLIMATE ZONES:
Maritime (Coastal) – from the Port of Valdez to Thompson Pass, all waters flowing into Valdez Arm and everything south of Marshall Pass.
Inter-mountain (Transitional) – between Thompson Pass and Rendezvous Lodge.
Continental (Interior) – the dry north side of the Chugach (north of 46 Mile, including the Tonsina River).
Photo of Thompson Pass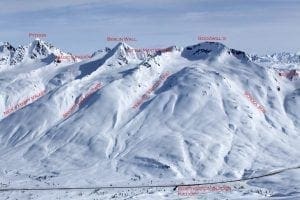 Interactive Map of Valdez Forecast Areas w/ Many Resource Layers (Trevor Grams)
Run Map of Thompson Pass Area (Sean Wisner) (2MB download)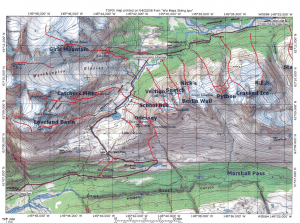 NEWS: Our region is "one of the snowiest places on earth" – Serendipity / Rendezvous snowfall record set in 1963 <here>.
Free smart phone avalanche forecasts at: http://www.avalancheforecasts.com/