Expires: Sun, Jan 15, 2017
Follow us on Instagram at h_p_a_c !
Today there is a FREE avalanche rescue workshop at Gold Mint Lot from 11am to 1pm, sponsored by the Hatcher Pass Snow Rider's Club with support from AARP.  Join HPSRC, HPAC, CNFAIC, and the Alaska Avalanche School and practice your skills with the pros, in new SNOW!
2,500 to 3,500ft
Moderate
Degrees of Avalanche Danger ?
1. Low
2. Moderate
3. Considerable
4. High
5. Extreme
Problem Details
Calibrate yourself to today's backcountry travel Mind Set: ASSESMENT; There is a high degree of uncertainty about conditions, such as when first encountering the terrain for the season, entering new terrain, following a lengthy period with limited observations, or after substantial weather events.  Select conservative terrain in which to operate confidently while more information is gathered to gain confidence in the hazard assessment. 
Approximately 8″-12″ of new snow will be bonded poorly to a flawed foundation of old snow, and in isolated, upper elevations locations, triggering a storm snow avalanche may step down into the older snow, causing a high consequence avalanche. Snowfall may continue through the morning, making a conservative approach and assessment a priority. If wind speeds increase throughout the day, and/or it just keeps snowing, the avalanche hazard could rise quickly to considerable avalanche hazard.
Hatcher Pass is still in an early season snowpack paradigm with a poor base. Rocks and hazards are exposed, and where they are covered, they are hiding just below the surface. Coverage varies from just a few inches, to approximately three feet in isolated locations. Old-timers are having difficulty remembering a season with such a thin snowpack and have been keeping their tiny stashes of powder on the DL.
---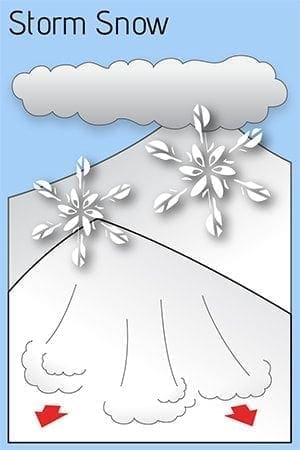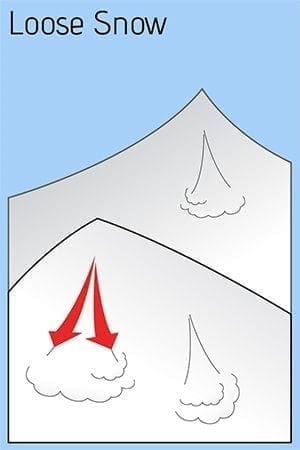 A moderate hazard for storm snow avalanches exists at upper elevations, on all aspects, on slopes 35° and steeper. A low hazard for storm snow avalanches exists at low to mid elevations on all aspects. New snow overnight will be poorly bonded to the old snow surfaces. Human triggered storm snow avalanche are possible at upper elevations and natural storm snow avalanches are unlikely. Expect small avalanches in specific areas, or large avalanches in isolated areas. The hazard could quickly rise if wind speeds increase.
At upper elevations approximately a foot of new snow will be bonded poorly to a variety of old snow surfaces, such as weak near surface facets, weak surface hoar, faceted wind board and thin, fragile crusts over an old snow base depth of 0.5-3 feet.
Light to moderate winds at upper ridgelines will have begun to transport some of this very low density new snow on SW to NW aspects, and may be adding some cohesion to the new storm snow. This may allow it to act as a very soft storm slab, which may be sensitive to triggering on slopes 35° and steeper.
If the snow did not have wind effect, it will not act as a slab, but instead, act as a very easily triggered loose snow avalanche on slopes 40°and steeper on all aspects. Some natural loose snow avalanches may occur today. These could sweep you off your feet and carry you into other hazards, such as terrain traps, cliffs and rocks.
With assessment in mind, find test slopes with low consequences to get a feel for the cohesive nature of this new snow, before committing to larger terrain and consequences. Shooting cracks and whumphing are bulls-eye clues for slab avalanches.
At mid elevations the storm snow will likely not be cohesive enough to act like a slab. It will be sitting on weaker, old snow surfaces and behave as an easily triggered sluff or loose snow avalanche on slopes 40° and steeper.
At lower elevations, the new snow will be sitting on weak surface hoar and a pile of low density, weak facets, approximately 1 foot deep. Rocks and brush are not well covered, and a weak, thin, early season melt freeze crust is making for a poor base.  These areas will provide the best human powered riding and sliding, feeling like a foot+ of powder. Be cautious of low coverage, exposed rocks and hazards. An exception here is the road run, where traffic has been high over the last couple months and the base has been packed down. This area will provide half a foot of powder skiing, over a much better base. Low coverage is still an issue on the road run, be cautious of rocks and shallowly buried hazards.
New snow is forecasted to add up to about another inch today, tapering off noon through this evening, with another pulse of snow tomorrow.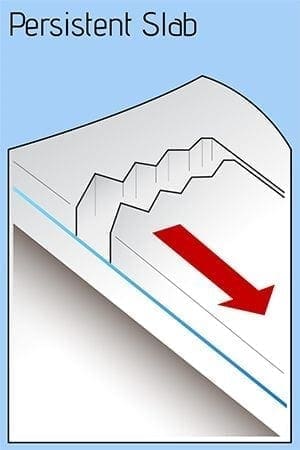 A moderate avalanche hazard exists for persistent slab avalanches at upper elevations in isolated locations. Moderate avalanche hazard at mid elevation in isolated locations. Low hazard at low elevation.
Old, previously wind loaded, leeward slopes, at upper elevation hold persistent slabs in isolated locations. These hard slabs, sitting on weak, basal facets and depth hoar may be stubborn to very easy to trigger on slopes 30°+ up to 1-3 feet deep. Remote triggering is possible in very isolated locations from lower angle slopes. There is a well established pattern of triggering these avalanches from upper elevation ridgelines over last few weeks. This also means you may be able to trigger these avalanches from below or on adjacent lower angle slopes and ridgelines. New snow has not added a significant load to aggravate this problem yet. However, if you encounter stiff or cohesive new snow at upper elevations, you should be extremely cautious, as triggering a new storm snow slab avalanche could step down into the persistent slab in isolated locations.
Instability tests generally indicate that the persistent slab is older, tired and stubborn, however, if you apply enough force or find a thin spot in the slab, avalanche propagation has high energy on the weak layer of basal facets and depth hoar. Trigger sensitivity may vary greatly. Persistent slabs are not reliable and are difficult to assess.
At mid elevations, the size of these slabs is generally smaller and thinner, and the distribution is more sparse. It will be possible to human trigger persistent slabs in isolated locations at mid-elevation, on previously wind loaded slopes, 30° and steeper. Use extra caution around mountain passes where previous winds speeds have been accelerated and caused leeward aspects to have a deeper, more dangerous persistent slab.
Identifying these locations will be difficult to impossible with the new blanket of snow. The winds that formed these persistent hard slabs were not consistent, and as a result the pattern of distribution is complex. You may also find that you can get away with a lot, due to the poor continuity and distribution of the avalanche problem, only to be unfortunately surprised if you find the avalanche button.
At lower elevations, these slabs are generally non-existent, with the older snow consisting of weak faceted, low density snow.
Avoid locations with terrain traps and large open slopes, bowls, and starting zones where the consequences of an avalanche are higher.
Recent Avalanche Activity
Over the last 8 days only one human triggered avalanche was reported on Marmot Mountain. This is not only due to spatial variability and a discontinuous snowpack, but also to the fact that not many people are getting into the upper elevations. The lack of avalanche evidence does not mean there is a lack of an avalanche problem.
At least the last month of playing in the HP backcountry can be summed up in this statement. The "…consequences of being wrong outweigh the rewards of being right". Don Sharaf, American Avalanche Institute, Slide the Avalanche Podcast: S1E7, December 2016. Traveling in avalanche terrain under the recent grim conditions has provided no reasonable reward for challenging the persistent slab problem.
Recent Weather
Overnight at 3550′
Temperatures during snowfall at 3550′ ranged from 22°F to 26°F since 5 pm yesterday with a slight warming trend.
0.6″ of water (SWE), 8″ new snow (HNS) = 7.5% density new snow, low density, fluffy powder
Overnight at 4500′
Average temperature 21°F, Low 19°F, High 22°F, with a slight warming trend.
Winds averaged ESE 10 mph, Max Gust 19 mph, Gust average 13 mph.
Likely a foot of low density new snow at 4500′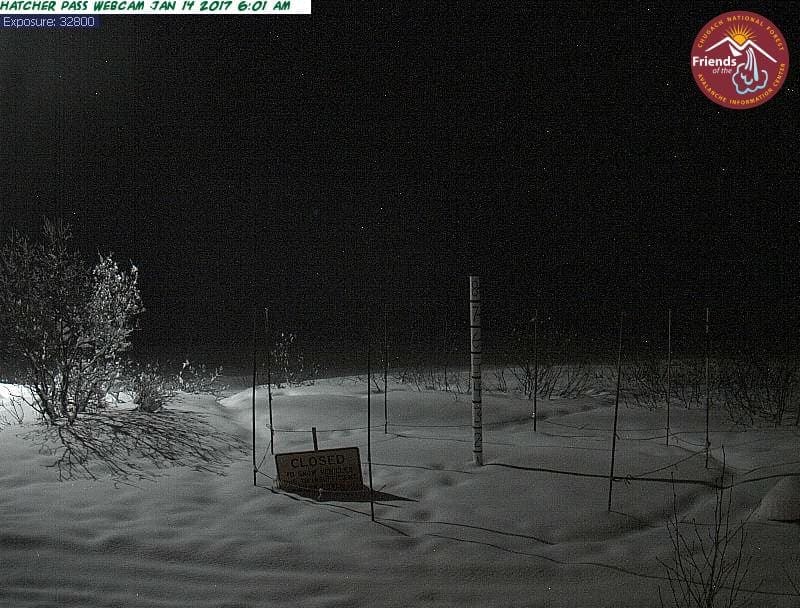 Weather at 4500′ this week
Average temperature: 25 F   Max: 40F   Low: 9F
Average wind direction and speed: SE 6 mph
Average Gust: 10 mph   Max Gust: 32
Weather at 3550′ this week
Max: 41F   Low:8 F
No new snow this week up until 5pm yesterday.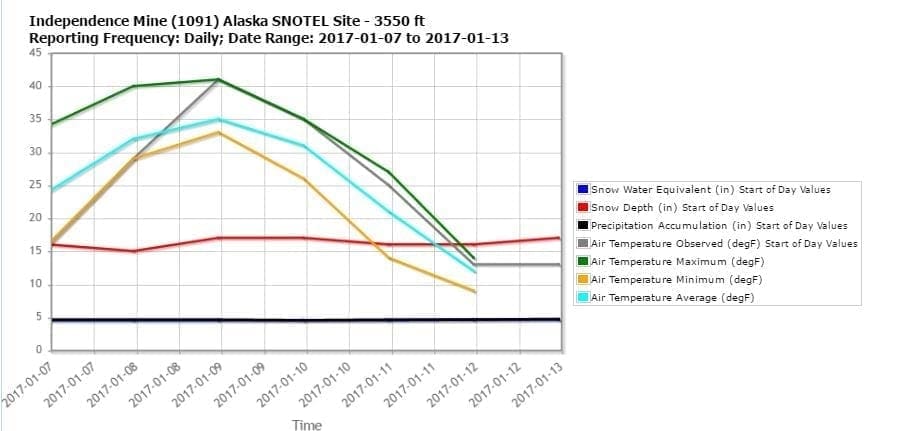 Additional Info & Media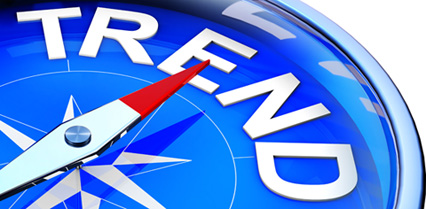 The avalanche hazard will remain the same through Sunday morning unless winds pick up or it just keeps snowing, which could raise the avalanche hazard to considerable or high. NWS is calling for another shot of snow Sunday afternoon. New snow and wind on Sunday evening could increase the avalanche hazard.