Expires: Sat, Jan 07, 2017
2017 New Year's resolution – develop backcountry habits to LIVE TO RIDE ANOTHER DAY:
everyone is my riding group has a functioning beacon, probe, and shovel (& floatpack)
my group chooses to avoid slopes with rocky trigger points 
my group chooses to avoid slopes with terrain traps; cliffs, gullies, and creek ravines
my group agrees that one rider on a steep slope at a time is what we do
my group gathers out of harm's way, beyond the run-out
my group reviews our day – where could we have triggered a slide? how can we improve our plan? 
1,800 to 2,500ft
Moderate
Degrees of Avalanche Danger ?
1. Low
2. Moderate
3. Considerable
4. High
5. Extreme
Problem Details
WEDNESDAY
THURSDAY
FRIDAY & SATURDAY
PERSISTENT SLAB:
Elevation: Mostly above 2500′
Aspect: All
Terrain: Steep rocky slopes where facets exist under old and between windslab, especially interior of Thompson Pass
Sensitivity: Stubborn
Distribution: Specific
Likelihood (Human Triggered): Possible
Size: Medium
Danger Trend: Steady
Forecaster Confidence: Poor
WIND SLAB:
Elevation: Above 1800′
Aspect: mostly south and west
Terrain: Near ridgelines, gullies and rollovers
Sensitivity: Responsive
Distribution: Specific
Likelihood (Human Triggered): Possible
Size: Small to Medium
Danger Trend: Steady
Forecaster Confidence: Good
AVALANCHE PROBLEM SCALE DESCRIPTORS:
Sensitivity: Non-reactive, Stubborn, Responsive, Touchy
Distribution: Isolated, Specific, Widespread
Likelihood: Unlikely, Possible, Likely, Nearly Certain
Size: Small, Medium, Large, Very Large (size scale <here>)
Danger Trend: Increasing, Steady, Decreasing
Forecaster Confidence: Good, Fair, Poor
LIST OF AVALANCHE PROBLEMS <here>
SNOWPACK DISCUSSION: Above treeline, recent northerly outflow wind has scoured and drifted ridgelines and exposed features throughout our region. In protected areas above 3000′, a temperature inversion has helped consolidate surface snow above. Near surface faceting is prevalent.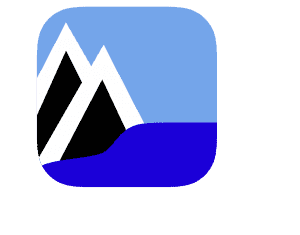 Maritime (Coastal):
With generally better structure (than further from the coast), powder sits on top of supportive mid pack layers.  Riding has been reported as "So fun, we went two days in a row."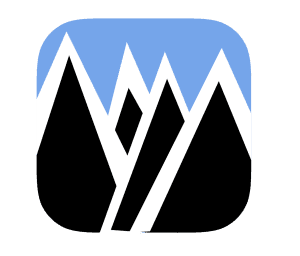 Inter-mountain (Transitional):
Early season facets at the ground and between layers of windslab are still a concern.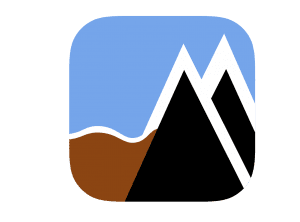 Continental (Interior):
More interior beyond Mile Post 37 and out past Billy Mitchell, the snowpack is thin and weaker. Recent avalanches stepped down to ground. This early season persistent slab problem will not go away quickly; it will take time or a large storm.
Find more photos and observations at the bottom of the page. Sharing your observations helps others make informed decisions.
Recent Avalanche Activity
Please report avalanches you see or trigger. There is uncertainty about the persistant slab problem. Any activity or signs of unstable snow provides more clues for figuring out patterns of instability.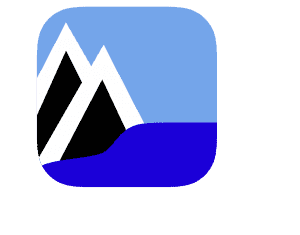 Maritime (Coastal):
A couple new loose size 1-2 avalanches out of steep rocks Jan.2 above 3000′.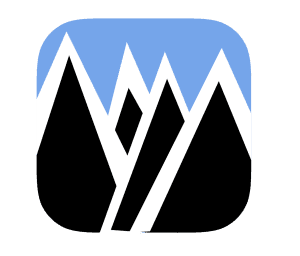 Inter-Mountain (Transitional): Significant avalanche activity during the Dec.30-31 storm. Avalanches inland of Thompson Pass proved there is still a dangerous buried weak layer (facets at the ground) that has a lower probability of triggering, but high consequence due to hard windslab to 2-3 feet overtop.
Jan.1 Two size 2 slab avalanches released to ground above MP 36, south aspect above 3000′
Dec.31 A couple human triggered destructive size 1-2 windslab avalanches on the steep slopes of the road run
Dec.30 A couple destructive size 2 (D2) storm slab avalanches pulled out on North face of Berlin Wall: stepped down to rocky ground in places (crown depth estimated ~4 feet) and hit the glacier.
Dec. 30 Wind loaded south face above Mile Post 37 near 3 Pigs: D2 slab pulled out of steep and rocky rollover and immediately stepped down to ground (see photo)
Dec.30 South facing steep, rocky gully at Mile Post 42 and ran to aldered apron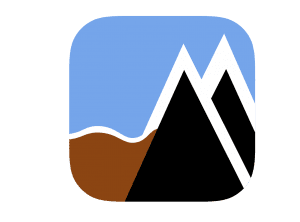 Continental (Interior):
Dec. 30 D2 storm slab avalanche pulled out to ground mid south slope of Mt Tiekel over Mile Post 46
Recent Weather
WEATHER FORECAST for NEXT 24 HRS at 3,000 ft:
Temperature Forecast (Min/Max *F):
 18/ 36
Ridgetop Wind Forecast (direction/mph):
NE / 10-41
Snowfall (in):
 0
WIND & TEMPERATURE
PAST 24 hours
Ferry Terminal
Thompson Pass
Average Wind Speed (mph) / Direction
5 / ENE
15/ NE
Max Wind Gust (mph) / Direction
13/ NE
36 / NE
Temperature Min / Max (*F)
24 / 33
3 / 23
Weather Forecast: Continued clear skies. After 48 hours of above freezing temperatures above 3500′, the inversion is finally mellowing a bit with some mixing of cold and warmer air. The ridge of high pressure (1045mb) is slightly breaking down, only to build again Thursday when north wind in town is forecast to 75mph. There is no significant precipitation in the forecast.
Additional Info & Media
| | | |
| --- | --- | --- |
| SNOW HISTORY: | Valdez 1/4 AM | Thompson Pass 1/4 AM |
| 24 Hour Snow / Water Equiv. | 0" /0.0" | 0″ /0″ |
| Storm Snow /Water Equiv. (12/30-12/31) | 5" /0.68″ | 18″ /1.6″ |
| Current Snow Depth | 29.5″ | 31″ |
| January Snow / Water Equiv. | 0″ /0″ | 0″ / 0″ |
| Total Winter Snowfall / Water Equiv. | 95.9″ / 8.16" | 143″ / 14.4″ |
| Snowload in Valdez | 23 lbs/sq. ft. | |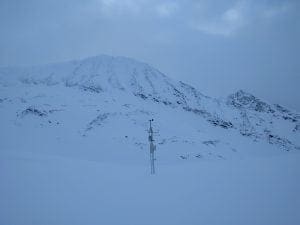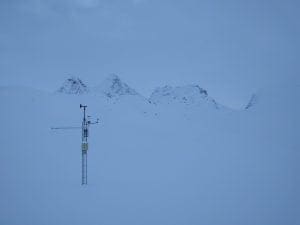 Photos of our new Nicks Valley Weather Station Python to the east, Berlin Wall to the west.
SNOWFALL for LAST 24 HRS at OTHER STATIONS:
Nicks Valley at 4200 ft (in):
0″
Upper Tsaina at 1750 ft (in):
0″
Sugarloaf at 550 ft (in):
0″
| | | |
| --- | --- | --- |
| SNOW DEPTH & WATER SURVEY (1/3/2017) | Depth | Snow Water Equivalent |
| Milepost 2.5 Valdez |  22.7″ |  4.7″ |
| Milepost 18 | 27.9″ | 5.9″ |
| Milepost 29 Worthington Flats | 44″ | 9.9″  Jan.3 |
| Milepost 37 Tsaina River bridge | 33.8″ | 5.6″  Jan.3 |
| This survey is done the first week of each month. | | |
| | | |
Weather Quicklinks:
SNOW CLIMATE ZONES:
Maritime (Coastal) – from the Port of Valdez to Thompson Pass, all waters flowing into Valdez Arm and everything south of Marshall Pass.
Inter-mountain (Transitional) – between Thompson Pass and Rendezvous Lodge.
Continental (Interior) – the dry north side of the Chugach (north of 46 Mile, including the Tonsina River).
Photo of Thompson Pass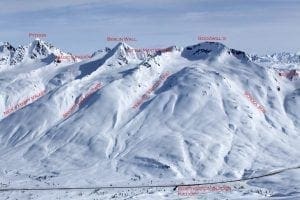 Interactive Map of Valdez Forecast Areas w/ Many Resource Layers (Trevor Grams)
Run Map of Thompson Pass Area (Sean Wisner) (2MB download)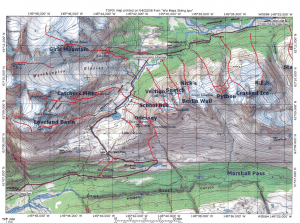 NEWS: Our region is "one of the snowiest places on earth" – Serendipity / Rendezvous snowfall record set in 1963 <here>.
Free smart phone avalanche forecasts at: http://www.avalancheforecasts.com/