Expires: Fri, Jan 01, 2016
Thank you to Alaska Mining and Diving Supply for your generous donation of a loaner Skidoo snogo for this season's forecasting operations. We appreciate your support!
Above 3,500ft
Considerable
2,500 to 3,500ft
Considerable
Degrees of Avalanche Danger ?
1. Low
2. Moderate
3. Considerable
4. High
5. Extreme
Problem Details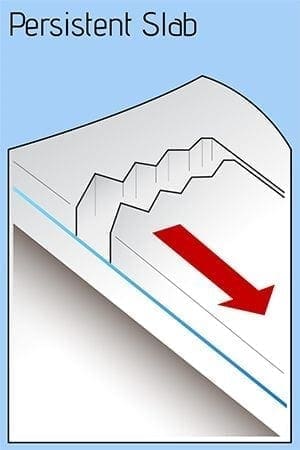 PROBLEM 1: PERSISTENT SLAB
Weak basal depth hoar and facets close to the ground continue to contribute to instability in our snowpack. Several full depth avalanches on all aspects, at mid to upper elevations, released naturally during this last storm up to D2 (capable of burying or injuring a person) due to rapid loading from new snow and wind. While natural avalanches will not be the biggest problem today, human triggered avalanches from 1-3 feet deep will. Persistent slabs will be difficult to assess and predict and will be stubborn to touchy to trigger in specific locations. In some cases, they will allow you to get well out onto the slope before releasing above you, putting you in a vulnerable position with little defense.
Unfortunately, the most likely locations to trigger persistent slabs will be in the same locations that offer the best riding and deepest coverage, on upper elevation-wind loaded slopes. Avoid upper elevation starting zones, bowls, and large faces, especially where terrain traps exist in the runnout. At mid-elevation there are less locations for triggering persistent slabs due to poor continuity of the snowpack. You will be able to find these specific locations where slopes have been heavily wind loaded. If you choose to head into the backcountry, choose smaller terrain features that offer defensibility, without the added consequences of terrain traps. Choose slopes 25º and less steep, and well out of the runnout of steep slopes above you.
While we all want to get out there and enjoy our winter recreation, now is the time to wait for a safer day and better conditions. Hopefully the wind affected snow will help you to make the better decision today.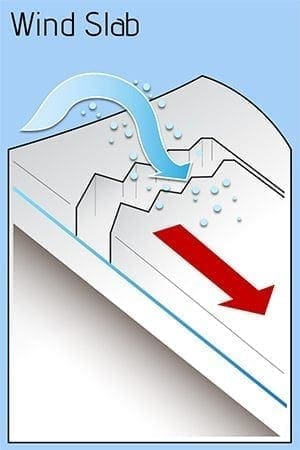 PROBLEM 2: WIND SLAB
Strong North to Northwest winds have been transporting snow and building wind slabs on mostly S and SE aspects since early Friday morning. On Friday afternoon, wind slabs built to a few inches thick at mid-elevations and likely up to a foot thick at upper elevations. Early in the storm South winds transported snow to northerly aspects, while Friday's winds shifted and transported snow onto S and SE saspects. The weight of the heavy new snow (20% density) has hindered the wind's ability to transport snow, however, wind slabs will still be a significant problem today.
An upside down cake of wind slabs are sitting on Wednesday's weaker, low density snow and a new, slick humidity crust. Identifying areas with this problem should be fairly easy, as wind texture and "pillowed" slopes are highly visible. The surface of the snow will be firmer than the underlying, lower density and weaker snow below. Whumphing and cracking will be present in these areas and a bulls-eye indicator of this avalanche problem. Wind slabs will be stubborn to trigger on slopes 30-35º and easy to trigger on slopes 40° and steeper.  The possibility exists for the new wind slab to step down into the older, persistent slab (mentioned above), compounding all risk with a larger volume avalanche.
Click here for previous avalanche advisories.
Recent Avalanche Activity
The snowpack is still thin with exposed bushes, rocks and hazards at all elevations. Some mid-elevation slopes are offering decent riding conditions, and particular upper elevation slopes are more filled in than others. Winds scoured many upper elevation slopes down to rock, while loading others heavily. HP still needs a few good storms to bring it up to normal winter standards. Overall it's still an early season mixed bag.
Many avalanches naturally released during the storm and after the storm. The size of these avalanches ranged from D1-D2 and mostly occurred at upper elevations on multiple aspects. Some of these avalanches failed on mid-pack weak, faceted layers, while others released full depth to the ground on depth hoar
Recent Weather
Hatcher Pass finally got a blast of weather this week, although not what we expected, some snow is better than none.
Wednesday, (12/28) HP received 5 inches of new snow and about .3-.4 inches of water. Thursday evening (12/29) into Friday morning (12/30) brought another 8″ of new snow in 8 hours with 1.1 inches of water reported at the Independence Mine snotel. This snow came in heavy and rimed. Had the snow come in drier, we would have seen closer to a foot of powder.
This week, at 4500′, temperatures averaged 15 deg.
Winds gusted 10-29 mph during the storm (12/29-30) from the N/NW at 3500′. Winds averaged 6 mph, with gusts averaging 12 mph from the South. Strong winds on Friday transported snow into wind slabs up to a few inches thick at 3500′.
Additional Info & Media
TREND: The avalanche hazard will remain the same without continued strong winds or additional snowfall.
If you are out and about HP today, please send us your pictures and observations at info@hpavalanche.org or submit your observations quickly using the observation platform at the base of this page. Your observations are highly valued and an important part of the avalanche advisory, share what you see with your community.