Expires: Sat, Dec 31, 2016
Above 3,500ft
Considerable
2,500 to 3,500ft
Considerable
Degrees of Avalanche Danger ?
1. Low
2. Moderate
3. Considerable
4. High
5. Extreme
Problem Details
Considerable avalanche hazard at mid-upper elevations. Dangerous avalanche conditions. Careful snowpack evaluation, cautious route finding, and conservative decision-making essential. Natural avalanches possible; human triggered avalanches likely. Small avalanches in many areas; or large avalanches in specific areas; or very large avalanches in isolated areas.
Moderate avalanche hazard at low elevation. It may be possible to trigger shallow storm snow avalanches. In isolated locations such as extreme terrain, gully sidewalls or very steep slopes (35°+) it may be possible to trigger a deeper, persistent slab avalanche. These are likely to be small in scale, but could catch you off guard and possibly burry you in a terrain trap. If you are using the road run, use the buddy system.
Heavy, new snow overnight at Independence Mine Snotel is reporting 7″ (1.2″ of water) at 8am. The Marmot snow stake also shows approximately 4″ of new snow.
Prior to last nights storm, Wednesday produced 4-5″ of low density, new snow at 4000′. Westerly and northwesterly winds gusted at ridgelines and through passes briefly on Wednesday, transporting new snow and building shallow, soft, wind slabs on leeward aspects (generally East to Southeast) in isolated to specific locations.
---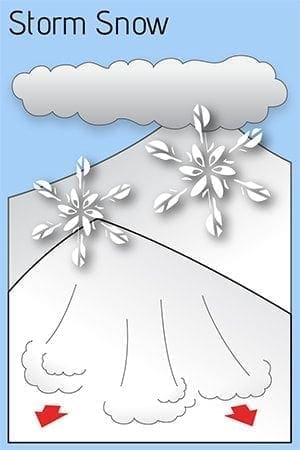 Expect to find an upside down cake today up to 8-12″ deep, with heavier snow over low density snow. Overnight wind speeds at upper elevations have remained at 10-12 mph S-SSW, gusting 17-31 mph. Winds will have had trouble moving this heavier new snow, so expect wind slabs to be non-existent to shallow, but easy to trigger on North to Northwest aspects. Storm snow avalanches at upper elevations, up to 1 foot deep, on steep slopes (30º+) will be sensitive to human triggers and natural avalanches will be possible. Shooting cracks and whumphing are bulls-eye clues that you are encountering a fragile snowpack capable of producing avalanches. Stiff snow overlying softer, weaker snow indicates a slab problem and is easy to identify with a quick pole test.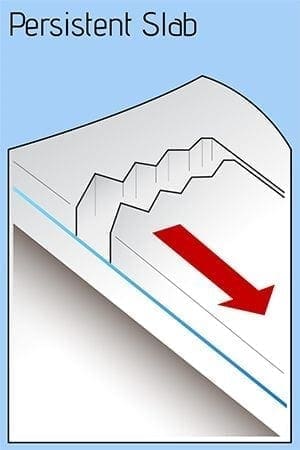 Avoid areas that were previously wind loaded, such as leeward aspects near passes, and starting zones at upper elevation ridgelines. Unfortunately the best riding is where the snow is the deepest and these are also the prime locations for deep, human triggered, persistent slab avalanches. These areas have a persistent hard slab problem up to 3′ deep, sitting on very weak depth hoar and faceted grains. These slabs may be very sensitive to stubborn to trigger. They may be able to hold your weight long enough to allow you to travel out onto a slope before it fails above you. The good news is low continuity within the snowpack means these locations are specific to isolated, however the bad news is the depth and volume of these avalanches may still be able to carry you into terrain traps, possibly burying or injuring you.
---
TREND: NWS is forecasting this storm to taper off today. However, if we see more snow and wind, the avalanche hazard may rise to high this afternoon or evening. More information will become available as this storm tapers off and we are able to get out into the mountains again.
If you are out and about HP today, please send us your pictures and observations at info@hpavalanche.org or submit your observations quickly using the observation platform at the base of this page. Your observations are highly valued and an important part of the avalanche advisory, share what you see with your community.
Click here for previous avalanche advisories.
Recent Avalanche Activity
Recent Weather
Additional Info & Media
.