Expires: Mon, Jan 02, 2017
Over a foot of new snow has accumulated on Thompson Pass and been drifted in to slabs up to 3 feet in the upper elevations.
Start with small, conservative terrain until you get a grasp of how the new snow is interacting with old.
Consider the various slopes that could be wind loaded with shifting winds and the possibility of moving new snow to step down and release deeper, old slabs to ground.
Above 2,500ft
Considerable
1,800 to 2,500ft
Considerable
Degrees of Avalanche Danger ?
1. Low
2. Moderate
3. Considerable
4. High
5. Extreme
Problem Details
FRIDAY
SATURDAY
SUNDAY & MONDAY
STORM SNOW:
Elevation: All
Aspect: All
Terrain: Greater than 30* and in runouts of slopes above
Sensitivity: Touchy
Distribution: Widespread
Likelihood (Human Triggered): Likely
Size: Small to Medium
Danger Trend: Increasing
Forecaster Confidence: Good
PERSISTENT SLAB:
Elevation: Mostly above 2500′
Aspect: All
Terrain: Steep rocky slopes where facets exist under old windslab, especially interior of Thompson Pass
Sensitivity: Stubborn
Distribution: Specific
Likelihood (Human Triggered): Possible
Size: Medium
Danger Trend: Decreasing
Forecaster Confidence: Poor
AVALANCHE PROBLEM SCALE DESCRIPTORS:
Sensitivity: Non-reactive, Stubborn, Responsive, Touchy
Distribution: Isolated, Specific, Widespread
Likelihood: Unlikely, Possible, Likely, Nearly Certain
Size: Small, Medium, Large, Very Large (size scale <here>)
Danger Trend: Increasing, Steady, Decreasing
Forecaster Confidence: Good, Fair, Poor
LIST OF AVALANCHE PROBLEMS <here>
SNOWPACK DISCUSSION: Over the last 48 hours, two concentrated storms left us with over a foot of new snow on Thompson Pass (10 in town). In the higher elevations near wind exposed ridges and passes, expect cleanly scoured faces in areas and deeply loaded lee aspects with slabs to 3 feet. Remember that the winds have been reversing direction dramatically from the SE with the storm to NE post. This directional switch leads to a variety of newly loaded slopes that can be suspect. Consider how this new snow load is stacking up on weak surface grains and continues to further stress weak, sugar snow layers deeper in our snowpack.  
With a little more than two feet average snow depth at 2500′, our snowpack is still relatively thin in places with the depth and structure quite variable due to outflow wind events. In Nick's Happy Valley, the new weather station relatively protected from wind, was recently reporting a snow depth of 52″.
Warmer temperatures on the coastal side of Thompson Pass has built a more uniform snowpack capped by a surface crust below ~3000′.
Above 3000′ and interior of the Pass has stayed cooler; preserving early season facets at the ground and between layers of windslab. The weak interface between these deep facets and firmer layers above have been failing and propagating very easily in areas (see observation from 12/28). It is not out of the picture for heavy loads such as a snowmachine or mulitple machines to trigger a steep, windloaded north facing slope and have it step down to persistent weak layers, increasing the avalanche size and destructive potential.
Find more photos and observations at the bottom of the page. Sharing your observations helps others make informed decisions.
Recent Avalanche Activity
Dec. 28:
Natural D2 slab avalanche on N face of Berlin Wall
Natural D1 slab avalanche on S facing roll-over below Little Girls
Snowmachine Triggered Avalanche below Catchers Mitt in photo below: photo credit: Eric Christensen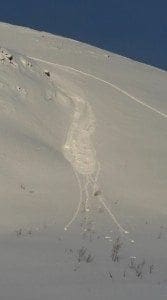 Recent Weather
WEATHER FORECAST for NEXT 24 HRS at 3,000 ft:
Temperature Forecast (Min/Max *F):
 12 / 26
Ridgetop Wind Forecast (mph):
Var / 10-30
Snowfall (in):
 1-3
WIND & TEMPERATURE
past 24 hours
Ferry Terminal
Thompson Pass
Average Wind Speed (mph) / Direction
4 / NE
22 / Var
Max Wind Gust (mph) / Direction
15/ ENE
32 / NE
Temperature Min / Max (*F)
24 / 29
8 / 21
Weather Forecast: As this warm and moisture laden front pushes through and deposits a last few inches on our region, expect a high pressure ridge to take over with a breaking of skies combined with a shift to gusting outflow winds and cooling temperatures. Not much precipitation is forecasted into next week, but clouds could settle in late Sat night and linger into early next week.
Additional Info & Media
| | | |
| --- | --- | --- |
| SNOW HISTORY: | Valdez 12/29 AM | Thompson Pass 12/30 AM |
| 24 Hour Snow / Water Equiv. | 4" /0.23" | 9″ /0.8″ |
| Storm Snow /Water Equiv. (12/28-12/30) | 5" /0.32″ | 16″ /1.5″ |
| Current Snow Depth | 30″ | 36″ |
| December Snow / Water Equiv. | 72.5″ /4.01″ | 69″ / 6″ |
| Total Winter Snowfall / Water Equiv. | 94.9″ / 8.07" | 140″ / 14.3″ |
| Snowload in Valdez | 21 lbs/sq. ft. | |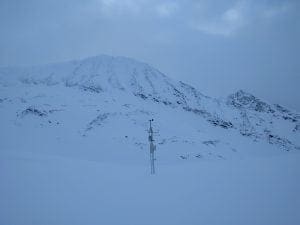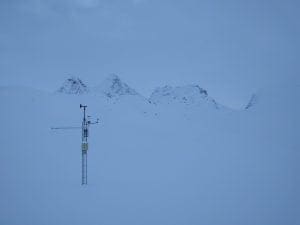 Photos of our new Nicks Valley Weather Station in the shadows of Python and the Berlin Wall.
SNOWFALL for LAST 24 HRS at OTHER STATIONS:
Nicks Valley at 4200 ft (in):
?"
Upper Tsaina at 1750 ft (in):
6?"
Sugarloaf at 550 ft (in):
4″
| | | |
| --- | --- | --- |
| SNOW DEPTH & WATER SURVEY (12/6/2016) | Depth | Snow Water Equivalent |
| Milepost 2.5 Valdez |  13.2″ |  2.3″ |
| Milepost 18 | 15.4″ | 2.1″ |
| Milepost 29 Worthington Flats | 32.2″ | 6.4″ |
| Milepost 37 Tsaina River bridge | 24.1″ | 4.1″ |
| This survey is done the first week of each month. | | |
| | | |
Weather Quicklinks:
SNOW CLIMATE ZONES:
Maritime (Coastal) – from the Port of Valdez to Thompson Pass, all waters flowing into Valdez Arm and everything south of Marshall Pass.
Inter-mountain (Transitional) – between Thompson Pass and Rendezvous Lodge.
Continental (Interior) – the dry north side of the Chugach (north of 46 Mile, including the Tonsina River).
Photo of Thompson Pass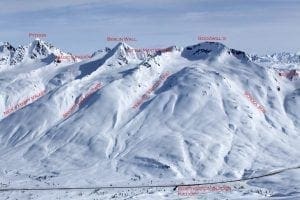 Interactive Map of Valdez Forecast Areas w/ Many Resource Layers (Trevor Grams)
Run Map of Thompson Pass Area (Sean Wisner) (2MB download)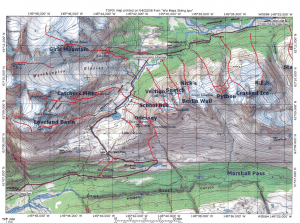 NEWS: Our region is "one of the snowiest places on earth" – Serendipity / Rendezvous snowfall record set in 1963 <here>.
Free smart phone avalanche forecasts at: http://www.avalancheforecasts.com/