Expires: Sun, Dec 25, 2016
Above 3,500ft
Considerable
2,500 to 3,500ft
Moderate
Degrees of Avalanche Danger ?
1. Low
2. Moderate
3. Considerable
4. High
5. Extreme
Problem Details
AVALANCHE PROBLEM:  PERSISTENT SLAB; an unpredictable, unreliable, and likely hazard.
Considerable avalanche hazard. Dangerous avalanche conditions. Careful snowpack evaluation, cautious route-finding and conservative decision making essential. Natural avalanches possible, human triggered avalanches probable. Small avalanches in many areas; or large avalanches in specific areas; or very large avalanches in isolated areas.
Do not let the (considerable hazard) orange color fool you, the current avalanche problem is dangerous. More people end up in avalanche trouble on considerable avalanche hazard days than any other danger rating. Because the snowpack is so thin at low and mid elevations, you may be lured into traveling into the upper elevations where the avalanche hazard is significantly more dangerous.
The snowpack is very weak, but discontinuous.  A COMPLEX AVALANCHE PROBLEM EXISTS with areas that are completely devoid of avalanche hazard, mixed with areas where triggering an avalanche are likely and dangerous. It may be difficult to tell the difference between safe areas and dangerous areas. If you are traveling in the backcountry this weekend, make sure you are using expert terrain management, snowpack analysis skills, and cash in your luck chips. Travel with partners and find a mentor who is an expert. Make certain you have practiced avalanche rescue skills, are prepared, and use best practice travel skills to avoid and minimize exposure to the hazard. We just went from a non-existent snow winter to full on scary avalanche conditions in a shallow snowpack.
Avalanches were triggered remotely this week, indicating a very sensitive, weak snowpack. View recent observations at the base of this page. It will be possible, and in specific places likely, to remotely trigger avalanches this weekend. It will be possible to trigger an avalanche on adjacent slopes, or on the other side of a ridgeline where you may not be aware of other people's presence. Or, you may be able to trigger an avalanche on steep slopes above you from the flat lands (low angle terrain). If you are traveling in the backcountry this weekend, you have a responsibility for people outside of your immediate group that may be nearby. Do not drop your guard, pay attention to people above you, and stay out of the runnout of avalanches from above.
For the most part this problem resides in specific locations at the upper elevations near ridgelines where previous wind loaded snow built stiff hard slabs up to 2 feet thick. However, at mid-elevation, in specific areas where winds previously wind loaded leeward features, it will also be possible to trigger persistent slabs. Avalanches will be stubborn to very sensitive (remote triggers possible) to trigger. The distribution of the problem is highly variable. Their behavior will be difficult to predict. Avoid steep (30º and steeper), large open slopes, terrain traps and runnouts with rocks where triggering an avalanche could have higher consequences.
Expect to hear whumphing and in some cases produce shooting cracks in even the most benign, low angle terrain. Whumphing and cracking are bulls-eye clues that the avalanche dragon is awake and ready.  Proceed with extreme caution or tuck tail and find a safer area to play. The best advice is stay on lower angle terrain (25º or less) and out of the runnout of steeper slopes where the snow quality for riding is actually quite good, but the avalanche danger is less. If you are interested in avalanches, poking around in safe terrain will provide you with a thin, weak snowpack to study, an opportunity to test slabs over weak snow, and a chance to experience whumping and cracking. It's actually a great time to take an avalanche class at Hatcher Pass.
There are tracks in steep terrain where avalanches were not triggered. This does not mean that these areas are safe. It may only take a person to migrate a short distance from an existing track to find the avalanche problem. Anywhere you experience stiff, firm snow, there is a high likelihood of triggering an avalanche.
The mid and lower elevation snowpack is very shallow with exposed bushes and rocks. In many areas the snowpack is only a few inches deep. Pockets of stiff slab are present, but highly discontinuous, limiting the size of possible avalanches. Avoid areas with terrain traps, cliffs, and exposed hazards such as rocks. Even a small avalanche carrying you into this type of terrain can be very dangerous.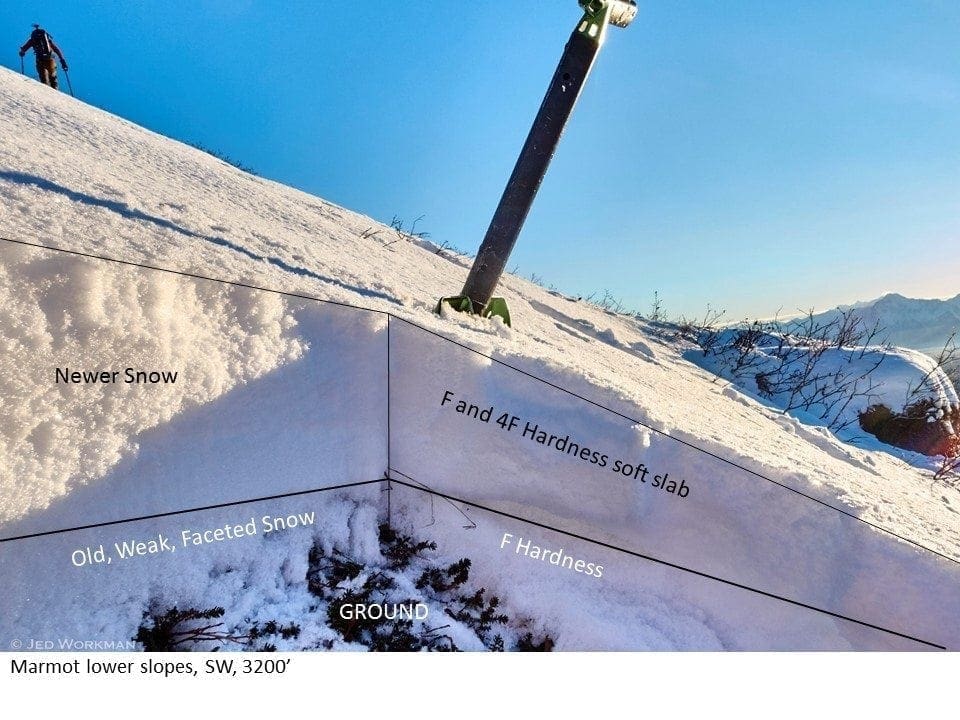 This photo shows a fist to 4 finger soft slab sitting on a rotten base of Depth Hoar. In this location, at mid-elevation, the slab did not have enough cohesion to fail as a slab. However, in isolated areas where winds previously stiffened the upper snowpack, it will whumph, crack and avalanche easily. As you travel through the terrain this weekend, pay close attention to the stiffness of the snow under foot. Any location with a cohesive slab will have the ability to avalanche if it is on steep enough terrain, generally 30º and steeper.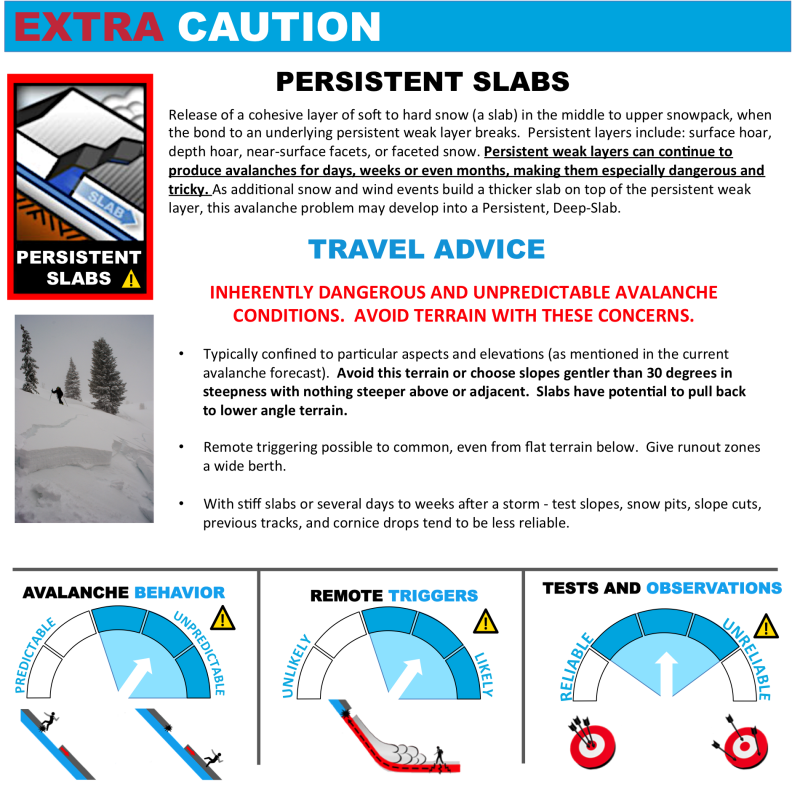 Recent Avalanche Activity
Small and medium, hard and soft, slab avalanches up to 20 inches deep have been stubborn to very touchy to trigger this week and will continue to persist through the weekend. For more information view recent observations at the bottom of the page.
Early season snow followed by cold, clear weather allowed basal snow to weaken and rot. This snow is now buried by recent newer snow.
The newer snow at the mid and lower elevations is mostly not cohesive enough to be a slab. However there are isolated locations where winds were able to transport snow and build slab that is sensitive to human triggers.
At upper elevations winds were never very strong for prolonged periods of time, however the low density newer snow was transported into a mix of soft and hard slabs all very sensitive to human triggers.
A few natural slab avalanches were observed during and post storm, however the natural cycle was short lived. Human triggered avalanches continue to be a problem. They are currently stubborn to very sensitive to trigger. The basal weak snow is well developed, up to 8mm striated and cupped depth hoar. This weak layer will likely persist and be a problem throughout this season.
Recent Weather
This week, at 4500′ temperatures averaged 16° F. Winds remained calm, averaging SE 5 mph with gusts averaging 8 mph.
No new precipitation this week.
NWS point forecast for Hatcher Pass.
This weekends weather will not contribute to the avalanche problem.
Additional Info & Media
TREND:
The avalanche hazard will remain steady through the weekend.
Any significant new load such as new snow, rain, or wind, will easily increase the avalanche hazard.