Expires: Wed, Dec 21, 2016
With a foot of new snow in the last 24 hours, natural avalanches are possible and human triggered avalanches likely.
Start small and think about the consequences before you go big.
Above 2,500ft
Considerable
1,800 to 2,500ft
Considerable
Degrees of Avalanche Danger ?
1. Low
2. Moderate
3. Considerable
4. High
5. Extreme
Problem Details
SUNDAY
MONDAY
TUESDAY&WEDNESDAY
STORM SNOW:
Elevation: All
Aspect: All
Terrain: All
Sensitivity: Responsive
Distribution: Widespread
Likelihood (Human Triggered): Likely
Size: Small to Medium
Danger Trend: Steady
Forecaster Confidence: Fair
PERSISTENT SLAB:
Elevation: Mostly above 2500′
Aspect: All
Terrain: Steep rocky slopes where facets exist under old windslab
Sensitivity: Stubborn
Distribution: Specific
Likelihood (Human Triggered): Possible
Size: Small to Medium
Danger Trend: Steady
Forecaster Confidence: Fair
AVALANCHE PROBLEM SCALE DESCRIPTORS:
Sensitivity: Non-reactive, Stubborn, Responsive, Touchy
Distribution: Isolated, Specific, Widespread
Likelihood: Unlikely, Possible, Likely, Nearly Certain
Size: Small, Medium, Large, Very Large (size scale <here>)
Danger Trend: Increasing, Steady, Decreasing
Forecaster Confidence: Good, Fair, Poor
LIST OF AVALANCHE PROBLEMS <here>
SNOWPACK DISCUSSION:
With over a foot of new snow on the pass in the past 24 hours human triggered avalanches are possible. You are mostly likely to trigger a fresh, storm snow avalanche, with the potential of it stepping down to the ground on the persistent weak layer(see below). Conditions are still variable under the new snow, with pockets of extremely deep powder and freshly covered obstacles like rocks and alders.  Be observant as you travel through the mountains for cracking, whoomphing, and collapsing. Use small, non consequential test slopes to determine how the snow is reacting.
North winds are expected to return today up to 50+ MPH on ridgetops. If you see blowing snow, windslabs are building.
On 12/17 a deeb hardslab natural avalanche was observed on the North West aspect above the main gully of North Odyssey, large enough to bury and kill a person. The facets (sugar snow) on the ground have the potential to release the entire season's snowpack. Dig a hole with your machine's track or use a ski pole to see if this layer exists. This type of persistent weak layer  does not disappear over night. The likelihood of triggering an avalanche on this layer increases with added weight, like more snow or a snowmachiner/skier.
December 17th: Snowmachines caused cracking down to the persistent weak layer.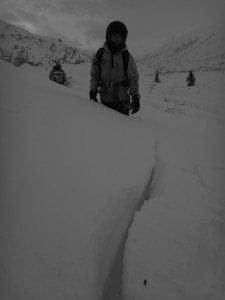 Find more photos and observations at the bottom of the page. Sharing your observations helps others make informed decisions.
Recent Avalanche Activity
December 17th a natural avalanche was spotted in the main gully of North Odyssey, that slid to the ground, large enough to bury and kill a person (D2, R1.5). This avalanche failed on the same persistent weak layer as the photos shown below.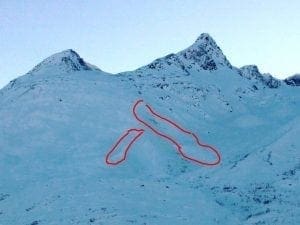 December 10: Slab avalanche to the persistent weak layer ground; Milepost 29
Recent Weather
WEATHER FORECAST for NEXT 24 HRS at 3,000 ft:
Temperature Forecast (Min/Max *F):
 14/26
Ridgetop Wind Forecast (mph):
 10-40/ NE
Snowfall (in):
 1-3
WIND & TEMPERATURE
past 24 hours
Ferry Terminal
Thompson Pass
Average Wind Speed (mph) / Direction
 0 / Calm
14 / ESE
Max Wind Gust (mph) / Direction
0/ Calm
42 / SE
Temperature Min / Max (*F)
28 /31
22 / 27
Broken skies today with 1-3 inches of snow in the next 24 hours. Outflow winds from the North are returning with gusts in the 10-20 MPH range in town and 30-45 MPH through the pass. Relevant snow transport is likely especially in the Thompson Pass region. Temperatures are dropping across South Central Alaska, as clear skies prevail.  The storm may push back into the mountains bringing light snow on Monday and Tuesday. Expect temperatures to rise and winds to redirct from the South East if more snow falls early this week.
Additional Info & Media
| | | |
| --- | --- | --- |
| SNOW HISTORY: | Valdez 12/18 AM | Thompson Pass 12/18 AM |
| 24 Hour Snow / Water Equiv. | 1.8" /0.1″ | 7″ /0.4″ |
| Storm Snow /Water Equiv. (12/16-18) | 13.6" /1.05″ | 13″ /1″ |
| Current Snow Depth | 29″ | 23″ |
| December Snow / Water Equiv. | 47″ / 3.55″ | 33″ / 2.5″ |
| Total Winter Snowfall / Water Equiv. | 72″ / 7.65" | 105″ / 10.8″ |
| Snowload in Valdez | 10 lbs/sq. ft. | |
SNOWFALL for LAST 24 HRS at OTHER STATIONS:
Nicks Valley at 4200 ft (in):
8
Upper Tsaina at 1750 ft (in):
7
Sugarloaf at 550 ft (in):
5
| | | |
| --- | --- | --- |
| SNOW DEPTH & WATER SURVEY (12/6/2016) | Depth | Snow Water Equivalent |
| Milepost 2.5 Valdez |  13.2″ |  2.3″ |
| Milepost 18 | 15.4″ | 2.1″ |
| Milepost 29 Worthington Flats | 32.2″ | 6.4″ |
| Milepost 37 Tsaina River bridge | 24.1″ | 4.1″ |
| This survey is done the first week of each month beginning in December. | | |
| | | |
Weather Quicklinks:
SNOW CLIMATE ZONES:
Maritime (Coastal) – from the Port of Valdez to Thompson Pass, all waters flowing into Valdez Arm and everything south of Marshall Pass.
Inter-mountain (Transitional) – between Thompson Pass and Rendezvous Lodge.
Continental (Interior) – the dry north side of the Chugach (north of 46 Mile, including the Tonsina River).
Photo of Thompson Pass <here>
Map of Valdez Forecast areas and recreating zones <here> (Thank you Trevor Grams)
Run map of some of the forecast area (2MB download)<here> (Thank you Sean Wisner)
NEWS: Our region is "one of the snowiest places on earth" – Serendipity / Rendezvous snowfall record set in 1963 <here>.
Free smart phone avalanche forecasts at: http://www.avalancheforecasts.com/