Expires: Tue, Dec 20, 2016
Move into terrain with conservative objectives and test the conditions on small slopes.
A variety of snowpack combinations out there will make things more challenging….especially finding where our older weaknesses have been buried.
Above 2,500ft
Considerable
1,800 to 2,500ft
Considerable
Degrees of Avalanche Danger ?
1. Low
2. Moderate
3. Considerable
4. High
5. Extreme
Problem Details
SATURDAY
SUNDAY
MONDAY&TUESDAY
STORM SNOW:
Elevation: All
Aspect: All, with more loading on northerly faces.
Terrain: All.
Sensitivity: Responsive
Distribution: Widespread
Likelihood (Human Triggered): Likely
Size: Small to Medium
Danger Trend: Increasing
Forecaster Confidence: Good
PERSISTENT SLAB:
Elevation: Mostly above 2500′
Aspect: Mostly South and West aspects.
Terrain: Areas that have been loaded by the wind.
Sensitivity: Stubborn
Distribution: Specific
Likelihood (Human Triggered): Possible
Size: Small to Medium
Danger Trend: Increasing
Forecaster Confidence: Fair
AVALANCHE PROBLEM SCALE DESCRIPTORS:
Sensitivity: Non-reactive, Stubborn, Responsive, Touchy
Distribution: Isolated, Specific, Widespread
Likelihood: Unlikely, Possible, Likely, Nearly Certain
Size: Small, Medium, Large, Very Large (size scale <here>)
Danger Trend: Increasing, Steady, Decreasing
Forecaster Confidence: Good, Fair, Poor
LIST OF AVALANCHE PROBLEMS <here>
SNOWPACK DISCUSSION:
Approximately 10 inches of new snow have fallen on Thompson Pass and 15 inches in town in the last day and half. This snow is resting on and masking the full gamut of conditions that will test your ability to remain on your toes. The snow has blown in with moderate to strong SE winds….loading northerly aspects a bit more. The main concern is how the new snow is sticking to the variety of surfaces: crust, wind slab, facets (sugar snow) and even weak surface hoar.
This additional load will test older, persistent, weak layers and could lead to larger than expected avalanches. Remember that the wind slabs resting on rotten snow has been forming on slopes loading by wicked previous NE winds. These sensitive winds slabs balanced on steep faces are unpredictable and will be more challenging to note when buried by this storm's snow.
More surface hoar was found buried under a thin slab yesterday down in Lower Cracked Ice (see observations below), so make sure to investigate to see if your area is harboring these very weak snow crystals. It collapsed easily under load (CT6) and could propagate under the right conditions.
December 11th: A snowmachine remotely triggered a very large crack on a windloaded slope breaking deep into the snowpack. This is what our new snow is resting on.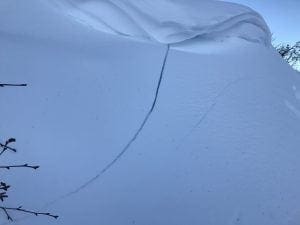 Find more photos and observations at the bottom of the page. Sharing your observations helps others make informed decisions.
Recent Avalanche Activity
No new avalanche activity observed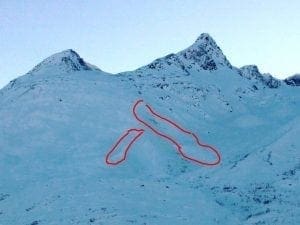 December 10: Slab avalanche to the persistent weak layer ground; Milepost 29
Recent Weather
WEATHER FORECAST for NEXT 24 HRS at 3,000 ft:
Temperature Forecast (Min/Max *F):
 26/28
Ridgetop Wind Forecast (mph):
 10-35/ SE
Snowfall (in):
 3-6
WIND & TEMPERATURE
past 24 hours
Ferry Terminal
Thompson Pass
Average Wind Speed (mph) / Direction
 4 / NNE
24 / SE
Max Wind Gust (mph) / Direction
9/ NE
38 / SE
Temperature Min / Max (*F)
23 /30
22 / 26
Continued snow into the afternoon, when the precipitation will let up with a slight drop in temperatures and break up of skies. It seems that we may have escaped the introduction of rain, but temperatures are still pretty warm down in town. Scattered showers off and on will starting Sunday will intensify by Tuesday with a handful of inches of accumulation by Wed night. Variable southerly winds seems to the trend into next week.
Additional Info & Media
| | | |
| --- | --- | --- |
| SNOW HISTORY: | Valdez 12/17 AM | Thompson Pass 12/17 AM |
| 24 Hour Snow / Water Equiv. | 11.8" /0.95″ | 6″ /0.4″ |
| Storm Snow /Water Equiv. (12/16-17) | 11.8" /0.95″ | 6″ /0.4″ |
| Current Snow Depth | 31″ | 24″ |
| December Snow / Water Equiv. | 45″ / 3.45″ | 27″ / 2″ |
| Total Winter Snowfall / Water Equiv. | 70″ / 7.55" | 99″ / 10.3″ |
| Snowload in Valdez | 10 lbs/sq. ft. | |
SNOWFALL for LAST 24 HRS at OTHER STATIONS:
Nicks Valley at 4200 ft (in):
6
Upper Tsaina at 1750 ft (in):
6
Sugarloaf at 550 ft (in):
11
| | | |
| --- | --- | --- |
| SNOW DEPTH & WATER SURVEY (12/6/2016) | Depth | Snow Water Equivalent |
| Milepost 2.5 Valdez |  13.2″ |  2.3″ |
| Milepost 18 | 15.4″ | 2.1″ |
| Milepost 29 Worthington Flats | 32.2″ | 6.4″ |
| Milepost 37 Tsaina River bridge | 24.1″ | 4.1″ |
| This survey is done the first week of each month beginning in December. | | |
| | | |
Weather Quicklinks:
SNOW CLIMATE ZONES:
Maritime (Coastal) – from the Port of Valdez to Thompson Pass, all waters flowing into Valdez Arm and everything south of Marshall Pass.
Inter-mountain (Transitional) – between Thompson Pass and Rendezvous Lodge.
Continental (Interior) – the dry north side of the Chugach (north of 46 Mile, including the Tonsina River).
Photo of Thompson Pass <here>
Map of Valdez Forecast areas and recreating zones <here> (Thank you Trevor Grams)
Run map of some of the forecast area (2MB download)<here> (Thank you Sean Wisner)
NEWS: Our region is "one of the snowiest places on earth" – Serendipity / Rendezvous snowfall record set in 1963 <here>.
Free smart phone avalanche forecasts at: http://www.avalancheforecasts.com/